BrilliantSync is a data translator and sync engine that allows you to connect FileMaker to nearly any web product or service available. BrilliantSync converts data from multiple sources to information the FileMaker developer can understand and work with in a familiar way. BrilliantSync streamlines integrations and can save significant time during the process of building a solution.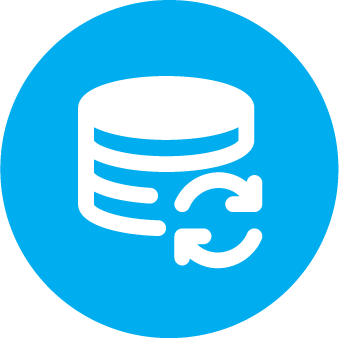 For example, BrillantSync allows you to directly pull ecommerce orders, registration details, or inquires from your web site based on WordPress or Drupal into FileMaker. It can also push any information in your FileMaker solution like products or a catalog to your web site. It allows you to scale FileMaker to thousands of users through the web.
BrilliantSync can also allow you to exchange FileMaker data with WooCommerce, Gravity Forms, Twitter, Facebook, Slack, QuickBooks, MailChimp, Salesforce, PeopleSoft, and any number of other web tools.
How Does It Work?
Web-based products and services each have their own API (Application Programming Interface). BrilliantSync translates data formats between your FileMaker solution and the web-based solutions you want to use and handles the syncing of the data as well.
You connect your FileMaker solution to BrilliantSync's reliable master external sync database in the cloud using a technology called ESS (External Sequel Sources) and an ODBC (Open Database Connectivity) connection. A wizard guides you through the set up. After adding the tables you want to sync to your FileMaker solution, you can read, edit, or create records to exchange information with the external solution without the need understand REST APIs or write complicated code with JSON or cURL. BrilliantSync takes care of all that work for you behind the scenes. You can work with familiar FileMaker tables, fields, and script steps. It even insulates you from future API (Application Programming Interface) changes.
The beauty of BrilliantSync is that you don't have to change the way you do anything—the high tech action is happening behind the scenes like magic. You don't need to have deep programming knowledge or be fluent in a number of different API's in order to harness the power of the exciting business products and services out there.
BrilliantSync allows you to take advantage of the wealth of technology available beyond the FileMaker world, but keep FileMaker as the digital hub for your solution. No longer do you need to reinvent the wheel and build everything in FileMaker. Each tool can work as intended to build your solution.
BrilliantSync is built using fully scalable, load balanced, fault-tolerant, managed technologies via AWS (Amazon Web Services). BrilliantSync works the same if your database is hosted on-site, on a FileMaker server in the cloud, or in fmCloud.
BrilliantSync integrations require initial consulting services for successful implementation as even "simple databases" need fields to be mapped, business logic to be defined and some tweaking to be "sync ready".
What Does It Sync?
A better question is what doesn't it sync? BrilliantSync began as a solution for WordPress, Gravity Forms, and WooCommerce and we perfected those integrations internally over the last several years. We've also integrated with Drupal which was one of the most complex integrations possible.
In addition, our team of integration experts can build a plugin for nearly any web service or solution available. Stay tuned as we release many off-the-shelf integration plugins we're working on in-house over the next 1-3 months.
Here are a few example web sites/projects that utilize BrilliantSync to connect backend FileMaker databases to WordPress or other websites.
More information is available in our DevCon WordPress/FileMaker integration presentation.
If you think BrilliantSync might be a fit for your technology needs, fill a project request form below and we can set up a call to discuss it further.