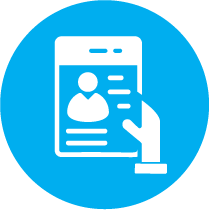 LuminFire is looking for a Business Solutions Strategist who has demonstrated an interest in leading internal and external teams through the process of planning, building and managing custom software and business solutions. This role is responsible for the overall success of consulting engagements with our clients, acting as a liaison between the client and all functional internal teams working those accounts. Additionally, in an effort to maintain long-term technology partnerships, this role serves as a point of contact and business technology strategist for clients once project development is complete.
Working alongside clients, project managers, technical engineers, the sales team, and the Executive team at LuminFire, the Business Solutions Strategist owns the process of overseeing the internal team in discovering, defining and mapping client's solution requirements ("blueprinting"), and manages the overall technical development process and client communication to ensure the successful delivery of a brilliant solution for our clients.
As the Business Solutions Strategist at LuminFire, you will also establish "thought leadership" within our technical and business community by routinely writing and delivering content for LuminFire blogs and other brand assets.
The primary objectives of this role are:
Coordination of the initial phases of a project as it leaves the sales department by working with the sales team/Executives to outline each client's business case, objectives, and recommended architecture.
Work with our team of technical engineers to "blueprint" the design, scope, phase breakdown, time and budget estimates, and then communicate and work with project management to drive excellent project outcomes that align with defined scope, timeline, and budget.
Profitably drive successful implementations on concurrent projects, consistently generating the highest levels of customer satisfaction and retention.
Manage our team of technical engineers, providing them the tools and support they need to produce brilliant solutions for our clients; oversee accountability and employee objectives.
Build ongoing positive relationships with existing clients, regularly evaluating their current business systems to promote potential new work for LuminFire.
About You
You are a problem solver who is fascinated by discovering ideas and solutions that make businesses better. You are also driven to truly understand the needs of the people around you. You like identifying opportunities for businesses to improve their technology, and are excited to provide a workable strategy for clients to ensure LuminFire builds exactly what the client needs in order to meet their business objectives.
You also care about the unique people involved – clients, engineers, and project managers. Collaborating with a team of experts to develop solutions while balancing great communication and best business practices is second nature to you. You are fueled by working with others to implement brilliant ideas and strategies to get a great result, and are able to document the process so it is repeatable. You have an eye for business, and are a subject-matter expert on our company's offerings.
You are approachable, always learning, and excited about delivering great solutions. You are able to talk technical terms with engineers, and then humanize that technology for end-users. It is your mission to help your team "figure it out," providing leadership to our engineering team to produce amazing results.
Your strong written and verbal communication skills serve to clarify information, building confidence and trust. You are able to see the big picture on projects and can balance client expectations with LuminFire's business objectives for growth and profitability.
In this Role, You'll Be Empowered To:
Be the trusted advisor and advocate for LuminFire clients
Engage clients actively with regular strategy calls to derive maximum value from their investment in LuminFire's services and products, while identifying new usage sales opportunities
Determine customer goals and collaborate on customized inbound strategic plans while driving technical development accountability.
Monitor client health and build associated risk mitigation plans in collaboration with Client Services and Project Management
Resolve client inquiries by aligning them with the right resources and perspective
Responsibilities:
Partner with clients, sales, and developers on assigned projects to identify a clear solution to client's business problems
Become a subject matter expert on company offerings and implementation steps to support team members
Assist in writing solution architecture requirements (blueprints), translating requirements into client documents that clearly outline the benefits and ROI for clients
Manage the process that the technical development team needs to follow in order to plan, build and manage client work
Manage workload and backlog while ensuring high levels of customer satisfaction with the delivery of technical services
Provide day-to-day leadership and management of technical engineering team
Perform administrative/tactical tasks required for leading a team of fellow consultants
Identify opportunities that increase value for our clients, establishing a long-term partnership
Partner with the project team to assign projects and provide a process for managing client escalations
Create processes that lead to positive outcomes, promoting increased value, satisfaction, and renewal of the client
Build and nurture relationships with multiple stakeholders to solidify our partnership and commitment to the client
Solve problems with curiosity and creativity; embrace challenges and change
Commit to helping LuminFire become better every day
Invest in relationships with both customers and colleagues
Skills & Requirements:
5+ years of relevant experience and demonstrated success with project management or account management
Experience with consulting methodology, product lifecycle, and best practices
Strong communication skills, both written and verbal
Passionate about customer success and experience
Energized by negotiating win-win communication, and skillful with resolving conflict
Ability to write business requirements, and translate technical details into benefits-driven sales documents
A pragmatic approach coupled with the ability to thrive under the pressure of constant change and moving objectives as the organization grows
An unrivaled sense of autonomy, ownership, and dedication to helping each client to realize the ROI for their investment with LuminFire