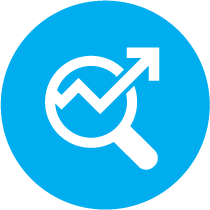 The majority of people find their information, products, and services through search engines. The results that appear on the first page of those searches get the lion's share of the clicks. After that, the click rate drops off drastically.
For that reason, it's essential that your business' website ranks higher than the competition. It doesn't matter what industry you're in; search engine optimization is imperative if you want potential clients or customers to find your company.
LuminFire provides a SEO service that aims to get your internet traffic where you want it to be.
Search Engine Optimization is one of the most critical elements of any content marketing campaign. If users can't find your content, they won't go searching for it. You need to appear at the top of relevant search results for potential customers and clients to click on your webpage and view your products and services.
Our staff is well-versed in WordPress SEO and general search engine practices. We conduct constant research to get a better understanding of what people are searching for, and the phrases they use when they search for it.
Our optimization team uses SEO's best practices, so your webpage will stay at the top of web results for as long as it's relevant. Other companies tend to cut corners in this area. At LuminFire, we know that there's no replacement for fresh, original, SEO friendly content.
Enhanced SEO Research
There's a lot to consider in the world of SEO. You need to account for title tags, alt tags, internal links, meta descriptions, and a lot more when creating a web page that will rank higher on search engines.
LuminFire has a dedicated team of search engine specialists who stay up-to-date with what's trending on these engines to make sure we're always on the cutting-edge of SEO. We know what people are searching for and the common phrases they use in their searches.
With this knowledge, we're able to craft content that will give the user the information they were seeking while driving potential customers to our clients' businesses.
Prioritizing User Experience
Many SEO services prioritize keyword density over everything else. While keywords are a vital element of SEO, they aren't the only thing search engines take into account.
Recent Google updates took aim at websites that exploit the keyword model. In short, if you try to manipulate the system, it will result in search engines ranking you lower.
LuminFire creates SEO templates and consultation with this factor in mind. Keyword research is great, but crafting content that's continually at the top of people's searches takes more than just knowing what's trending.
Our SEO Best Practices
At LuminFire, we stay up-to-date on all the necessary information it takes to rank higher than competitive websites continuously. Our SEO contributors know that WordPress SEO and general search engine marketing is more than just plugging keywords into an article.
There are two approaches to SEO. One involves hiding invisible keywords, using duplicated content, and linking to sites that have nothing to do with what the user wanted.
The other takes a little more work, but that's where LuminFire comes in. We produce relevant content with appropriately tagged images and unique page titles.
Some SEO services try to sneak their client's websites into the top of Google's search results using the former method. This strategy may work initially, but eventually the search engine algorithms catch-up, either removing them entirely or dropping them down the ranks.
At LuminFire, we follow SEO best practices to make sure your pages start at the top and stay there.
Customer First Mentality
No matter what service you're looking for, we at LuminFire make every effort to put the customer's needs before anything else. We operate on tight deadlines and pride ourselves in delivering our services promptly to fit your schedule.
Our friendly staff of SEO specialists will work with your company to provide the best content available on the web. We take customer service seriously and strive for positive interactions throughout the process.
A Minneapolis SEO Service
This Minneapolis-based search engine optimization company knows what it's like to start small and grow. We started with three people in a home office and scaled that into a company that employs over 300.
We can relate to the headaches that come with running a growing business and strive to make our clients' lives easier at every turn. For that reason, we offer our SEO services across the country to companies big and small.