Often our clients come from places where there has been "Excel abuse". You've outgrown the use of a spreadsheet and need a way to keep track of historical information and share it within your organization or even the world via the Internet.
Off-the-shelf solutions are not made to fit every organization. By utilizing a rapid application development tool like FileMaker Pro, we can create customized solutions to fit your unique processes and work flow.
Are you ready for a custom application solution?
Are you wasting time on double entry or trying to locate information spread across many applications such as Excel, Entourage, Outlook and Word?
Is your current solution hard for users to learn or have too many features that you don't use?
Is your current solution such as ACT!, Goldmine, NOW or DayLite not flexible enough to meet your needs?
Is your current system not able to be modified or no longer supported by the manufacturer?
Do you want a solution that can adapt as your business changes?
Are you having difficulty sharing information or knowing who has the most current copy?
Are you using Excel as a database and find it difficult to manage?
Have you outgrown your Access database or is it unstable?
Would you like a tool that gives you a competitive edge because you are the only company that has it?
If you answered YES to any of the questions above then you are ready for a custom solution that FITS YOUR BUSINESS.
A custom FileMaker solution will provide your organization with a centralized database that will streamline your processes, save labor time and can be modified to meet your changing needs. We can combine FileMaker Pro with plug-ins to tap into numerous applications such as QuickBooks, Outlook, Entourage or Address Book.
Our development process is designed to benefit our clients by consistently delivering quality solutions on time and in budget.
Demonstrating technology leadership and the knowledge of an industry expert.

Mobile Solutions
We build custom solutions for the iPhone, iPod Touch, and iPad so you can take your business with your anywhere. Integrate technologies such as bar code scanning, etc. We can use FileMaker Go or a web-based solution that would work on a Blackberry or Android-based mobile device.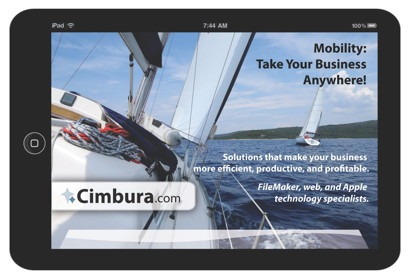 Web Site Development & Design
So you need to find a domain, get your site hosted, and design a web site that represents your unique brand and services? We have the expertise and experience to help you achieve the web site you are imagining. Our web sites can integrate with a customized FileMaker Pro database to automate e-commerce functions like shopping carts, job applications, payments, and forms. The reality is there are limitless other functions that can be automated to make your organization more efficient, productive and profitable. Our team is also able to address your design and marketing requirements.
We also offer low cost and well-designed web sites and reliable web hosting based on WordPress where you have full control of the content and can change it anytime without full dependence on a web designer.