LuminFire offers FileMaker training in the Twin Cities metropolitan area. Choose us to experience the following advantages:
Flexible scheduling. We'll make the date and time work for you.
Training at our conveniently located office building with free parking.
Pre-training conference call to gather specific information to guide the class activities including attendee's skill sets and basic business requirements for the solution they want to build.
Fully customized training covering core FileMaker development skills building the foundation of a new solution.
All sessions will include reference to, planning for, and discussions about proposed client solutions.
Students are encouraged to bring their own Excel spreadsheets to actually convert or begin turning into useful databases.
Individualized instruction limited to 3 students…not a classroom or 5-10 students.
Our instructors are expert certified FileMaker developers with years of experience developing customized solutions.
Our training experience will ensure a fun time while learning practical hands-on skills and best practices necessary for the success of your project.
We also offer lecture style classes, one-on-one private sessions, on-site classes, and project-based coaching/mentoring. Please contact us for a quote. Due to the customized nature of our training classes, the cost varies. A typical investment might be about $2,000/day for up to 3 students.
We include here a great list of training resources. We are here to assist you with navigating any of this information.
The FileMaker Training Series is the official training curriculum from FileMaker, Inc. It offers a series of training modules (over 800 pages) that cover a comprehensive set of topics designed to help you master the essentials of FileMaker solution development. A DVD includes demo files, exercises, videos, and PDFs of the manual.
This FileMaker Training Series course materials allow you to: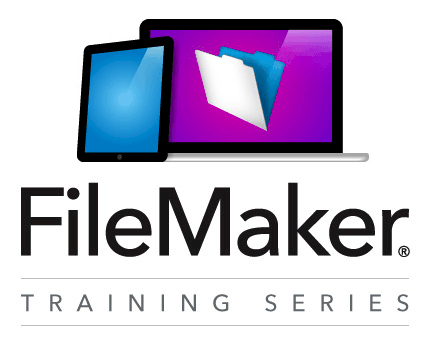 Learn best practices for developing professional database solutions with FileMaker products.
Get results more quickly than using self-teaching methods.
You should consider looking at the FileMaker Training Series materials if you are:
Familiar with the basics and want a solid grounding in key FileMaker development principles.
Comfortable with FileMaker Pro and want to advance your development skills.
An expert developer and want to fill in any gaps in your knowledge.
Planning to become a FileMaker Certified Developer.
Request FileMaker training, coaching or mentoring below: