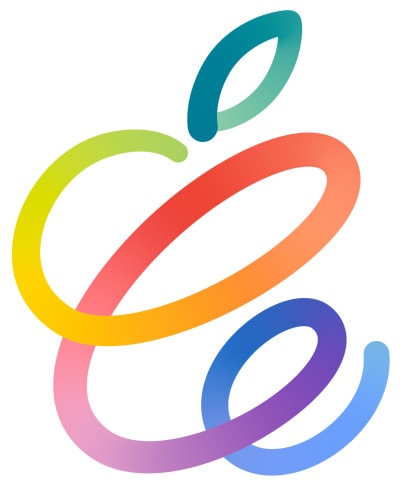 On Tuesday, April 20th, 2021, Apple held a virtual event titled "Spring Forward." Apple is hitting their stride with these pre-produced, live-streamed events. Tim Cook and company made loads of announcements, and the pace fast. Here is a summary of everything that was announced at the event, and a few details that have been filled in since.
Apple Card Family
Apple is expanding their Apple Card credit card by allowing you to share one account with members of your iCloud family. Spouses can build credit together, and you can set spending limits for kids 13 and up.
Apple Podcast Subscriptions
Podcasters can now charge for content, and listeners can pay through a revamped Podcast app. Content creators pay $19.99 a year for membership to the Apple Podcasters Program. Consumers pay rates set by the content creators on a monthly subscription basis, by default, though there is an option of offering an annual subscription. Apple gets a 30% cut on the first year, dropping to 15% on subsequent years, similar to their TV subscription deals with networks.
New Purple Color for iPhone 12 and 12 mini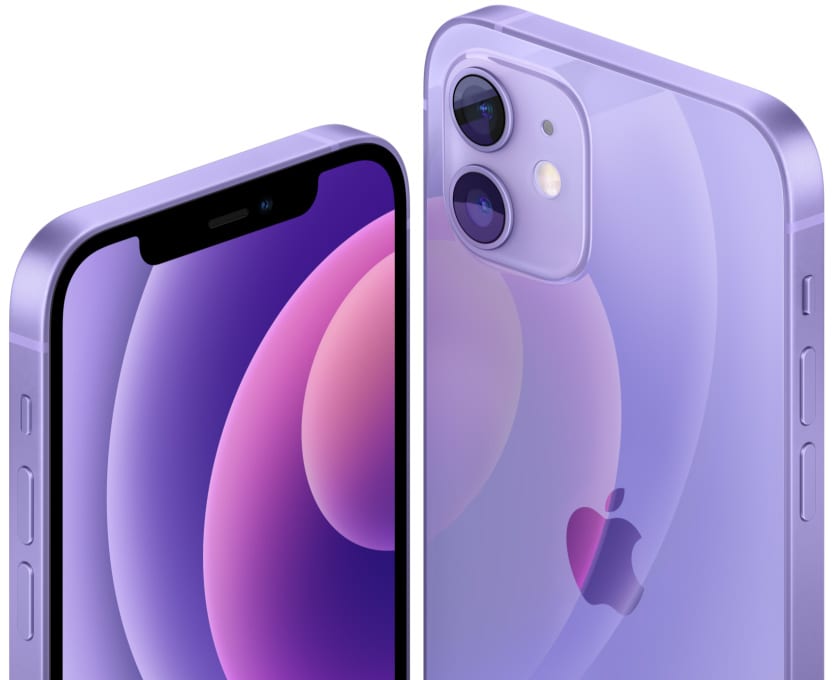 Not much to say about this one. It's spring, so Apple added a new color option for the iPhone 12 and iPhone 12 mini. The new color is available on April 30, with pre-orders starting Friday, April 23rd. It's more of a lavender, really. Very spring-like and pretty. Makes me wonder if new colors in hardware will become a regular, seasonal thing, like they currently do with cases and other accessories. Speaking of which, new MagSafe case and leather sleeve colors rolled out as well, but they didn't get any screen time.
AirTags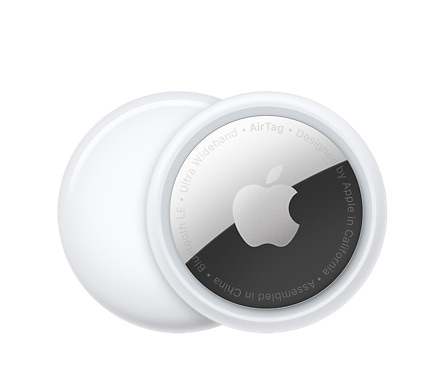 One of the worst-kept secrets in the Apple rumor mill for the last year or more has been AirTags, Apple's Tile-like location tracking beacons. They are locatable with the Find My app, and any device with the U1 chip can provide precise spacial locating assistance. The AirTag is designed to offer more than a year of use from the replaceable battery and they have an IP67 water and dust resistance rating. They are available for order on April 23rd for $29 each, or in 4-pack for $99. Ordering online gives you the option of free engraving, including emoji. There are a variety of accessories available from Apple and Belkin. For the stylish among us, there are also AirTag Hermès leather bands, ranging from $299-449.
Season 2 of Ted Lasso
The AppleTV+ feel-good hit of 2020, Ted Lasso is returning for a second season on July 23. A trailer for the new season is available now.
AppleTV 4K

The flagship Apple streaming box AppleTV 4K is getting an update with an A12 Bionic chip, which will enable faster refresh rates and better game play. Apple described it as "Power that smart TVs just don't have." Both new and previous (2015 or newer) AppleTV HD and 4K models will soon let you use your iPhone to calibrate your TV, giving you better color and picture quality. But the biggest news here is the newly redesigned Siri Remote. The old Siri Remote for Apple TV was universally derided for its symmetric design that made it impossible to tell which way is up, especially when you are doing something in the dark… like watching TV. The new Siri Remote features a dedicated power button for your TV, a Siri button on the side (just like on your iPhone), and a round combination touchpad/clickpad, with an outer ring that acts as a jog dial for scrubbing through video content, à la the original iPod click wheel. The worst feature of the AppleTV is now one of the best reasons to upgrade. The Apple Siri Remote is available to purchase separately if you don't want to upgrade your existing AppleTV. The new AppleTV 4K is available for pre-order on April 30, shipping in the second half of May for $179 or $199 for 32 or 64GB sizes, respectively. The older AppleTV HD is still available for $149 with 32GB, now with the new Siri Remote.
New M1 iMac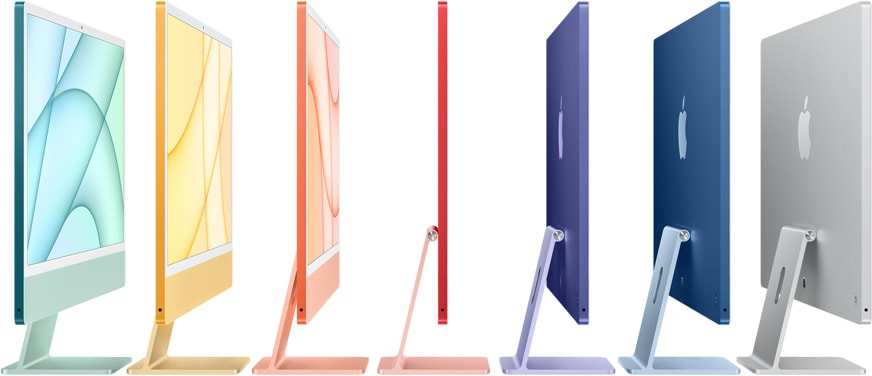 The people who scrutinize Apple's event invitation graphics noticed that the swirly spring design could be rearranged to line up with some of the letters in the original Macintosh "hello" font. Apple likes to make a throwback reference to "hello" whenever they redesign the iMac, and this event was no different. The new iMac features a 24" 4.5K display with a 4480-by-2520 resolution at 218 pixels per inch, P3 wide color gamut and True Tone technology. And of course it has the Apple Silicon M1 system-on-a-chip. The iMac has a fresh design, available in 7 vibrant colors, with a stand that allows tilt adjustment, and a main body that is 11.5mm thin. The humped back is gone, but the chin is still there, now sans logo. Everything that is not the display lives in the chin space: the logic board, speakers and USB-C ports (2 Thunderbolt/USB 4 ports, plus an additional 2 USB 3 ports on the higher end models). The power cord attaches magnetically, and the Gigabit Ethernet port is on the power brick, which is a clever solution to fitting a bulky port into a thin design. Have to wonder if a variation of that will be coming to future laptops? The new iMac is the first Mac with a 1080p FaceTime camera, which combined with the M1 image signal processor, promises a great picture for your video conferences. They also feature high-fidelity wide stereo sound and a three-microphone array with high signal-to-noise ratio and directional beamforming, for studio-quality audio. In another first for the Mac, the M1 iMac has the option of TouchID on the newly redesigned Magic Keyboard. Apple says that the TouchID keyboard will work with any M1 Macs, but aren't selling it separately yet. The keyboard, trackpad, and mouse all have color-matched accents to the iMac's colors. They start at $1299, can be pre-ordered on April 30th, and will be available in the second half of May.
It is worth noting that, just like Apple's other M1 Macs, these are "consumer" level machines. This is still the first generation of Apple Silicon Macs. They are very impressive… but they are also the slowest Apple Silicon Macs that Apple will ever make. We can't wait to see when they start shipping "professional" grade computers with their custom chips.
iPad Pro
The Apple Silicon M1 chip is no longer a Mac-only processor. It now also powers the new iPad Pro. In addition to the M1 chip, the iPad Pro is also the first iPad to sport Thunderbolt and 5G. The 12.9″ iPad Pro has Liquid Retina XDR display, which Apple compared to its $5,000 Pro Display XDR.  The iPad Pro features a new front-facing camera technology called Center Stage, that can automatically pan and zoom with you to keep you centered in the frame and adjust as additional people come into frame. For the first time, Apple specifies how much RAM is in the iPad Pro, with either 8 or 16GB, depending on the storage capacity, now up to 2GB. There are a lot of features that help defend the "Pro" moniker, and further differentiate it from the also great iPad Air. The 11" iPad Pro starts at $799, while the 12.9" iPad Pro now starts at $1,099, and they are available for pre-order on April 30, shipping in the second half of May. The 5G option will set you back another $200.