We've been building innovative software solutions for 35+ years under the guidance of our CEO and founder, Tim Cimbura.  What was once a single person operation is now a vibrant company with about 20 employees and hundreds of satisfied clients.
LuminFire
In 2017, we rebranded to the name LuminFire, representing "light" (brilliant solutions) and "fire" (fmIgnite is our business solution).
Want to learn more about our history?  Take a reverse stroll with us down memory lane as we recount some of the major milestones along our journey from where we are today all the way back to our humble beginnings.
ThoughtRefinery Acquisition
In 2014, after working with Nick Ciske of ThoughtRefinery for several years, Cimbura.com officially acquired ThoughtRefinery to expand our WordPress and web development expertise.
Cimbura.com, Inc.
The Cimbura.com name was first officially used in 2003. In 2014, we were recognized as a FileMaker Platinum partner. Soon after, we also became part of the Apple Consultant Network.
Apex Software
The Early Days
Apex Software was established in 1984 by Tim Cimbura. At that time, two applications were released for the Apple II: (1) ApexText, a character generator that made it possible to use upper/lower case, full color, bold, tall, wide, and large text, and (2) Inventory Plus, a powerful and easy-to-use inventory management application. ApexText was used as the graphics engine for many entertainment and educational software packages distributed by Scholastic, TIES, MECC-Minnesota Educational Computer Consortium (later The Learning Company and now Broderbund), EduComp, CompuKeys, and other companies.
Later, many applications were developed in HyperCard, including a language translator, a meeting decision support system, and a multi-user contact management system. For several years, Apex Software developed and marketed the "Bible Helps" Bible study reference library as one of the first searchable electronic Bible software on the Macintosh.
More…
Tim Cimbura grew up as a real life "whiz kid" and started programming when the Apple II first hit the schools around 1978. His father was a math teacher and brought a computer home…he was hooked. At the age of 16, Tim got his first  job programming educational software for the Apple II at TIES (Total Information Educational Systems) for $4/hour. TIES and MECC (Minnesota Educational Computer Consortium) were somewhat sister organizations at the time. There was a lot of crossover with student programmers. Many of those programmers went on to work for Adobe, Apple, etc.
One of Tim's "claims to fame" was authoring the character generator called "Apextext" (Apple Extended Text System). This software was one of the first graphically oriented text systems. It allowed upper and lower case letters to appear easily on ANY Apple (even without the lowercase chip). It also allowed different fonts to be edited and used in multiple colors and sizes. It could even be used for animation. This software was licensed for use by TIES, MECC, Scholastic (for use in the Microzine that appeared in the Welcome to Macintosh movie and other software), and many other companies.
Tim was co-author of the groundbreaking educational software software CompuKeys that taught students how to type. It was the first package of it's kind that had word wrap like modern word processors and did timed typing tests. At the time there was no internal clock in the Apple II and so the programmers counted 6502 processor machine cycles in the code to make it happen…ugh! Tim programmed state of the art animated graphics and made drawings of every hand position on the keyboard. A multi-user module allowed teachers to collect grades from all their students and put them together for printing reports. All were innovations that were first in the industry. At that time CompuKeys had a booth at the MECC conference and Tim met Apple CEO, John Sculley.
Tim also wrote the first computer program on the Apple II that did magic tricks. Later, this application was converted to work on HyperCard on the Macintosh. Today, the tradition lives on in a FileMaker database called fmMagic. During some of Apple's more difficult times (1991-1997), Tim contributed to Guy Kawasaki's Evangelist and worked with American Express supporting the future of computers with installations of around 400 Macintosh Duo computers, email, and remote access. They were able to accomplish many things that were not possible on OS2 or Windows.
Apple IIe Software
Just for fun and a little bit of nostalgia, some of the original Apple IIe applicatio

ns developed by Apex Software are available here for free. These products are no longer sold or supported. You may run them using an Apple IIe emulators for the Macintosh or PC. Virtual II by Gerard Putter is the best emulator I've found.

ApexText System Disk
ApexText is a character generator for the Apple II. When released it was THE best of class character generator allowing any Apple II to display upper and lower case characters in multiple sizes, colors, fonts, graphic symbols, etc. (Believe it or not computers didn't do this in the past.) Included are a couple of nice demos (including the first magic trick programmed on a computer), fonts, font editors, etc. The manuals are here: Features, Documentation, Quick Reference, Hex Chart

CompuKeys Demo Disk
At its release in 1986, CompuKeys was THE premier application for teaching keyboarding from the elementary to high school level. It included many advanced features like class and student management, accurate timings (the Apple had no timeclock!), correction of errors like a real typing teacher, word wrap, etc. It also featured animated graphics of all hand positions and games to develop speed and accuracy in typing.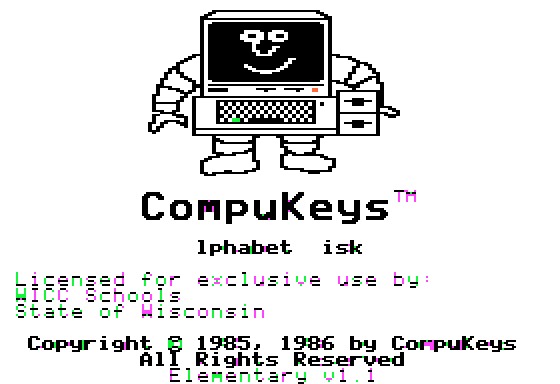 "Our school has been using CompuKeys for the past 10 years on our Apple IIs. However, this year we got rid of those computers and we still want to use the CompuKeys program. Is there anyway we can use the software on our Macs?" – Cheryl Lenz – Spencer, WI, April 2000 …No…Sorry…but that is a long time to use one program without an update!