On June 6, 2022, Apple kicked off their annual WorldWide Developers Conference (WWDC) with a keynote presentation. Even though Apple invited a select number of developers and journalists to watch the keynote at Apple Park, the presentation itself was not live, but yet another pre-produced video stream. There are certainly some fun things that they can do with editing, but I was still hoping at least part of the presentation would be live. I think the energy of the crowd would have been amazing.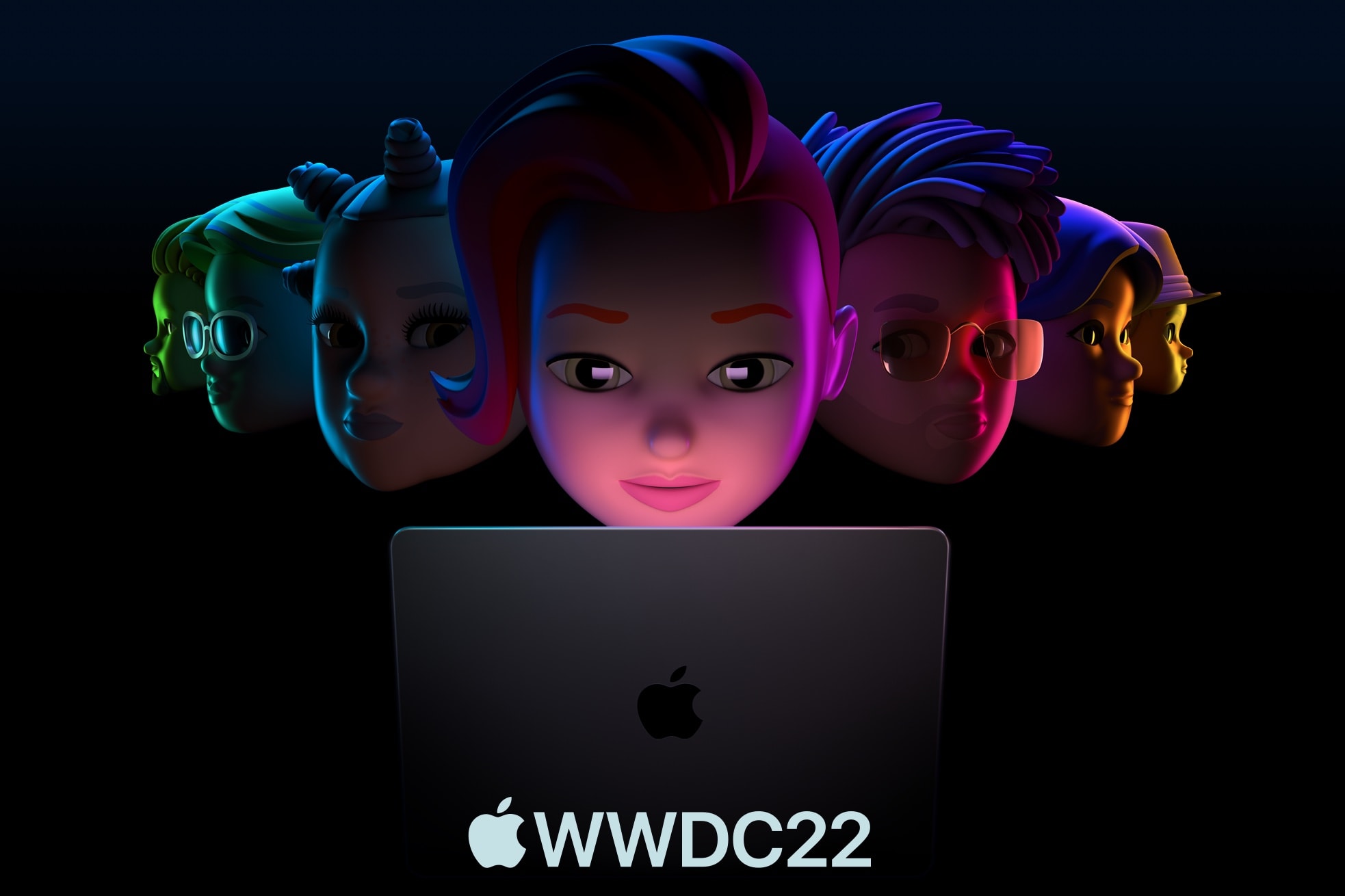 In this post we'll go over the highlights of the event, plus some additional details, and share our take, as usual.
Developers, Developers, Developers…
Tim Cook kicked off the event from a hallway in one of the upper levels of the "spaceship" headquarters, overlooking Apple Park, to talk about ways that they partner with developers both at WWDC and outside of it. Apple opened a new Developer Center across from Apple Park, launched online Tech Talks, and continues to cultivate the next generation of developers and reach underrepresented communities with Developer Academies.
iOS 16
Craig Federighi had some fun with special effects by taking a virtual lift down 2 levels into the Steve Jobs Theatre building. He showed off a long list of iOS 16 updates, which included:
the redesigned lock screen that features depth effects, customizable styles, widgets, and more efficient ways to handle notifications.
A new API for live activities like sports will replace multiple notifications with data that updates in real time.
There are updates to Focus Modes, including filters in multiple apps (like Mail and Calendars) to help you focus on your work, or your family, etc. There is also a new Focus Filters API that developers can use to bring this functionality to their apps.
Updates to Messages include the ability to edit a message you just sent, and undo sending a message, to help cut down on embarrassing typos or sending a message to the wrong recipient. You can also unmark messages as read, if you want that red dot to remind you to come back to it.
The "Shared with You" API and SharePlay get better discoverability, in both Messages and FaceTime.
Dictation gets an overhaul, letting you fluidly move between voice and touch/keyboard entry, as well as automatically adding punctuation, and the ability to speak emojis.
Live Text, the feature that lets you select and copy text from any image, is expanding to video and translation.
Visual Lookup is going further than just providing extra information about what is in your photos. It now uses AI to let you clip items out of your photos and drop them into Messages without their background.
Wallet is getting a bunch of updates, including more state IDs, TSA support, and the ability to use your ID for apps that require age or other verification. Purchases made with ApplePay can be split into 4 equal payments, and you can track shipments for Apple Pay purchases right in Wallet.
Maps is adding multi-stop routing with up to 15 stops, and the ability to add stops along the way and remember your favorite routes.
Look Around is coming to AppKit so developers can add it to their apps. Real Estate app Zillow was mentioned as an app that would feature Look Around.
Services are getting updates as well. The Apple News and Apple TV apps are getting a new My Sports section for keeping track of your favorite sports teams and leagues. Family Sharing is getting some much needed updates, the most requested is iCloud Shared Photo Library for family. There are a lot of smart settings to automatically include photos in the shared album based on people in the photos, or you can switch it on and off in the camera app. There are new, easier ways to set up a new device for a child, and updates to make ScreenTime requests easier to find.
There was a stark, but appropriate tone shift when they talked about a new feature called Safety Check. This can help someone escape an abusive relationship by turning off location sharing and other access you have previously granted, and can sign you out of other devices that an abuser may have access to.
The Home App is getting a much needed rebuild, making it easier to manage your smart home devices by room, favorites, device category, etc. Apple is a part of a standard for smart home devices called Matter that should make choosing smart home accessories easier, since they will work with all smart platforms.
And finally, CarPlay is getting some major updates that look really exciting, but of course some of the features will require support from the auto manufacturers. CarPlay will be able to display and control more of your car's native functionality, including speed and driving stats, climate control, radio, etc. CarPlay will be able to take over the instrument gauge cluster and be customized with several looks and widgets. It will support multiple, unique screen sizes and shapes. Vehicles supporting these new features will be announced next year.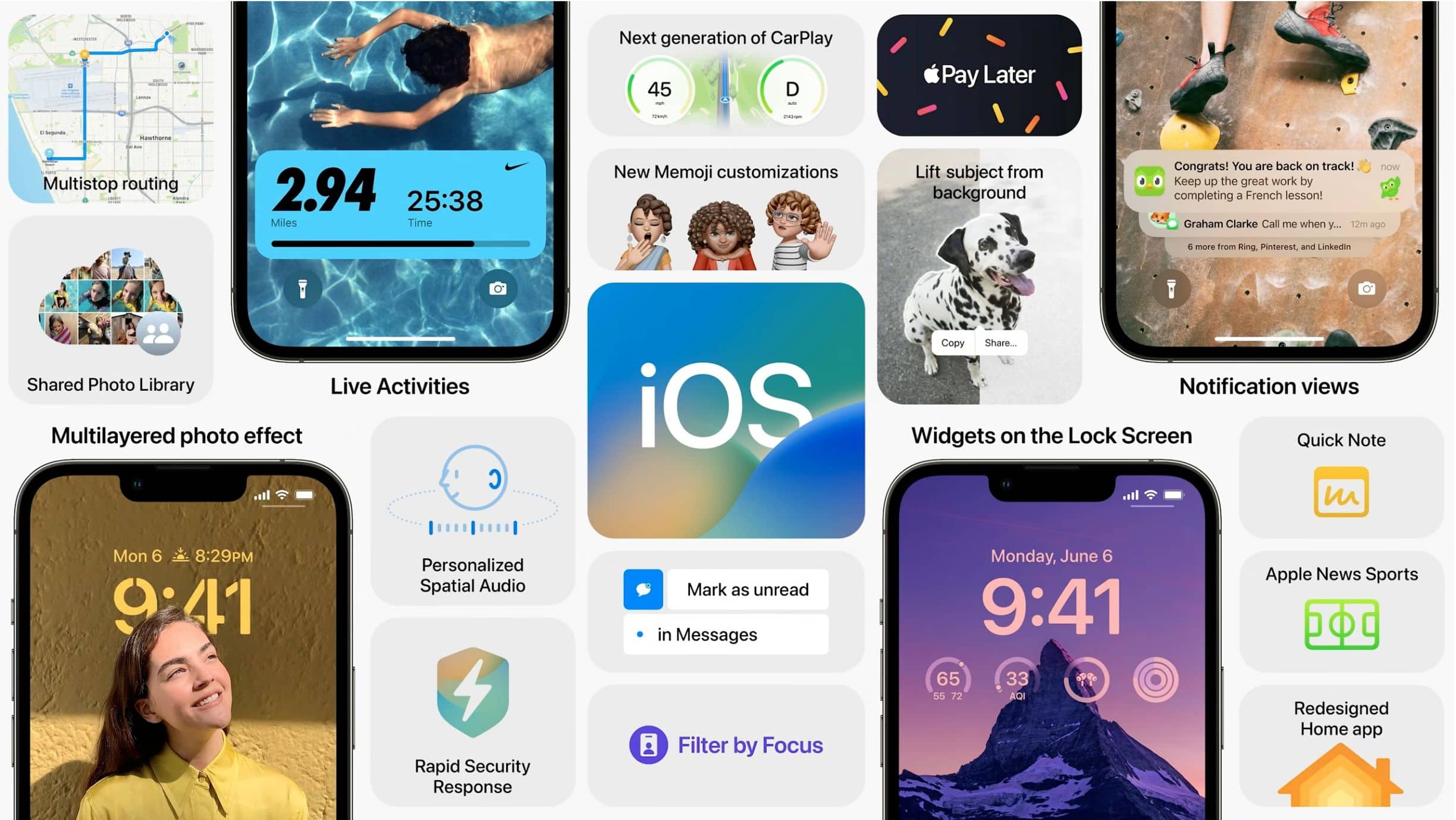 watchOS 9 and Health
Kevin Lynch introduced new watch faces for watchOS 9. There is a refreshed Siri UI and improved notifications. You will be able to start VOIP calls in some common voice calling apps directly on Apple Watch.
Craig Bolton talked about new running form metrics to more accurately gauge your run with machine learning and sensor fusion. You can add these new metrics to your workout view, as well as a new heart rate zone view. The Watch has a multi-sport workout type that can detect different workout types for triathletes. The Fitness app is also coming to iPhone, so that users without an Apple Watch can track their fitness and close their rings, using the sensors in the iPhone.
The Sleep app is getting some updates to track Sleep Stages. Apple Heart and Movement study participants can contribute sleep tracking data to advance the study of sleep. For users with heart conditions, watchOS 9 can now track AFib history, so you can identify trends and share a PDF with your doctor to have more meaningful conversations. A new Medications app will let you track and manage medications. You can scan your prescription label to add medications to your list, get reminders for when you should take your medications, and get warnings for potential medication interactions. You can choose to share health data with a loved one. You will receive periodic reminders of who and what health data you are sharing.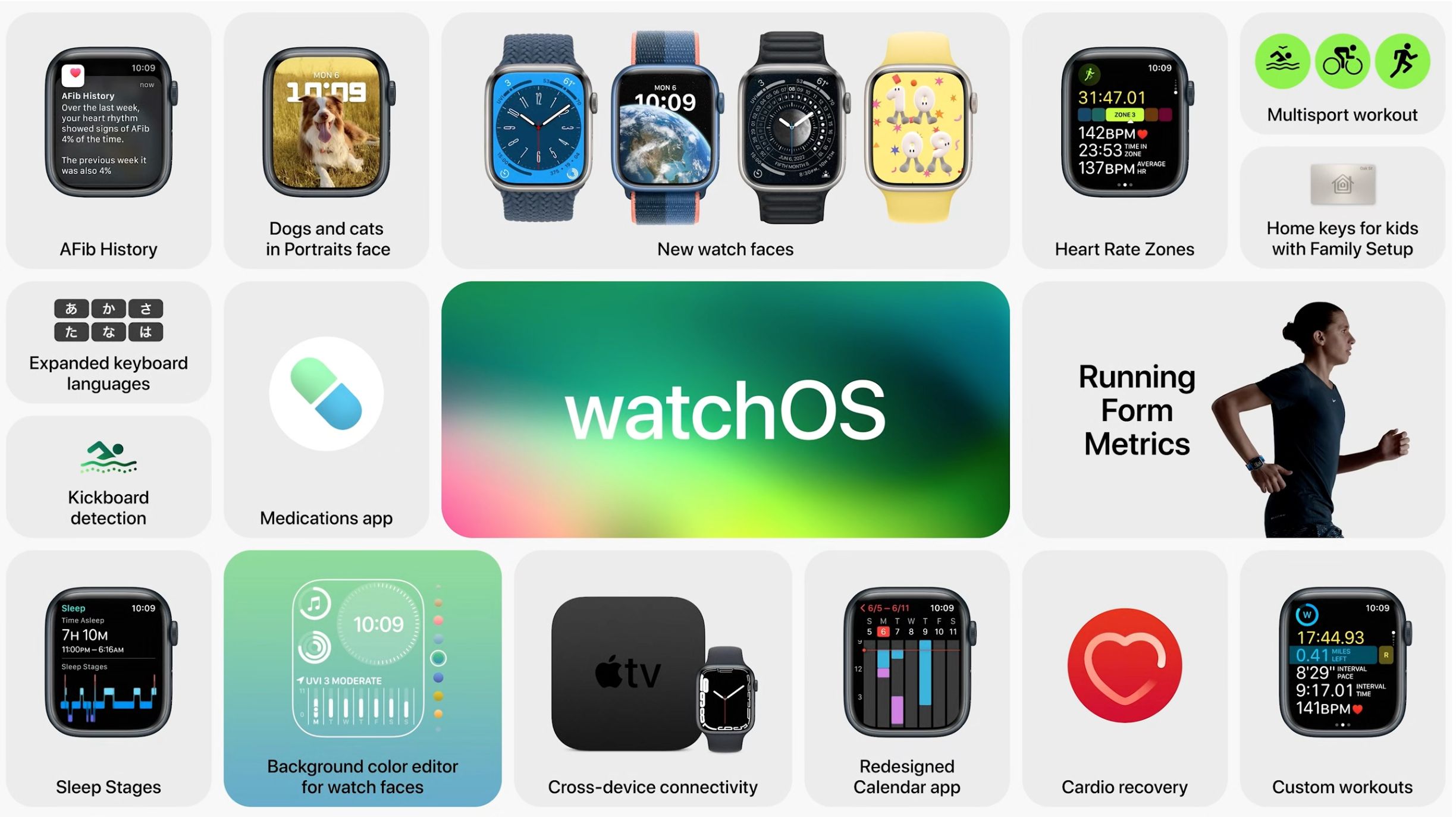 Let's Talk about the Mac…
John Ternus and Johny Srouji talked about the transition to Apple Silicon and introduced the next generation of system on a chip (SOC): the M2. They continue to have a relentless focus on power efficiency, while still gaining performance. M2 is based on an enhanced second generation 5nm process and has 20 billion transistors… 25% more than the M1. M2 has 100GB/s of memory bandwidth, and supports up to 24GB unified memory.
There were a lot of charts, showing how fast M2 is compared to M1 and PC laptop chips, while focusing on lower power consumption than the competition. Given what we know about the M1 family of SOCs, it's easy to get excited about the eventual M2 Pro, M2 Max, and M2 Ultra chips that are sure to be coming in future Macs.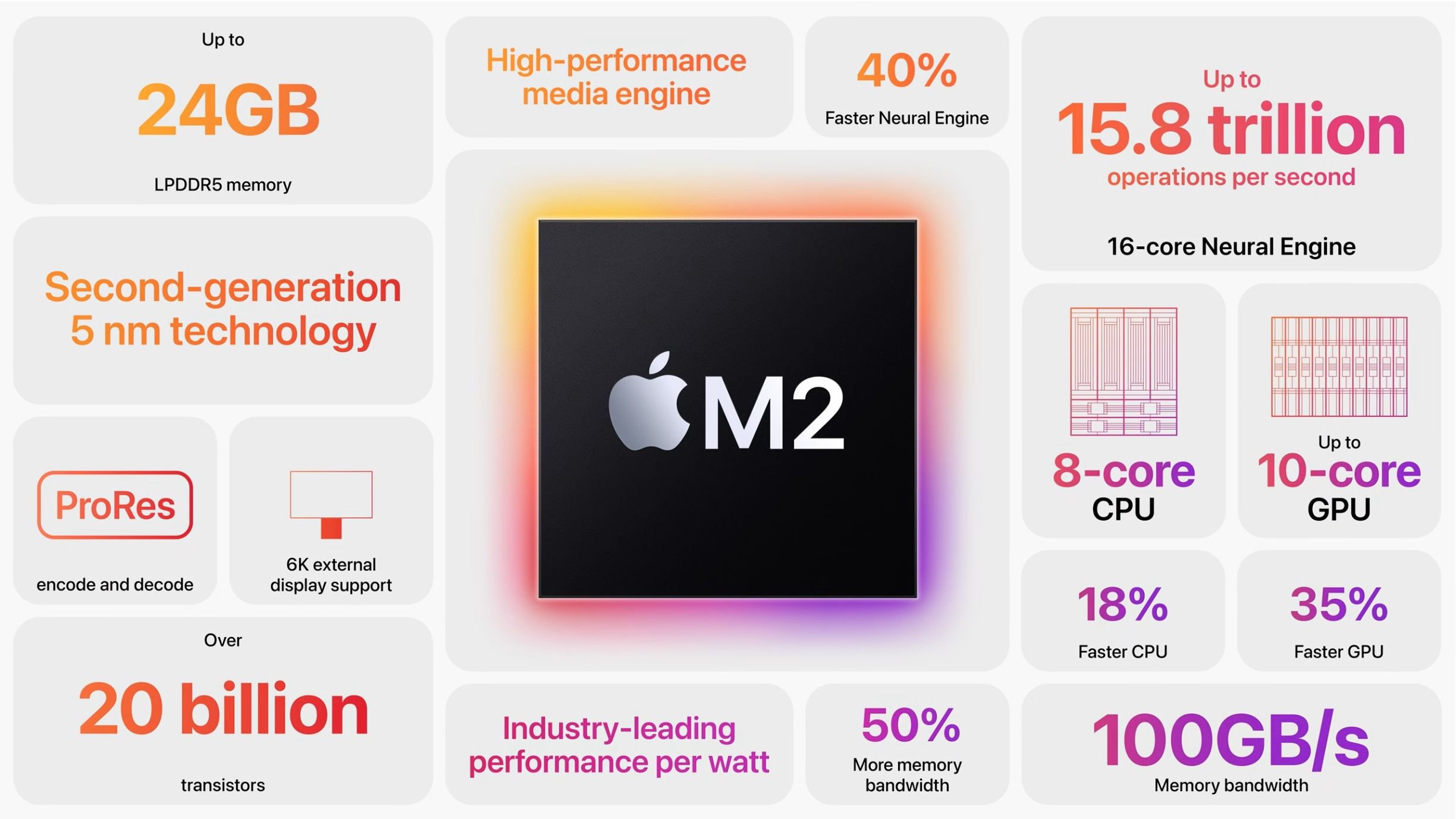 So what are they doing with this new M2? They unveiled the new, redesigned MacBook Air. Rather than the traditional tapered design, the new MacBook Air adopts the design language of the 14- and 16-inch MacBook Pro, but smaller and thinner.
It has 20% less volume and still weighs just 2.7 pounds.
The display has smaller bezels, enabling a 13.6" liquid retina display.
There is a notch, like on the MacBook Pro, housing a 1080p camera.
There is a 3-mic array and a 4 speaker sound system featuring Spacial Audio and Dolby Atmos.
The new MacBook Air is 25-38% faster than the previous generation, or 5-15x faster than the previous Intel processor version.
It is available in 4 colors: silver, Space Gray, Starlight, and Midnight.
It features MagSafe charging, plus 2 Thunderbolt ports.
Battery life is now up to 18 hours, in a fanless design.
The new MacBook Air will be available in July, starting at $1199, or $1099 for education.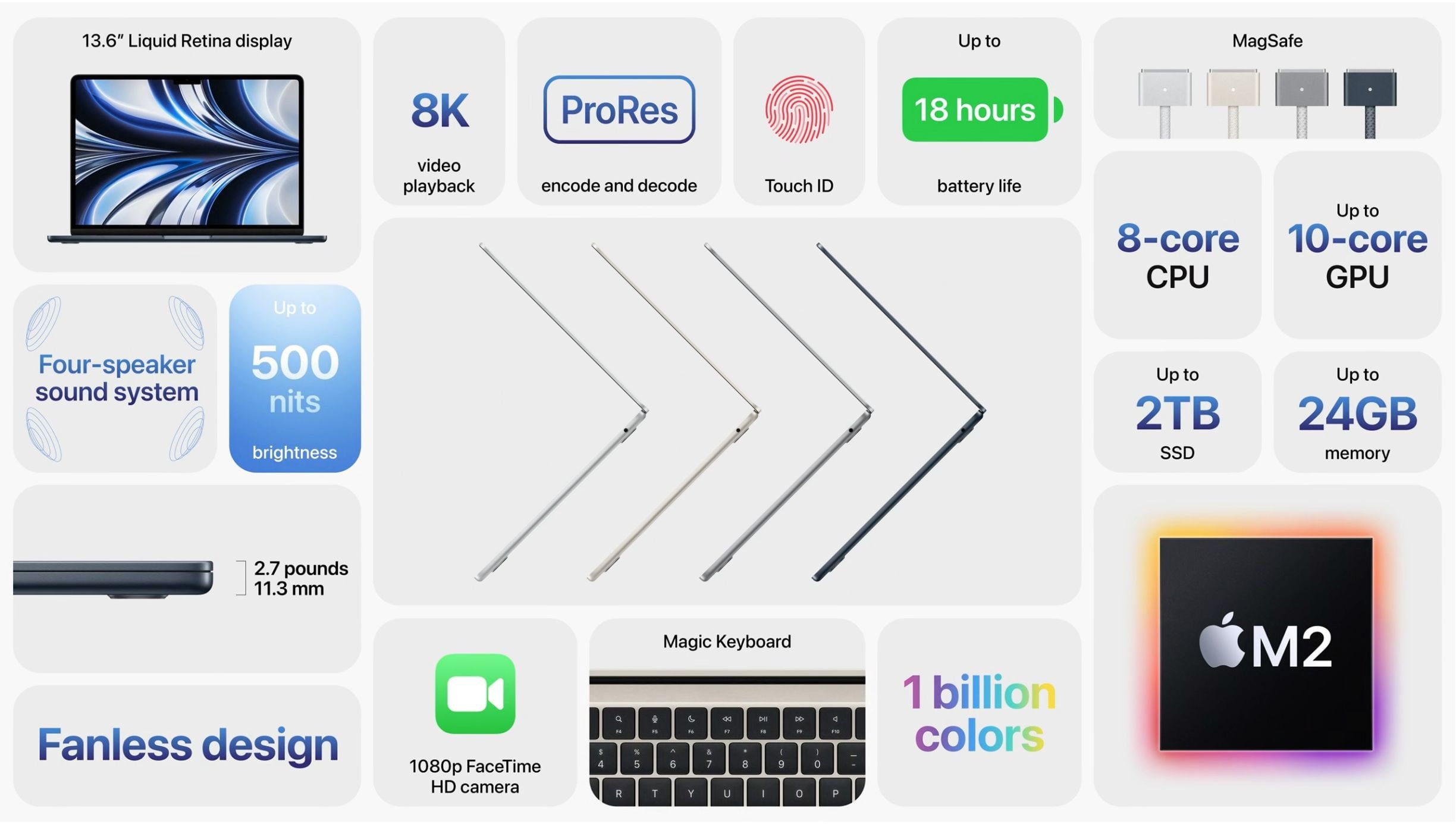 The M2 can also be had in the 13" MacBook Pro… albeit in the same stale design. If you are a fan of the TouchBar, it lives on in this design. The 13" Pro will also be available in July, starting at $1299, or $1199 for education.
The M1 MacBook Air will stay in the lineup, starting at $999, or $899 for education.
macOS Ventura
Apple traveled down Highway 1 from Monterey to find the inspiration for macOS Ventura, which features a new way to manage multiple windows and multitasking called Stage Manager. It shows your open windows to the left, grouped by app or you can create your own custom groups. Clicking on the desktop gets everything out of your way and lets you drag documents into any of your open windows. Additionally:
Spotlight gets a lot of updates, showing richer results, starting timers, launching Shortcuts, etc.
Mail is getting some requested features like undo send, scheduled sent, and follow-up suggestions. Mail's search is getting a major overhaul, showing smarter results.
Safari gets Shared Tab Groups for collaborative browsing with friends or colleagues.
Safari is attempting to solve the issue of passwords with Passkeys, using TouchID or FaceID for authentication, in both websites and apps. Passkeys will work with the fido alliance, to ensure support across multiple platforms.
Continuity and Handoff now support FaceTime calls. Apple seemed to recognize that their built-in webcams in Macs aren't the best, and allows you to use your iPhone camera as your webcam. They showed a couple stands that attach to your iPhone with  MagSafe that clip onto your laptop lid. This lets you use features like Center Stage, Portrait Mode, and Studio Lighting on your Mac. There is a feature called Deskview that uses the ultra-wide angle camera to give you an overhead view of your desk and keep your face in the shot as well.
Most of these updates are coming to iOS and iPadOS as well.
Apple also spent some time talking about gaming on macOS, an area that Apple has struggled with in the past. The Metal 3 platform aims to help game developers develop rich scenes with MetalFX Upscaling and improved loading time.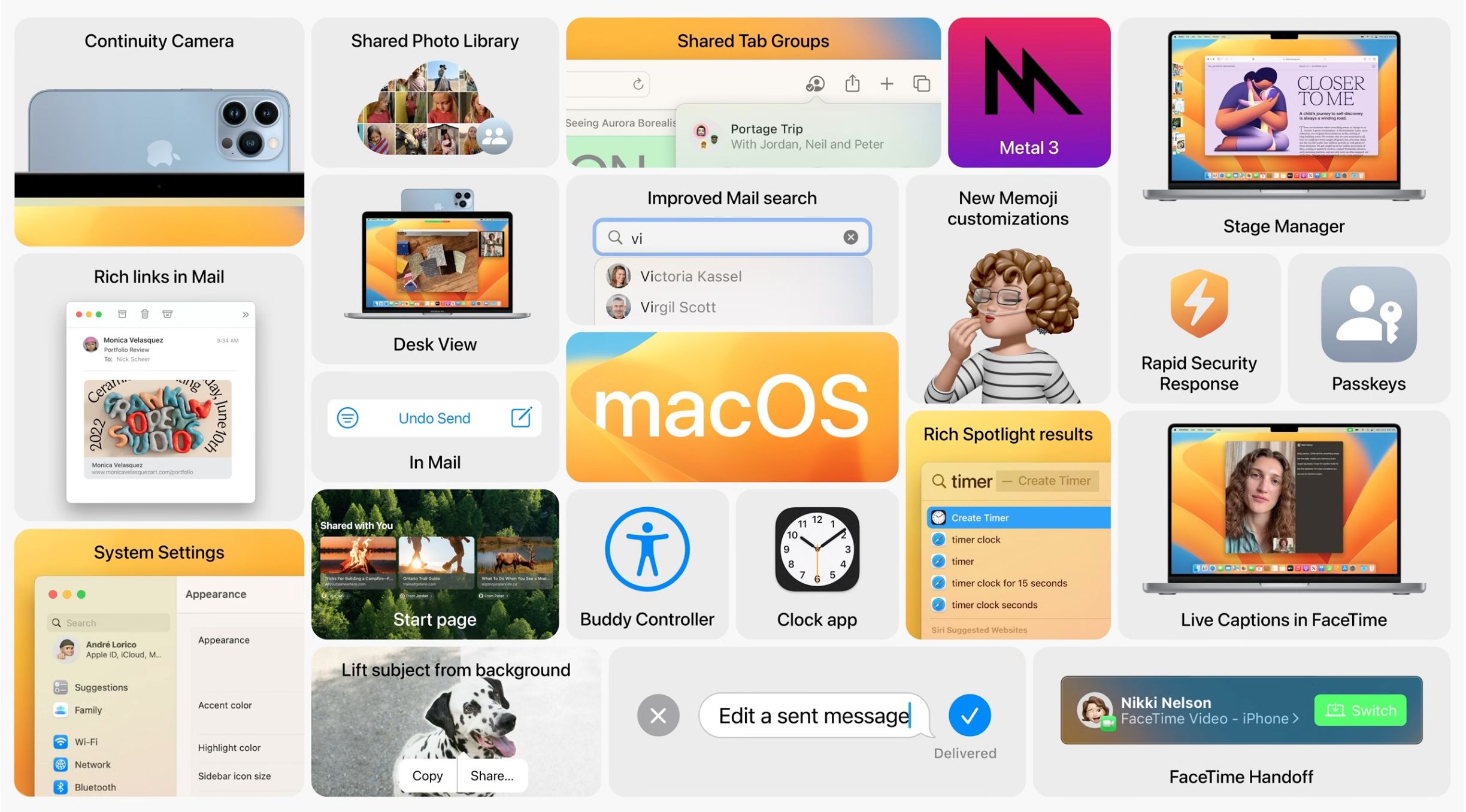 iPadOS 16
Many of the new features coming to iPadOS were already covered in the iOS and macOS updates, like shared photo library, shared tab groups, Passkeys, Mail updates, and more, but there's more:
There is now a Weather app for iPad and a new WeatherKit API for developers.
There are new multitasking and collaborating features for iPads with M1. You can collaborate with a Messages conversation using Pages, Safari tab groups, and other apps. Elizabeth Reid gave us a sneak peak at a new collaboration app called Freeform. It is a digital whiteboard with an infinite canvas that looks great for brainstorming.
iPadOS 16 features "desktop-class apps", adding system-wide features that will make the iPad feel more like a real power user platform. These capabilities are available to developers with a new set of APIs.
There is a new Reference Mode for the iPad Pro, either on its own, or alongside a Mac.
M1 iPads can now do display scaling to let you fit more on your iPad screen.
They are allowing virtual memory swap, allowing apps to use more RAM.
That Stage Manager multitasking view is here, too. It allows more flexible ways to multitask, with multiple, overlapping windows for the first time on iPadOS. It works great on the iPad alone, or even better with an external display.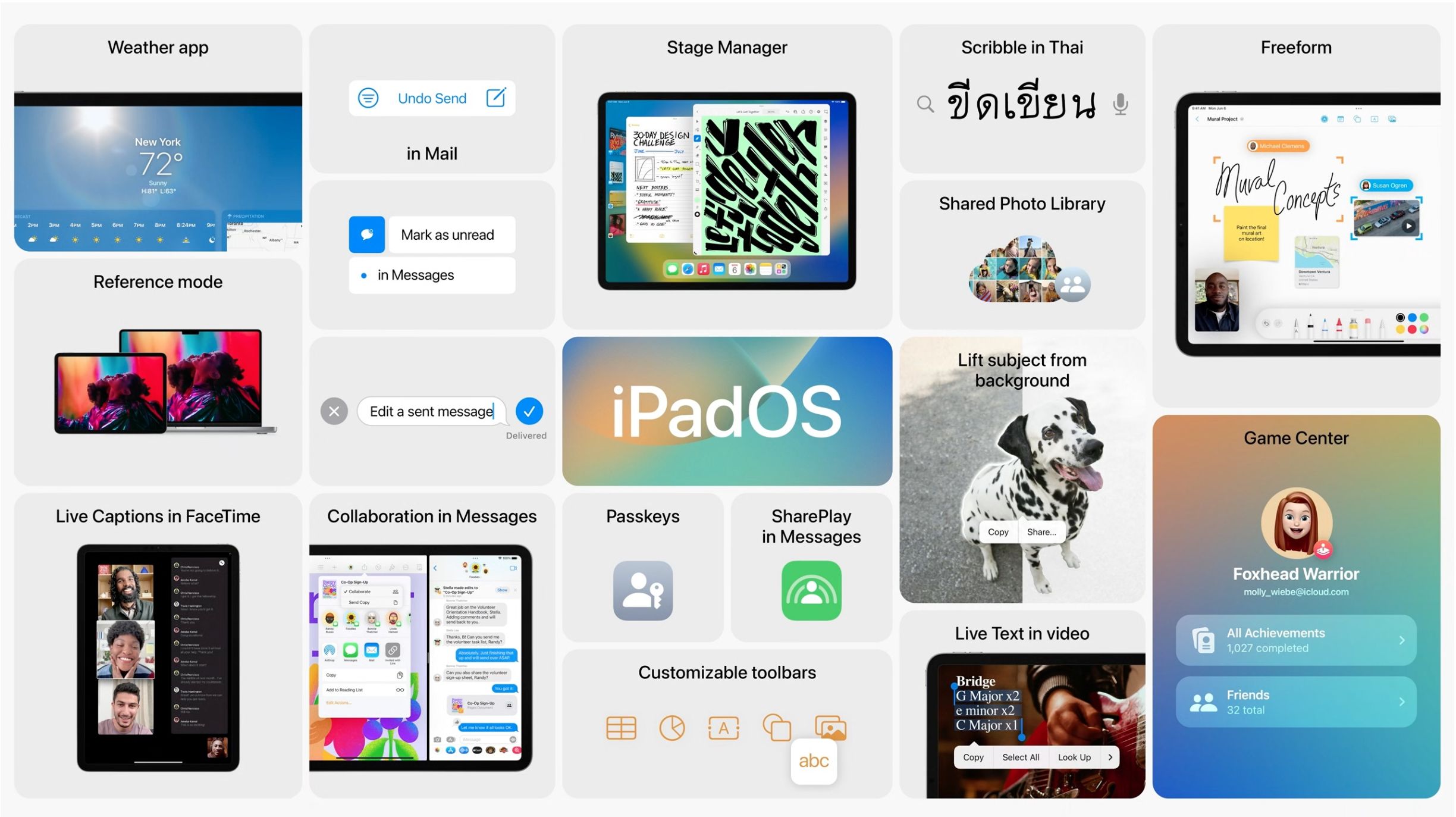 Release timing
Developer betas of all of Apple's new platforms are available immediately, and public betas will be available next month. Final releases are expected in the fall, with some features following later in the year.
Let us help you with your technology needs including help with anything Macintosh or Apple.