BrilliantGateway is a cloud hosted middleware gateway for the FileMaker Data API that increases stability, performance and security whole allowing anonymous and externally authenticated users to access a solution via web browsers and mobile applications.
Connects to FileMaker in a better way
Stable, Scalable, Secure, and Versionable
Build to customize for your exact IT requirements
Putting BrilliantGateway in front of your FileMaker server makes it easier to write brilliant custom web and native apps that make use of the information in your FileMaker database, without limitations.
FileMaker Data API Middleware as a Service (MWaaS)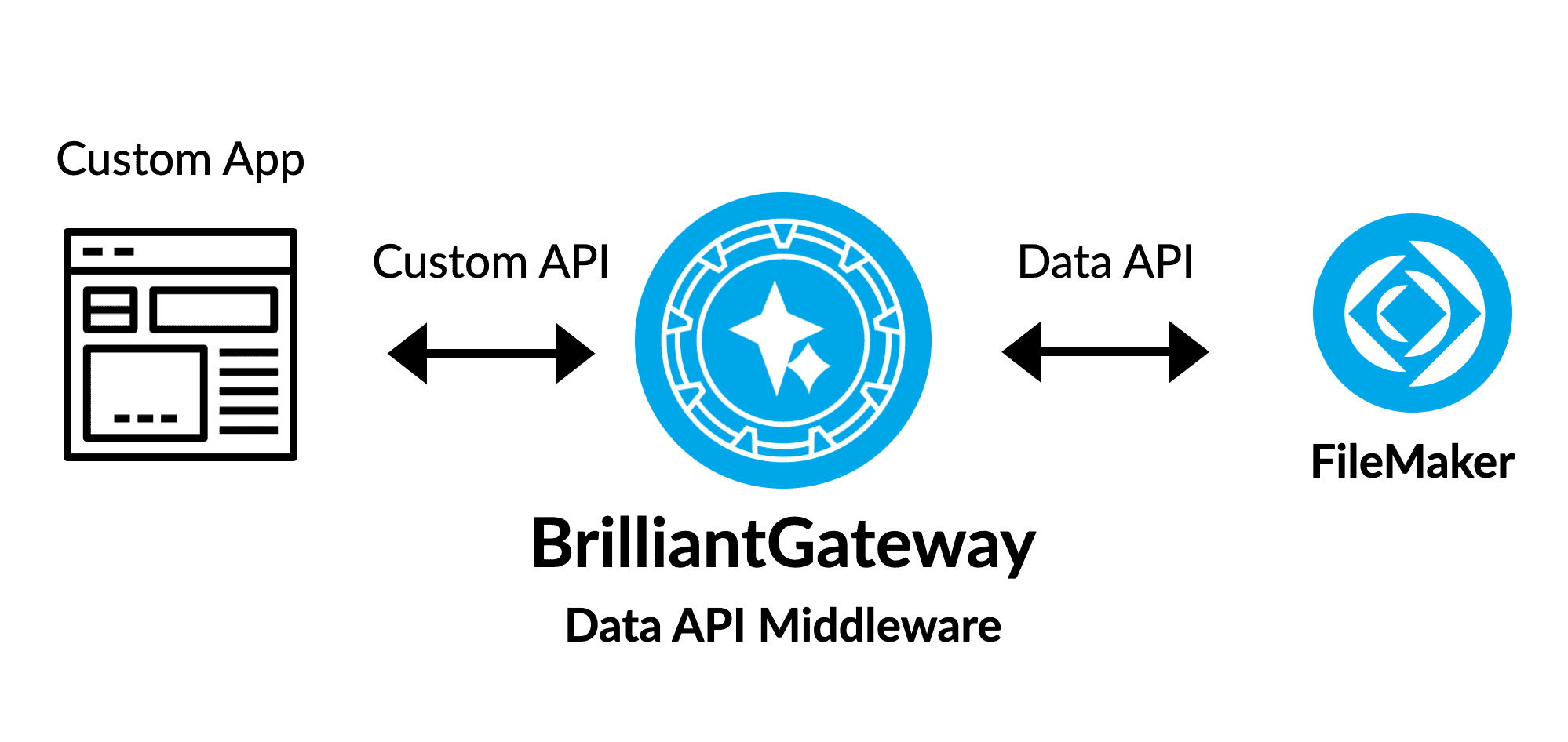 Stable
Modern, restful interface for client side applications, mobile apps, and vendors / partners. Transforms requests to/from FileMaker server, insulating against breaking changes and FileMaker specifics.
Buffers against changes when upgrading FileMaker server, changing layouts and renaming fields
Auto documenting
Standards based authentication
Scalable
Handles the load while FileMaker Server handles your data and business logic. Can significantly reduce server load using request pooling, avoiding failed login attempts, and shifting authentication to the gateway. Runs on a public cloud to provide manual or auto scaling based on demand.
Protection from DDOS attacks and abusive bots
External enterprise grade user authentication with no load on FileMaker server
Data caching with configurable expiration (optional)
Load balanced app servers (optional)
Efficient communication with the FileMaker Data API (single user or role based users)
Secure
Shield FileMaker server from attacks, bad actors, and other hazards. Useful for situations such as HIPAA where data security and audit logging are critical. Credentials and configurations are stored encrypted at rest.
Runs on private instances in AWS, the most popular public cloud
Encrypted storage of data & logins
Restrict roles by endpoint
All traffic is encrypted using TLS (SSL)
Role based authentication for additional layers of security (optional)
Multi-factor (MFA/2FA) authentication for API users (optional)
Versionable
Versioned endpoints & field mappings (with rollback)
API versioning – Maintain different versions of your API that talk to different layouts in FileMaker.
Updating endpoint configurations can be done remotely via API call.
Think of BrilliantGateway as an enterprise grade FileMaker Data API.
Additional Benefits
BrilliantGateway allows the creation of fully RESTful custom API endpoints that match the objects in your FileMaker solution and that makes sense to web and mobile developers.
Authenticate users with standard corporate credentials like Microsoft Azure Active Directory, Okta, or any OAuth or SAML capable identity provider.
Custom user directories based on any FileMaker table can be maintained via a fmFlare service.
Single user, role based users, and FileMaker passthrough authentication models are supported.
Need to migrate away from FileMaker? BrilliantGateway's backend can be integrated into any API to provide a seamless transition without changing any client application code.
Simplified API calls. For example:
Standard Data API…
https://ord-07.fmsdb.com/fmi/data/v1/databases/fmIgniteStarter_dapi/layouts/ContactsDetail/_find
BrilliantGateway API…
https://api.brilliantgateway.com/api/v1/contacts/detail/find
If you're struggling with the limitations of the FileMaker Data API, let's talk about how BrilliantGateway can help.
"We have had multiple rounds of testing from our new front end application through the API portal, to our FileMaker solution. The API portal that your team developed is working great and has been the one steady part in the entire configuration." – Satisfied BrilliantGateway Client
Licensing costs vary based on specific requirements and traffic levels. BrilliantGateway is available from LuminFire as part of a custom software project. Licensing costs vary based on specific requirements and traffic levels.