Here we discuss three presentation remote options that will assist you in changing slides during your next presentation.
Option 1: Keynote Remote on the iPod Touch (Mac Only)
Keynote is the presentation software from Apple. It has the great feature of utilizing a iPhone/iPod Touch app called "Keynote Remote" to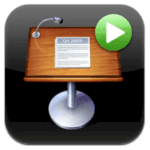 control the slide presentation wirelessly. It has the following features:
Allows you to look at the current slide and your speaker notes (portrait view) or the current slide and the next one (landscape view).
Timer option
Up to 150 ft wireless range
Simple finger swipe controls
You need to own an iPhone or iPod Touch to use this remote option…and it only works with Keynote…not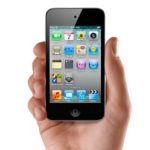 PowerPoint. Here are Apple's instructions on how to utilize the Keynote Remote app.
To utilize the remote you must have your presentation Mac on the same WiFi network as your iOS device. In some cases, the wireless network in your area may not be available or unreliable. Here are instructions for how to set up your own temporary wireless network between you Mac and iOS device (this will not provide live internet access…just a connection between the devices):
On your Mac…
Open System Preferences and click on Network.
Select WiFi and be sure it is on.
From the Network Name: pull down select Create Network…
Enter a name like "My Network"… Do not use your name…or other people may try to connect and mess up your presentation. Make it something like "Unknown".
Select a Channel: or leave as default.
Select Security: None for simplicity. You won't be transferring any confidential information.
Open your presentation in Keynote.
From Keynote>Preferences…, click on Remote.
On your iPhone/iPod Touch…
Select Settings.
Select Wi-Fi and make sure it is set to ON.
From Choose a Network… select the network you just created on your Mac.
Press the home button to go back to your app screen and open the Keynote Remote app.
Select Settings.
Click on New Keynote Link… and make note of the 4-digit passcode.
Switch back to your Mac…
Click on Link next to the device and enter the 4-digit passcode
On your iPhone/iPod…
Select Done then select Play Slideshow
I would suggest have an iPod Touch just for use as a remote rather than utilizing your iPhone. Here's why:
You can be sure it is always charged no matter how many phone calls you've made that day.
There will be no worries about getting interrupted by a phone call mid presentation.
Slimmer than an iPhone.
You can set the iPod Touch to not go to sleep/lock mode as often as might be true for you iPhone. I'd suggest 5 Minutes…this may be the longest you would stay on one slide. Change this in Settings>Auto-Lock
You can keep the iPod Touch on your exclusive network and user your iPhone for email and internet.
Option 2: Logitech Presenter
Another quality presentation control option is the Logitech Professional Presenter R800 with Green Laser Pointer
It has the following features:
Built in timer with silent alarm.
Green laser pointer so you see the pointer even on plasma/LCD screens and in brightly-lit rooms.
100 foot wireless range.
Smooth slideshow controls.
Works with PowerPoint or Keynote.
Less expensive than an iPod Touch or iPhone.
It says that system requirements are for Windows only…but the remote acts like a wireless USB keyboard and so it can be made to work great on the Mac. On Mac OS all buttons work fine on Microsoft Powerpoint and Keynote except the Play Slideshow button (Start button) on Keynote. Here's how to get the Start button to work in Keynote by remapping the default Play Slideshow keyboard shortcut:
Open System Preferences.
Click on the Keyboard icon.
Select the Keyboard Shortcuts tab.
Click on Application Shortcuts.
Click the Plus button to assign a new shortcut.
Scroll to the bottom of the list, select Other… and then select Keynote from the Applications:iWork '09 folder or wherever you installed it and click on Add.
In Menu Title: field, type "Play Slideshow".
Move the cursor to the Keyboard Shortcut: area and press F5.
Click on Add and close the Keyboard system prefs.
Quit out of Keynote and open it again. You'll see on the View menu that "Play Slideshow" is now linked to the F5 shortcut. (The default is Command-Option-P.)
Now all the buttons of Logitech Professional Presenter R800 or R400 will work perfectly.
Notes:
If you use any other Logitech products on your Mac that require the Logitech Control Center, it is possible that you may need to uninstall this software for proper functioning of the remote.
There is a great application that aids in doing presentations or demos on the Mac (usually non-PowerPoint/Keynote) called Mousepose. It dims the screen and puts a spotlight on the area around the mouse pointer, easily guiding the audience's attention to an area of interest. Mousepose maps F5 to display keyboard typing keystrokes. You must disable this key if you want to use the start presentation key on the Logitech remote. Here's how:
 From the Mousepose menu icon, select Options… Open Settings Window…
Click on the Keystrokes item.
Under Activation Hotkey: click on the X to remove the F5 hotkey. You might also click on Deactive if you never want this feature.
Option 3: Keyspan by Tripp Lite Remote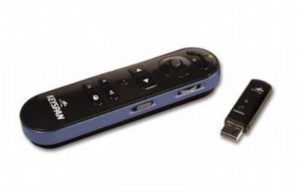 Similar to the Logitech and also with good reviews is the Keyspan by Tripp Lite PR-PRO3 Presentation Remote. There is also the PR-PRO4 model with gyro mouse pointer but it has a shorter range. They work well with Keynote on the Mac as well.