Anyone looking for a great portable presentation package for use in a small-medium size business meeting or home theater application should consider the following products.
(1) Optoma ML500, WXGA, 500 Lumen, Mobile LED Projector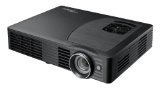 I've been using this projector for many months with great results. It's small, lightweight (only 3 pounds), and so easy to carry while having many features. The LED lights are bright and last much longer (20,000 hours) than older style projectors while running cool. You can see the image even in a fairly brightly lit environment.
It handles wide screen viewing at 16:9 aspect ratio and the native resolution of 1280×800 (WXGA). With the VGA, S-Video, composite video, and HDMI inputs you can display nearly any image from your DVD player, laptop computer, or iPad/iPhone with the correct adapter. The USB connector and SD card slot allows you to present directly without a computer from a thumb drive as well. It's smart to automatically adjust the keystone so that the image appears square on the screen even with the projector at an angle.
(The Optoma ML550 version was recently released that may be replacing this model at about $642. It looks they've moved all the older inputs to an external cable adapter.)
(2) Epson Duet Ultra portable 80-Inch Dual (4:3 and 16:9) Aspect Ratio Projection Screen (ELPSC80)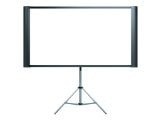 This screen is so easy to carry and set up! It easily fits in the trunk of your car and is very lightweight. Most tri-pod projection screens are quite long to achieve this screen size. It also handles widescreen projection images. No need to bother with a separate carrying case…just fold up the screen and it becomes one. The price is really reasonable at $119.
Bonus: You can also use it for home movie night…just connect up to your DVD player and watch it on the big screen OR connect your Xbox/Playstation/Wii for the ultimate game night!