Yesterday, Apple revealed their new and innovative technology lineup…with lots of potential Christmas gifts. Here we'll review some of the announcements and their impact specifically on the FileMaker platform. Although FileMaker is a wholly owned subsidiary of Apple, they are seldom mentioned in events such as this because their focus is more on the consumer. Primary purchasers of FileMaker are developers or at minimum consumers that want to build their own custom application solutions …not purchase something off the shelf.
You can watch the full Apple Special Event that took place at the Bill Graham Civic Auditorium in San Francisco online. Here's the overview…of the "monster announcements":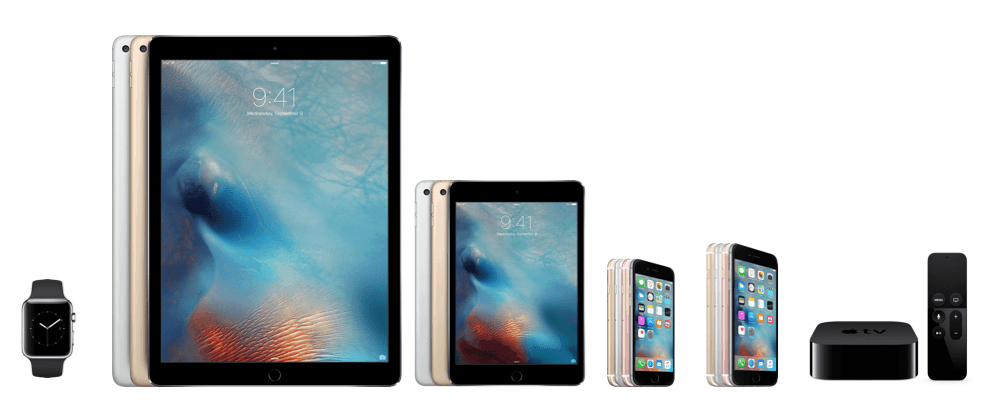 New Apple Watch models
New colors and bands for Apple Watch will offer greater personal expression as well as the 2nd generation of watchOS will expand capabilities. The Apple Watch continues to be a device that FileMaker will have a harder time talking to. Any integration would be via a custom watch helper application that could accept info from the FileMaker database as a backend. Recently we became aware of a push notification service for the iPhone that works with FileMaker. Push2FM.com We have yet to evaluate it but something similar for the watch could be possible.
New iPad Pro
The iPad Pro opens up many many possibilities for FileMaker apps with it's 12.9-inch Retina display powered by the new A9X 64-bit desktop-class chip. It's long 10 hour battery life is another advantage. Existing FileMaker apps could be displayed with iOS 9 multi-tasking of another app so that there could be side-by-side drag and drop options. The larger display coupled with the Apple Pencil will make drawing and annotating existing documents more commonplace. The Smart Keyboard will make database entry via FileMaker Go or WebDirect on the iPad easier…and more like a laptop.
FileMaker will likely add new commands to take advantage of the 3D touch option so that we can display additional detail when the user presses on an object.
The iPad is definitely not just a content consumption device. It is a very capable content creation device…especially with apps like Adobe Comp, Photoshop Fix, and access to Adobe Typekit Fonts. Microsoft demoing Office on the iPad and pledging support was a welcome addition to the event. Microsoft knows that their office suite needs to run on iOS to have any future as the world moves to mobile, mobile, mobile.
The iPad mini4 was released as an upgrade footnote at the event.
New iPhone 6s
The iPhone with 3D Touch, a better 12MP camera, live photos, the A9 chip, etc. will further solidify Apple's clear dominance in the smart phone market. This is great for FileMaker since FileMaker Go is the best native app toolkit to rapidly deliver applications for business.
New Apple TV
The future of television is more interactive. The new interface that includes Siri voice recognition via the remote with a Touch surface will change the way we find programming. Apps and games ported from the iOS platform will create a new market for casual gamers that has huge potential.
Don't expect to see FileMaker on the Apple TV. It really doesn't make much sense in that space and the viability of making a database platform available for a TV will likely prevent FileMaker from devoting any engineering resources toward building a client for the Apple TV.
FileMaker development should design for WebDirect and mobile with FileMaker Go so that solutions work in the mobile world.
---
Cimbura.com, Inc. developers are the leading FileMaker, WordPress, and Apple experts in the upper midwest. FileMaker Business Alliance Platinum (FBA) member and Reseller. Apple Consultants Network (ACN).