The new LuminFire (formerly Cimbura.com) office experienced its inaugural family night celebration on Friday October 7, 2016. It was the first chance for many significant others and kids to see the new space.
One of our top values at LuminFire is appreciating our relationships and people close to us. This manifests itself in work-life balance. We work hard building brilliant FileMaker, WordPress, and GIS solutions…but we also play hard enjoying life to its fullest. Besides being the ideal work and collaboration space, the office is an incredible event center. The office space was designed to be very family-friendly and support gatherings so that we can make many memories together.
We played foosball, Crossy Road on the Apple TV, and other games on the big screen. We enjoyed apple cake, apple crisp, popcorn, and drinks. Then we played the feature Disney Pixar movie Up on the big screen. Up was a great movie that appealed to all ages gathered. We shared some Up trivia: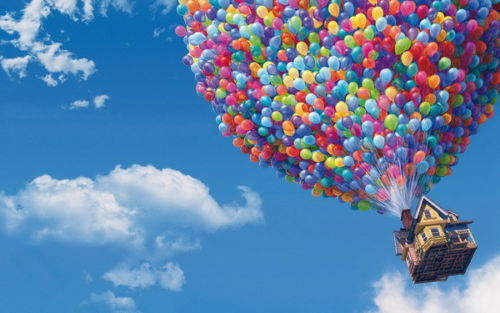 Up is the Pixar film with the shortest title and features the smallest cast of any Pixar film.
Up was the first Pixar film to receive Best Picture nomination at the Oscars. It was the 2nd animated movie to be nominated for the Best Picture Academy Award (the first was Disney's Beauty and the Beast).
Up was the first Pixar film in 3D.
Up is directed by genius storyteller Pete Docter, a native Minnesotan from Bloomington. He was also the co-writer of Toy Story and Wall-E. He directed Monsters, Inc. and Inside Out. In the movie, Pete does the voice for Kevin (the bird) and the co-director Bob Peterson voices Dug the dog. His daughter Elie. has the speaking role of "Young Ellie" in the movie.
We encouraged kids at the evening to look for hidden "easter eggs" in the movie such as A113 (a classroom at the California Institute of Arts) and the Pizza-Planet truck that has made a cameo appearance in nearly every Pixar film.
In the movie, 78 year old Carl Fredricksen sets out on his lifetime adventure by floating his house with thousands of helium balloons. Along the way Carl meets an unexpected travel companion 8 year old Wilderness Explorer Scout Russell. Arriving in remote South America they find Paradise Falls. The message of this movie is such a great reminder of what is most important in life…relationships. Carl's relationship with his wife Ellie of many years and then his new relationship as a mentor and father figure to Russell.
We look forward to many more times like this and hope that you will have the chance to stop by and enjoy our new space as well.