On January 9, 2007, Steve Jobs announced the iPhone at the Macworld Expo. Here is that historic video…
https://www.youtube.com/watch?v=9hUIxyE2Ns8
The first iPhone was released later that year on June 29, 2007. It was a masterful presentation. Jobs starts out by saying that this was a day he was looking forward to for over 2.5 years. Every so often a revolutionary product comes along that changes everything. Someone would be considered fortunate to work on ONE of these. Apple had introduced two already:
1984 – The Macintosh changed the entire computer industry
2001 – The iPod changed the entire music industry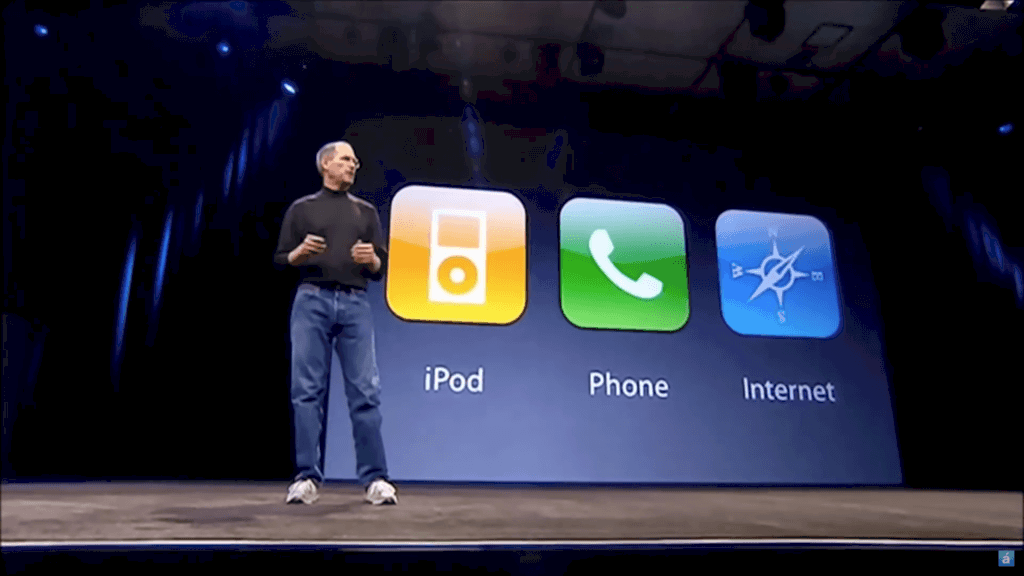 But this day, Jobs goes on, Apple would be "Introducing three revolutionary products: 1. Widescreen iPod with touch controls. 2. Revolutionary mobile phone. 3. Breakthrough internet communications device." As he said that #1 Applause got some applause, #2 got a lot of applause, and with #3 there was less applause…as if people were confused "what is that?". Jobs repeated himself "Three things: an iPod, a Phone, and an Internet Communicator." It was revealed shortly that these were NOT three separate devices but all one device…the iPhone. Apple reinvents the phone and changes the entire phone industry.
"Smartphones" at the time had a Phone, email, and limited internet with ugly plastic clicky keyboards. They were not so smart and not so easy to use. The iPhone was the new leapfrog product that was really smart AND easy to use.
Enter the iPhone
So in 2007 Apple released the iPhone OS (eventually renamed iOS) with a revolutionary UI that took years of research and development and was made possible by an interplay of hardware and software. The plastic keyboards on existing devices stank. Every application needs something different or optimized. The buttons and controls couldn't change.
Apple got rid of those buttons and made a giant screen. Instead of using a stylus, they used the best pointing device in the world…your finger. Multi-touch worked like magic. It was far more accurate, ignored unintended touches, and allowed for multi-finger gestures. Even though Apple patented it…it got copied soon after.
So the revolutionary user interfaces that Apple made popular were:
Mouse (Mac) in 1984
Click-Wheel (iPod) in 2001, and finally
Multi-Touch (iPhone) in 2007.
The iPhone OS software breakthrough was 5 years ahead of any other phone. It was based on OS X, a full featured operating system but running on a phone. The iPhone got advanced animation, power management, networking, multi-tasking, and many other things. For the first time, you had desktop class applications and networking on a mobile device.
Today this is old hat. We take for granted that we often carry a supercomputer in our pockets.
There are a few different ways to develop custom applications for the iPhone and iPad. There's Xcode, Swift, and various other compilers that generate Xcode from web sites or other UI builders.
Enter FileMaker Go
But in July of 2010, FileMaker released FileMaker Go 1.0 for iOS. FileMaker Go makes it possible to build breakthrough apps for the iPhone and iPad faster than ANY other method. You can even update the application LIVE while a user is using the application without recompiling, packaging, and distributing a new application. G2 Crowd ranked FileMaker as the #1 rapid application development software.
Jump forward to today. FileMaker Go 15 was released in May of 2016 and it includes built-in support for advanced iPhone features like Touch ID, 3D Touch, App Extensions, and iBeacons.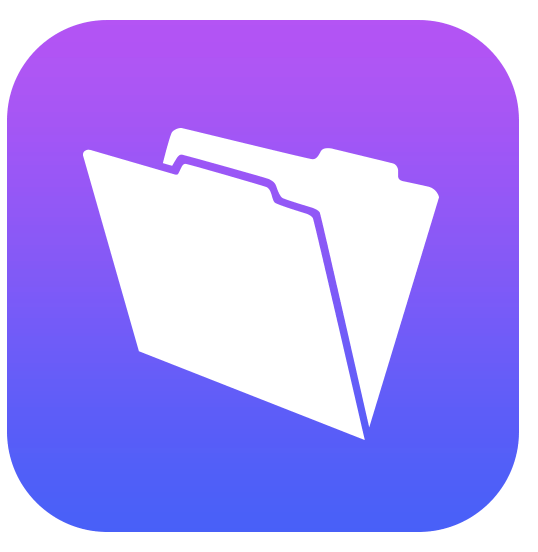 If you are looking to build a custom mobile app for your business, FileMaker Go by far the most flexible and cost effective solution. FileMaker Go provides a low-cost way to rapidly develop and deploy mobile solutions to the iPad and iPhone. You can then use your iPhone or iPad to perform vital tasks for your organization. You can work in real-time or off-line until you get an internet connection to send and receive data to and from a shared FileMaker Server.
For example, With FileMaker Go, you can:
Generate proposals and invoices on the go
Capture customer signatures on documents
Dispatch service tickets to technicians
Inventory items by scanning barcodes
Take photos and store them for easy retrieval
Email PDF files as receipts
View reports away from the office
…and a lot more.
In early 2016, FileMaker released the FileMaker iOS SDK with the ability to create native iOS apps using FileMaker.
At Cimbura.com, we can take your existing FileMaker system to the next level by redesigning it for mobile users on  the iPad or iPhone…or we can build an entirely new solution from scratch targeted specifically for mobile users with FileMaker Go. To get started, contact us with a project request.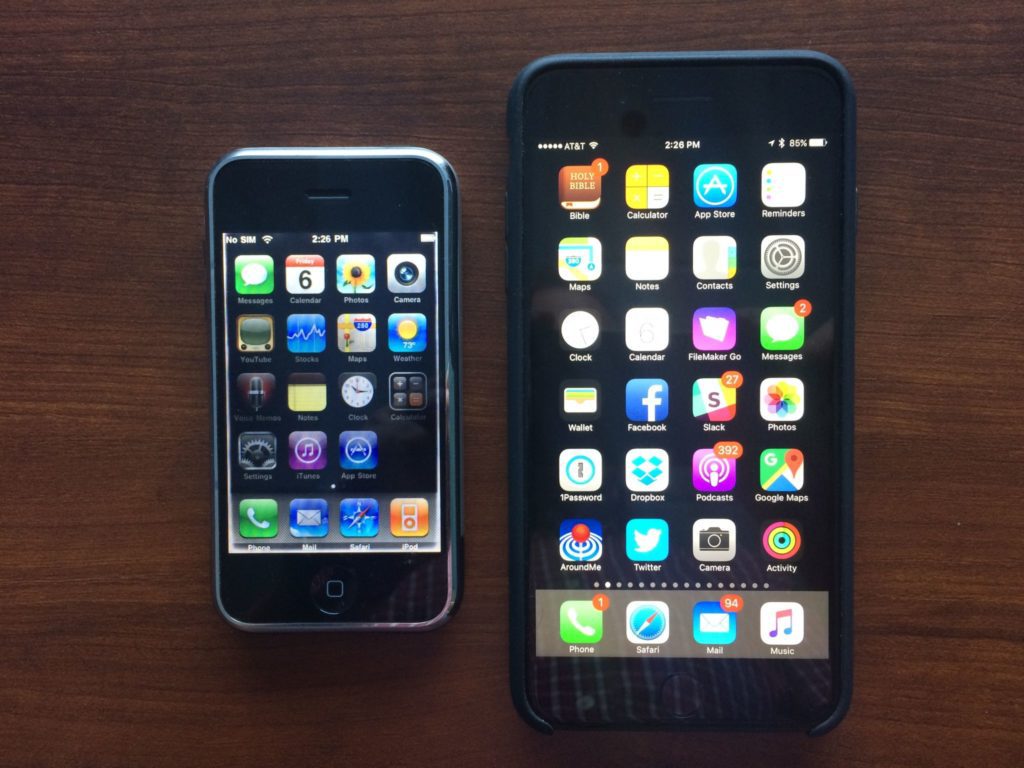 The iPhone has changed dramatically over the last 10 years.
Here's a rundown of the original iPhone specifications in 2007:
Color: Black/Chrome
Screen: 3.5 inch at 160 ppi
Storage: 4 GB or 8 GB
Thickness: 11.6 mm thin
Camera: 2 Megapixel camera
Power and Battery: Up to 5 hours of talk
Sensors:
Proximity sensor
Ambient light sensor
Accelerometer – Portrait/landscape switching
Other Features:
Home button
Ring/Silent switch
Sleep/Wake button
Speaker, Microphone
Headset jack
SIM
What does 10 years of innovation provide?
Here are today's iPhone 7 Plus specifications in 2017:
Color: Rose Gold, Gold, Silver, Black, Jet Black
Screen: 5.5 inch Retina HD display at 401 psi
Storage: Up to 256 GB
Thickness: 7.3 mm thin
Camera: 12MP wide-angle and telephoto cameras
Power and Battery: Up to 21 hours talk
Sensors: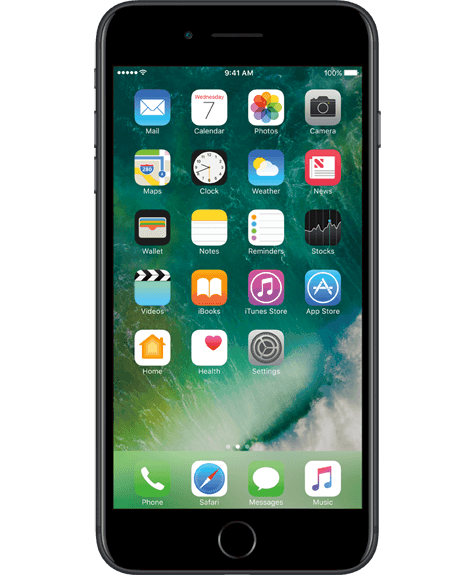 Touch ID fingerprint sensor
Barometer
Three-axis gyro
Accelerometer
Proximity sensor
Ambient light sensor
Camera Features:
Optical image stabilization
Six‑element lens
Quad-LED True Tone flash
Panorama (up to 63 megapixels)
Sapphire crystal lens cover
Backside illumination sensor
Hybrid IR filter
Autofocus with Focus Pixels
Tap to focus with Focus Pixels
Live Photos with stabilization
Wide color capture for photos and Live Photos
Improved local tone mapping
Body and face detection
Exposure control
Noise reduction
Auto HDR for photos
Auto image stabilization
Burst mode
Timer mode
Photo geotagging
Video Recording:
4K video recording at 30 fps
1080p HD video recording at 30 fps or 60 fps
720p HD video recording at 30 fps
Optical image stabilization for video
Optical zoom at 2x; 6x digital zoom (iPhone 7 Plus only)
Quad-LED True Tone flash
Slo‑mo video support for 1080p at 120 fps and 720p at 240 fps
Time‑lapse video with stabilization
Cinematic video stabilization (1080p and 720p)
Continuous autofocus video
Body and face detection
Noise reduction
Take 8-megapixel still photos while recording 4K video
Playback zoom
Video geotagging
FaceTime Camera:
7-megapixel photos
1080p HD video recording
Retina Flash
ƒ/2.2 aperture
Wide color capture for photos and Live Photos
Auto HDR
Backside illumination sensor
Body and face detection
Auto image stabilization
Burst mode
Exposure control
Timer mode
The iPhone 7 Plus is surely the most advanced mobile device of its kind. Combined with FileMaker Go, we have a powerful platform to build custom applications quickly and easily that provide your business a competitive edge.