Today kicked off the Apple World-Wide Developer Conference (WWDC) for 2017. This year's conference takes place June 5-9, 2017 at the McEnery Convention Center in San Jose, California, USA. It's a place for app developers to gather and learn about the latest innovations in Apple's operating systems, Swift programming techniques, and have access to Apple engineers. WWDC is usually a developer-focused event, with few consumer-focused announcements. This year was an exception. The keynote address was nearly 2.5 hours long and was packed full of both technical previews and product announcements. If you missed the live stream and want to watch the entire keynote, is available here: Apple Special Event: June 5, 2017 Live Stream Archive.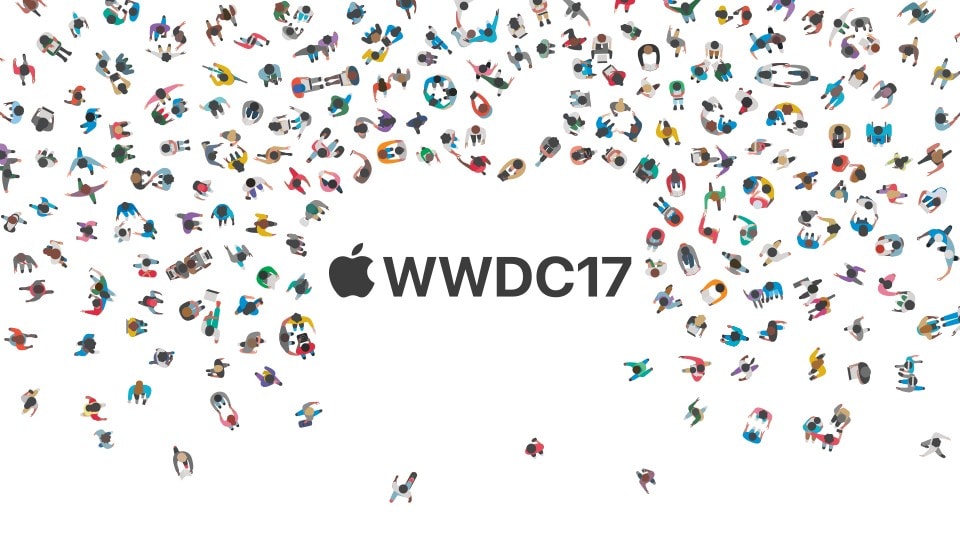 Introduction
As usual, Apple kicked it off with a fun video. Keep making apps or there may be an apocalypse! Then Tim Cook bounced onto the stage.
He shared some updates specific to WWDC and developers:
There are 16 million registered developers (up 3 million from last year).
5300 attendees from 75 countries at WWDC 2017.
10 year old developer in attendance – she has 5 apps on the App Store.
82 year old developer in attendance – her first app was published this year.
Since there is so much content to get through, Tim is skipping the usual updates, and only says, "Apple is doing great. Moving on…"
They have six categories for announcements today…
1. tvOS
The TV app on tvOS and iOS now has over 50 partners, but there has been one noticeable absence: Amazon Prime video is coming to the Apple TV in the TV app and a tvOS app.
2. watchOS 4
Updates coming to watchOS 4 include the following highlights:
Watch faces

New Siri watch face

Displays most relevant info

Kaleidoscope face
More characters: Woody, Jessi, and Buzz Lightyear from Toy Story

Activity app

More personalized notifications
Monthly challenges
New animations for closing the rings
More workouts
You can have a playlist automatically start with your workout
Music controls integrated in the workout app

Music app

Multiple playlists
Better AirPods integration

New Dock
Flashlight and blinking safety light
Native core Bluetooth support
The Developer Preview is available today and will be a free update to the public this fall.
3. Mac
The Mac is the heart and soul of Apple. We have both software and hardware updates in this category. With every new version of macOS comes a new name. Apple has been focusing on locations in their home state of California for the last several updates. Well, their crack marketing team is at it again… the new name is macOS High Sierra. Then Craig Federighi made a joke about it being "fully baked!" 🙄
Highlights
Safari

Worlds fastest desktop browser
Modern JavaScript performance 80% faster than Chrome
Auto play blocking!
Privacy: Intelligent Tracking Prevention (so you won't see adds for the stuff you were just shopping for – trying to eliminate that creepy feeling of the web)

Using machine learning to detect tracking

Mail

Search is now using Spotlight
Split view for your compose window in full screen
30% less disk space for storing your mail

Photos

Improved facial recognition
Tags sync across devices
Editing controls: Curves, Selective color
Better integration with 3rd party editors
3rd party printed books and other products

Technology

Data

New file system: Apple File System APFS
64 bit
Crash protection
Native encryption
Zero copy snapshots

Video

H.264 was the old standard
H.265 or HEVC is the new standard
40% better compression
Hardware acceleration in latest Macs

Graphics

GPU performance
Metal 2
Up to 10x improvements – now 100x over OpenGL
Better debugging and analysis
Mac Window Server is now on Metal
Also using Metal for machine learning
Metal for external graphics
Metal for VR
Updating FinalCut for VR
Steam VR SDK coming to Mac
Unity Unreal SDK coming to Mac
The Developer beta is available today. A public beta will be available later this month, for the adventurous non-developers. The final release will be a free update this fall on all systems that support Sierra. Nice to see them holding the system requirements in place (for now).
Hardware Updates
iMac

Screen now has 500 nits of brightness (that's a lot of nits!) – 43% brighter than the previous version
10bit dithering – can produce one billion colors
7th generation Intel Kaby Lake processors
10-bit HEVC
Up to 32GB or 64GB RAM for the 21.5″ and 27" models, respectively
The Fusion Drive is now standard
50% faster SSD options, up to 2TB
2 USB-C connectors with Thunderbolt 3
Can drive one external 5K display, or two 4K displays
Next gen graphics

Entry level model gets Intel Iris Plus 640 – 80% faster than previous generation.
Radeon Pro 555 & 560 with up to 4GB VRAM in the 4K 21.5" iMac – 3x faster
Radeon Pro 570, 575, 580 with up to 8GB VRAM in the 27″ 5K models – up to 5.5 teraflops half precision (which, apparently is a lot of teraflops)

John Knoll from ILM led a StarWars VR demo.
The 4K iMac now starting at $1299

MacBook and MacBook Pro

Also moving to Kaby Lake processors
Faster SSD on MacBook
Faster dedicated graphics on 15" MBP
13" MBP now starting at $1299
All of the above new Macs are shipping today.
iMac Pro
Then Apple offered a sneak peek of a new high-end model: the iMac Pro!
It's black! OK, it's "space gray" – but that's still cool!
8-core Xeon Processor to start, with options up to 18-Cores!
AMD Radeon Vega graphics
Up to 22 teraflops half precision (for those keeping score at home, that's 4x the teraflops of the regular high-end iMac)
Up to 128GB ECC memory
Up to 4TB 3GB/s SSD
4x Thunderbolt 3 port
The first Mac with built-in 10GB Ethernet
Can drive 2 external 5K displays
A new wireless extended (with numeric keypad) Magic Keyboard, also in space gray, and a choice of Magic Mouse 2 or Magic Trackpad 2 in space gray.
Starting at $4999
Available in December
Tim Cook actually used the words "bad ass" on stage to describe the iMac Pro. Even if I can't afford the iMac Pro, I want those space gray accessories. It is interesting that the new Magic Keyboard does not appear have a TouchBar, like the MacBook Pro.
5. iOS
Turn it up to eleven for iOS 11.
Highlights
Messages

Redesigned App Drawer
Messages in iCloud – all conversations are synchronized.
Only recent messages cached on device

ApplePay

50% of retailers by the end of the year
Person to person payments
iMessage app
ApplePay cash – use for purchases or transfer to your bank.

Siri

New, natural voices for Siri
Follow-up questions
Translation in beta: English, Chinese, French, German, Spanish, Italian
Siri Kit
Siri intelligence – context

On-device learning
Syncs across all devices – encrypted end-to-end

Camera

1 Trillion photos per year
H.265 HEVC 2x better compression
Replacing JPEG with HEIF – 2x better compression, still shareable
New Depth API for developers

Photos

Memories identifies events, activities, kids, pets, etc.
Vertical memory videos
Trim live photos and mark any part the key photo
Loop or bounce live photos
Long exposure effect from live photos

New control center
New Lock Screen and Notification center
News recommendations based on your experiences
Your dictionary can update based on these as well
Maps

Let's go to the mall! Indoor mapping in malls and airports
Speed limits are shown in turn-by-turn directions
Lane guidance
Do not disturb while driving

You can allow some people to reply "urgent" to get through

HomeKit

Speakers category
AirPlay 2 protocol – multi-room audio
Shared up next
AirPlay 2 API for developers

Apple Music

27 million subscribers
See what your friends are listening to
MusicKit for Apple Music

App Store

500 million weekly visitors
180 billion apps downloaded
$70 billion paid out to developers
Faster app review times – under 24 hours, many in 1-2 hours
Phased releases
Complete redesign

Today tab
Games tab

In-app purchases can be seen in the App Store

Apps tab

Metal 2 (missed opportunity to be named "Heavy Metal")
HEVC video
Machine learning – Core ML

Very fast on-device processing

AR (Augmented Reality)

ARKit – will be the largest AR platform instantly when it ships
LEGO, Pokémon, Wingnut AR demos

QR Code support in the camera
iPad Pro
Then they took a break from talking about software to announce the new iPad Pro.
iPad Pro now in 10.5" retina display
20% larger screen, but smaller border, so the overall size is not much larger than the standard iPad
Still weighs just 1 pound
Full-sized on-screen keyboard or smart keyboard

More than 30 languages of smart keyboard at launch

600nits of brightness (this is also a lot of nits)
HDR video
ProMotion

120Hz display refresh rate
Smoother motion – buttery smooth scrolling
Better Apple Pencil experience 20ms latency
Dynamically adjust refresh rate for better battery life

A10X Fusion chip – 6 cores: 3 high performance, 3 high efficiency
30% faster CPU, 40% faster graphics
Affinity Photo editor demo
12MP rear and 7MP front cameras
USB 3 transfer speeds
Fast charging, up to 2x faster than before
New smart covers and a sleeve with built-in storage for the Apple Pencil
Starting at 64GB storage for all iPad Pro models, up to 512GB
Starting at $649 for 10.5", $799 for the 12.9"
Just when you thought they were done talking about iOS 11… they came back with more updates, specifically for iPad. These will solve a lot of the productivity issues that have prevented some people from doing all of their work on an iPad.
Dock all the things! Larger dock for common apps
Dock is available with a swipe up from the bottom in any app to switch apps
Pull an app out to be a sidebar app
New App Switcher – preserves app pairings
Drag and drop
Files app

Supports iCloud, Dropbox, Google Drive, Box, Adobe Creative Cloud, Baidu, and more

Select multiple files to drag and drop
File tagging
Mark-up with Create PDF option
Instantly mark-up screen shots
Handwriting becomes searchable text
Notes has a built-in document scanner

Crops pages, corrects perspective, and removes glare
Scan and sign documents with Apple Pencil

Tap the lock screen with the pencil to get into Notes
Flick keyboard allows you to enter numbers and symbols more easily
Developer preview today, with a free upgrade in the fall.
6. Home Music
Apple wants to reinvent home music with a "breakthrough home speaker" and they call it the HomePod. They described the world where you can either have a nice, expensive speaker, or a smart speaker like the Amazon Echo or the Google Home. Apple's answer is a larger, better speaker, that has Siri built-in.
7 beam-forming tweeter array with directional control
Big woofer
Apple A8 chip
Multi-channel echo cancellation
Spacial Awareness

Detects the space around it to adjust the audio
Detects center vocals
Ambient audio – can bounce it off the walls around it
Full, rich mix to fill your room

2 can work together
Works with Apple Music subscription
6 microphone array
Smarter Siri music commands
Privacy – anonymous Siri ID is sent to Apple for processing
Available in December for $349
White or Space Gray
In concluding the event, Tim Cook recapped today's announcements, encouraged the press to visit the hands-on area to see the new products, and announced that former First Lady Michelle Obama will be at tomorrow morning's fireside chat to discuss empowering all people to make a difference.