Our LuminFire office is filled with inspiring people, technology, and ideas. Two museum quality displays in our space illustrate this: (1) Think Brilliant and (2) Patently Brilliant.
Think Brilliant
In the spirit of the original 1997 Apple "Think Different" advertising campaign we created "Think Brilliant"….an homage to brilliant thinkers that have influenced our work and creativity. They are some thought leaders that have qualities we admire and that set them apart. The original one-minute Apple Think Different commercial featured black-and-white footage of 17 iconic 20th century personalities.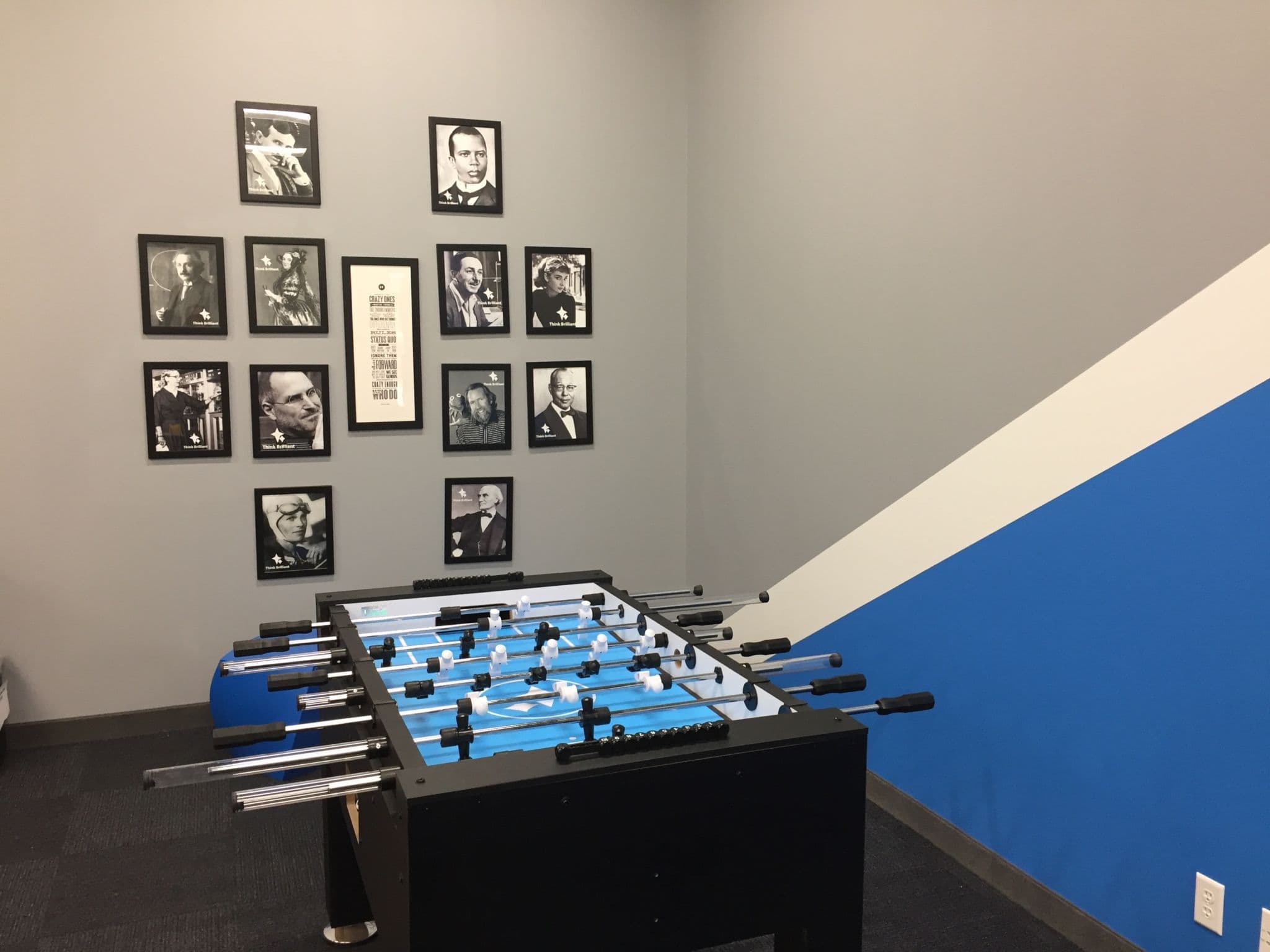 We chose 12 of our own brilliant individuals for inspiration.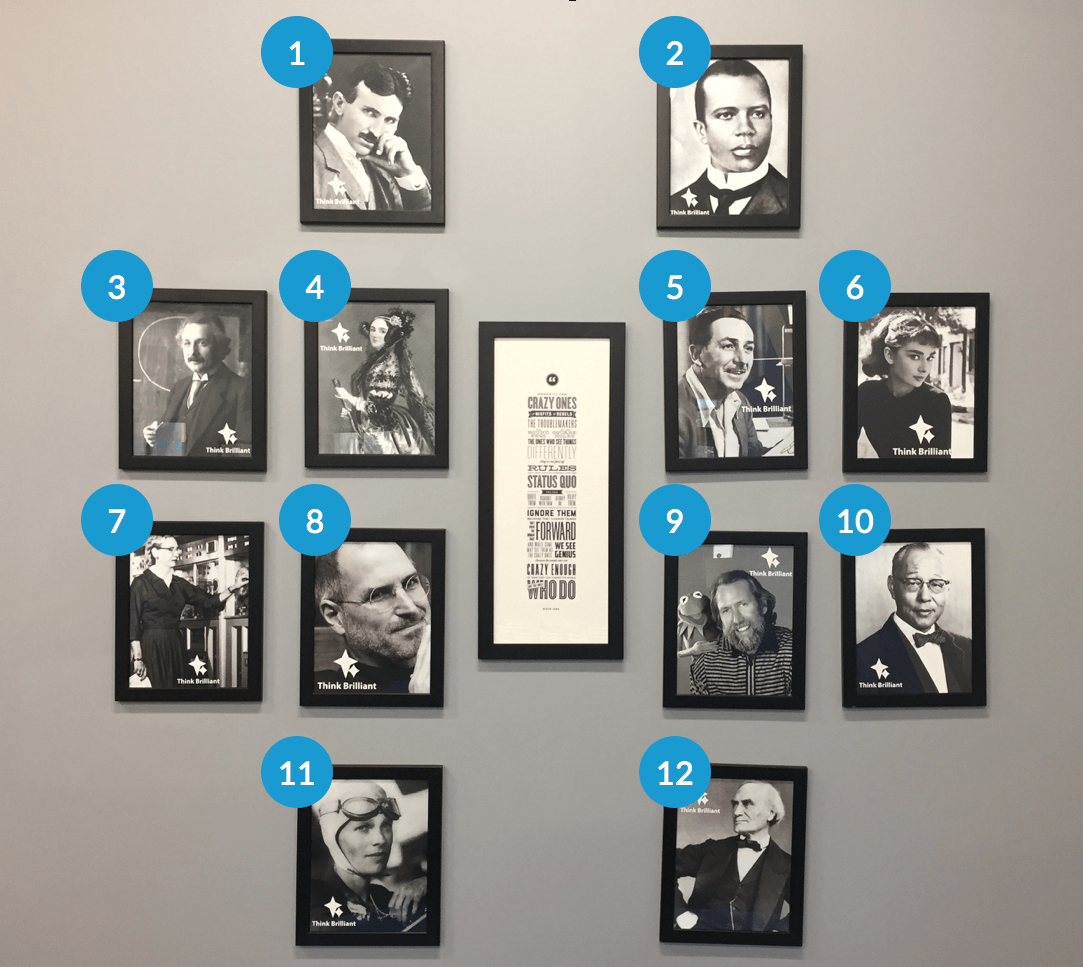 1. Nikola Tesla (10 July 1856 – 7 January 1943) was a Serbian-American inventor, electrical engineer, mechanical engineer, physicist, and futurist best known for his contributions to the design of the modern alternating current (AC) electricity supply system.
2. Scott Joplin (1867/68 – April 1, 1917) was an African-American composer and pianist. Joplin achieved fame for his ragtime compositions and was dubbed the "King of Ragtime Writers". During his brief career, he wrote 44 original ragtime pieces, one ragtime ballet, and two operas. One of his first pieces, the "Maple Leaf Rag", became ragtime's first and most influential hit, and has been recognized as the archetypal rag.
3. Albert Einstein (14 March 1879 – 18 April 1955) was a German-born theoretical physicist. He developed the general theory of relativity, one of the two pillars of modern physics (alongside quantum mechanics). Einstein's work is also known for its influence on the philosophy of science. Einstein is best known in popular culture for his mass–energy equivalence formula E = mc2 (which has been dubbed "the world's most famous equation"). He received the 1921 Nobel Prize in Physics for his "services to theoretical physics", in particular his discovery of the law of the photoelectric effect, a pivotal step in the evolution of quantum theory.
4. Augusta Ada King-Noel, Countess of Lovelace (10 December 1815 – 27 November 1852) was an English mathematician and writer, chiefly known for her work on Charles Babbage's early mechanical general-purpose computer, the Analytical Engine. Her notes on the engine include what is recognized as the first algorithm intended to be carried out by a machine. As a result, she is often regarded as the first computer programmer.
5. Walt Disney (December 5, 1901 – December 15, 1966) was an American entrepreneur, animator, voice actor and film producer. A pioneer of the American animation industry, he introduced several developments in the production of cartoons. As a film producer, Disney holds the record for most Academy Awards earned by an individual, having won twenty-two Oscars from 59 nominations. He was presented with two Golden Globe Special Achievement Awards and an Emmy Award, among other honors. Several of his films are included in the National Film Registry by the Library of Congress.
6. Audrey Hepburn (4 May 1929 – 20 January 1993) was an actress active during Hollywood's Golden Age who was recognized as a film and fashion icon. She was ranked by the American Film Institute as the third-greatest female screen legend in Golden Age Hollywood and was inducted into the International Best Dressed List Hall of Fame. Born in Ixelles, a district of Brussels, Hepburn spent her childhood between Belgium, England and the Netherlands. She remains one of the few people who have won Academy, Emmy, Grammy and Tony Awards.
Hepburn appeared in fewer films as her life went on, devoting much of her later life to UNICEF. She had contributed to the organisation since 1954, then worked in some of the poorest communities of Africa, South America and Asia between 1988 and 1992. She was awarded the Presidential Medal of Freedom in recognition of her work as a UNICEF Goodwill Ambassador in December 1992.
7. Grace Brewster Murray Hopper (December 9, 1906 – January 1, 1992) was an American computer scientist and United States Navy Rear Admiral. She was one of the first programmers of the Harvard Mark I computer in 1944, invented the first compiler for a computer programming language, and was one of those who popularized the idea of machine-independent programming languages which led to the development of COBOL, one of the first high-level programming languages. Owing to her accomplishments and her naval rank, she is sometimes referred to as "Amazing Grace". The U.S. Navy Arleigh Burke class guided-missile destroyer USS Hopper (DDG-70) is named for her, as is the Cray XE6 "Hopper" supercomputer at NERSC.
8. Steve Jobs (February 24, 1955 – October 5, 2011) was an American information technology entrepreneur and inventor. He was the co-founder, chairman, and chief executive officer (CEO) of Apple Inc.; CEO and majority shareholder of Pixar Animation Studios; a member of The Walt Disney Company's board of directors following its acquisition of Pixar; and founder, chairman, and CEO of NeXT Inc. Jobs is widely recognized as a pioneer of the microcomputer revolution of the 1970s and 1980s, along with Apple co-founder Steve Wozniak. Shortly after his death, Jobs's official biographer, Walter Isaacson, described him as a "creative entrepreneur whose passion for perfection and ferocious drive revolutionized six industries: personal computers, animated movies, music, phones, tablet computing, and digital publishing."
9. Jim Henson (September 24, 1936 – May 16, 1990) was an American puppeteer, artist, cartoonist, inventor, screenwriter, songwriter, musician, film director and producer who achieved international fame as the creator of the Muppets.
10. An Wang (February 7, 1920 – March 24, 1990) was a young Harvard researcher in 1948 when he devised a way to store data in an array of magnetic ferrite cores. Harvard had no interest in patents, and Wang probably didn't recognize that his discovery would enable the development of computing machines when he personally filed the patent application in September of 1949. On June 22, 1951 Wang began tapping the new technology's potential by founding Wang Laboratories in Boston with $600 in savings. The company helped evolve a clumsy new technology into useful calculating machines and word processors, laying a foundation for the personal computing revolution.
11. Amelia Mary Earhart (July 24, 1897 – disappeared July 2, 1937) was an American aviation pioneer and author. Earhart was the first female aviator to fly solo across the Atlantic Ocean. She received the U.S. Distinguished Flying Cross for this record. She set many other records, wrote best-selling books about her flying experiences and was instrumental in the formation of The Ninety-Nines, an organization for female pilots. In 1935 Earhart became a visiting faculty member at Purdue University as an advisor to aeronautical engineering and a career counselor to women students. She was also a member of the National Woman's Party and an early supporter of the Equal Rights Amendment. During an attempt to make a circumnavigational flight of the globe in 1937 in a Purdue-funded Lockheed Model 10 Electra, Earhart disappeared over the central Pacific Ocean near Howland Island.
12. Jean-Eugène Robert-Houdin (December 7, 1805 – June 13, 1871) was a French magician from Blois. He is widely considered the father of the modern style of conjuring. He was a master watchmaker and created many famous mechanical devices. The famed magician Houdini named himself after Robert-Houdin.
Using FileMaker Go, we built a custom iPad app that provides biographical information about each of these people. An iPad is mounted below the display.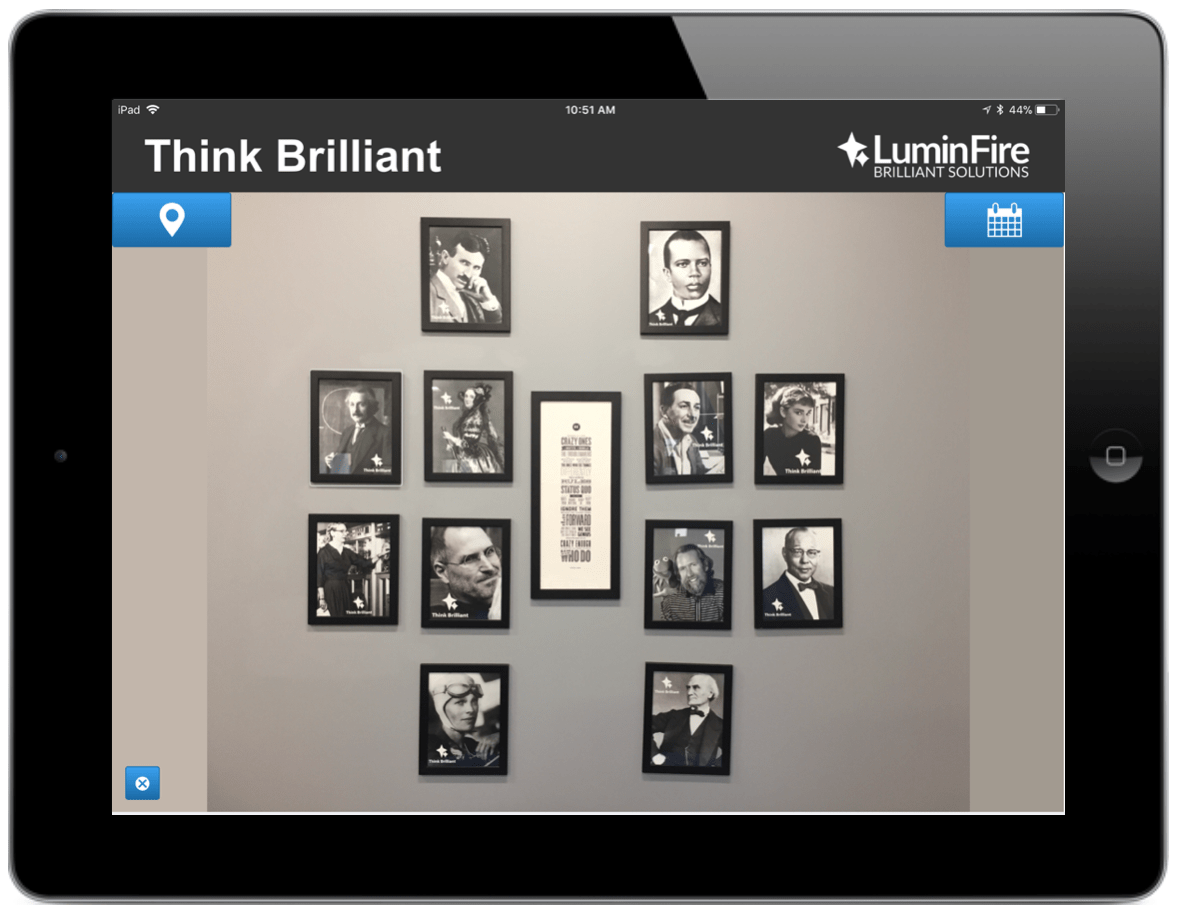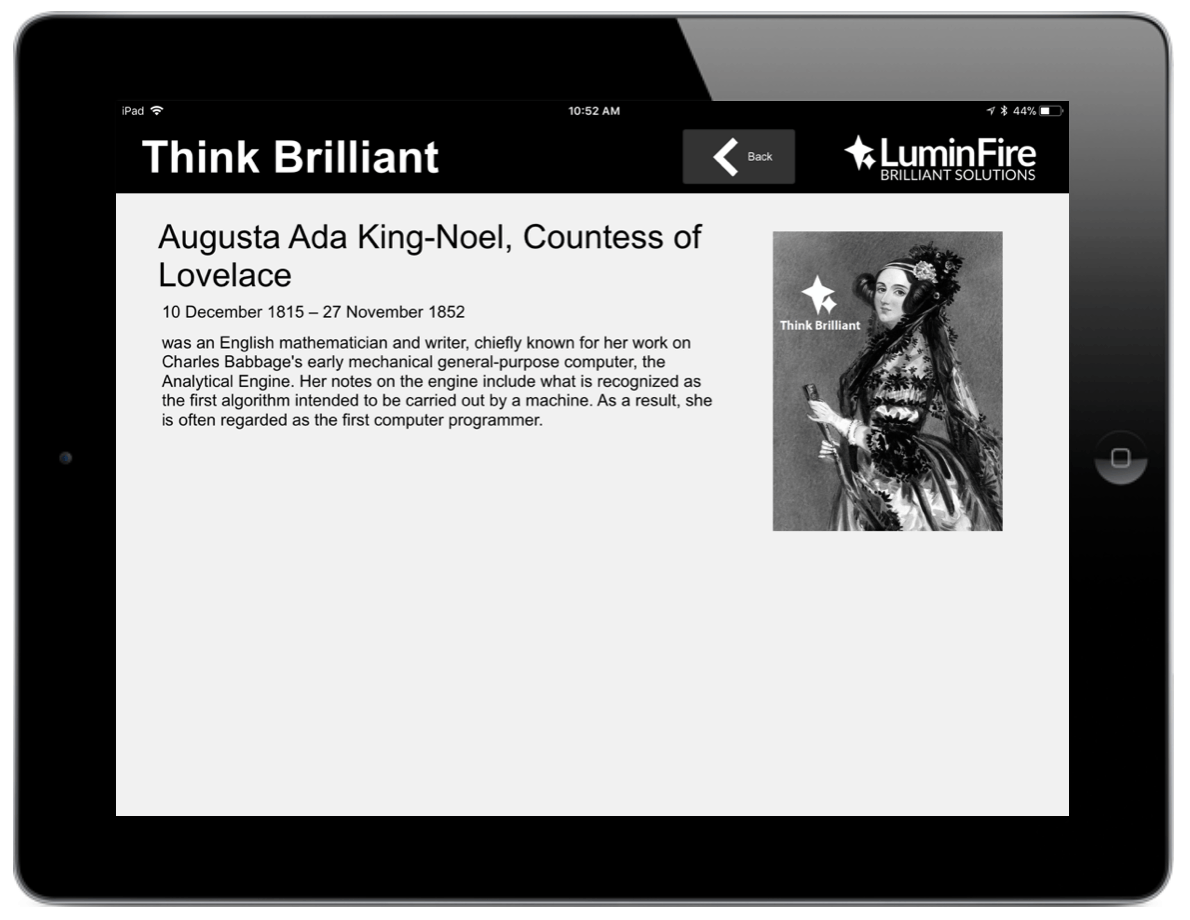 Patently Brilliant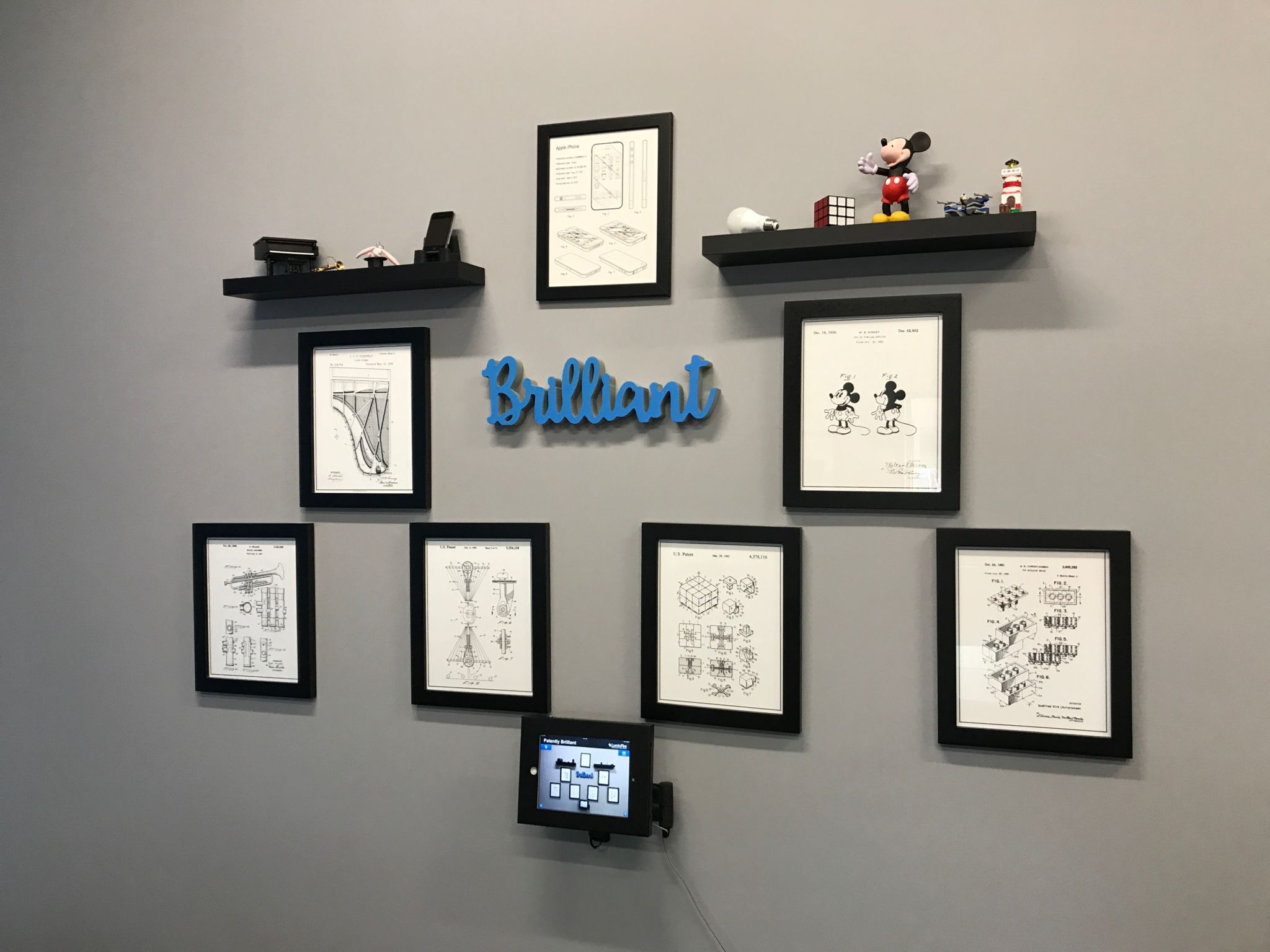 For this display, we highlight seven Brilliant Patents:
iPhone
Steinway Piano Frame
Mickey Mouse
Selmer Trumpet
Levitation Device
Rubik's Cube
Lego Building Brick
In addition to actual physical models of the patent subject, we have another FileMaker Go custom iPad app that highlights interesting information about the authors of these patents including their birthplace, timeline, biography, etc. Each includes a unique video related to the patent that plays on demand. For example, we include the famous introduction of the iPhone video by Steve Jobs.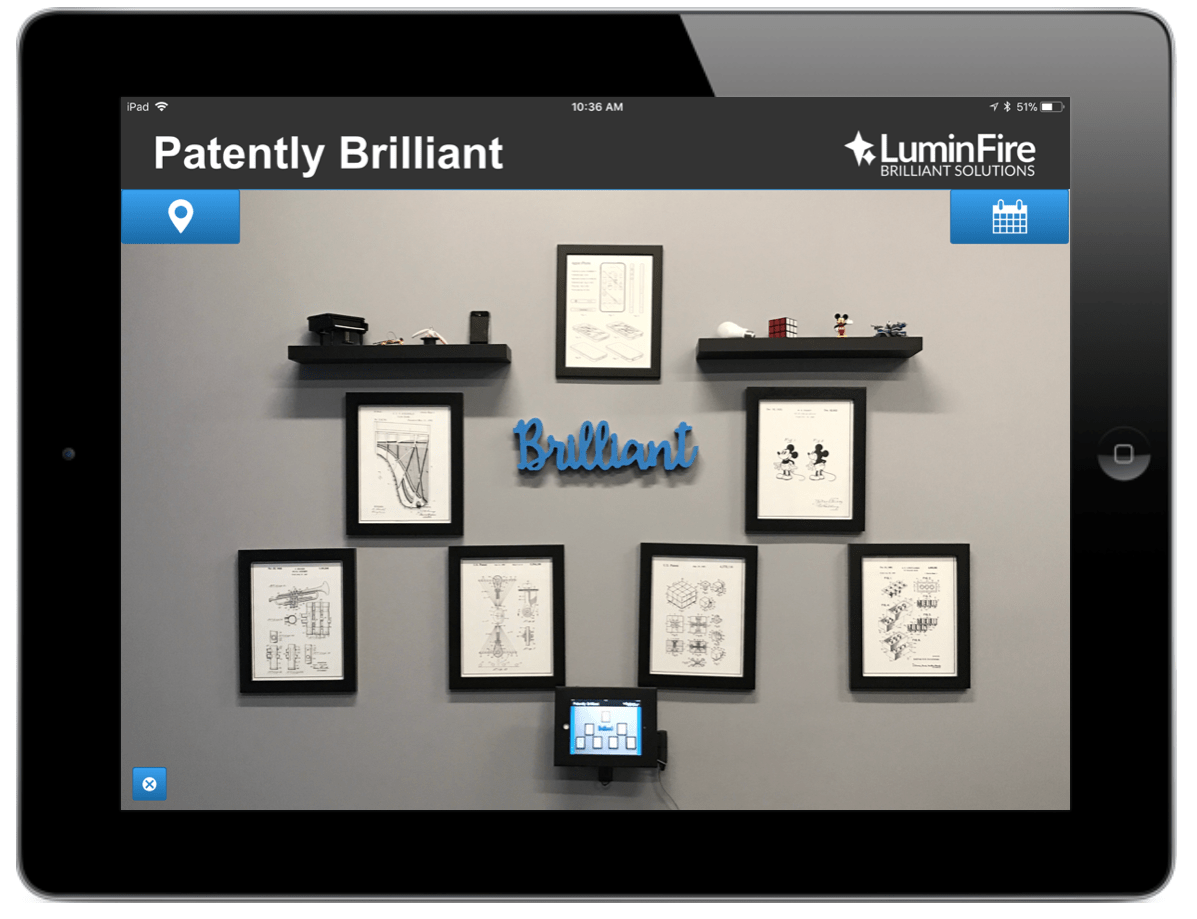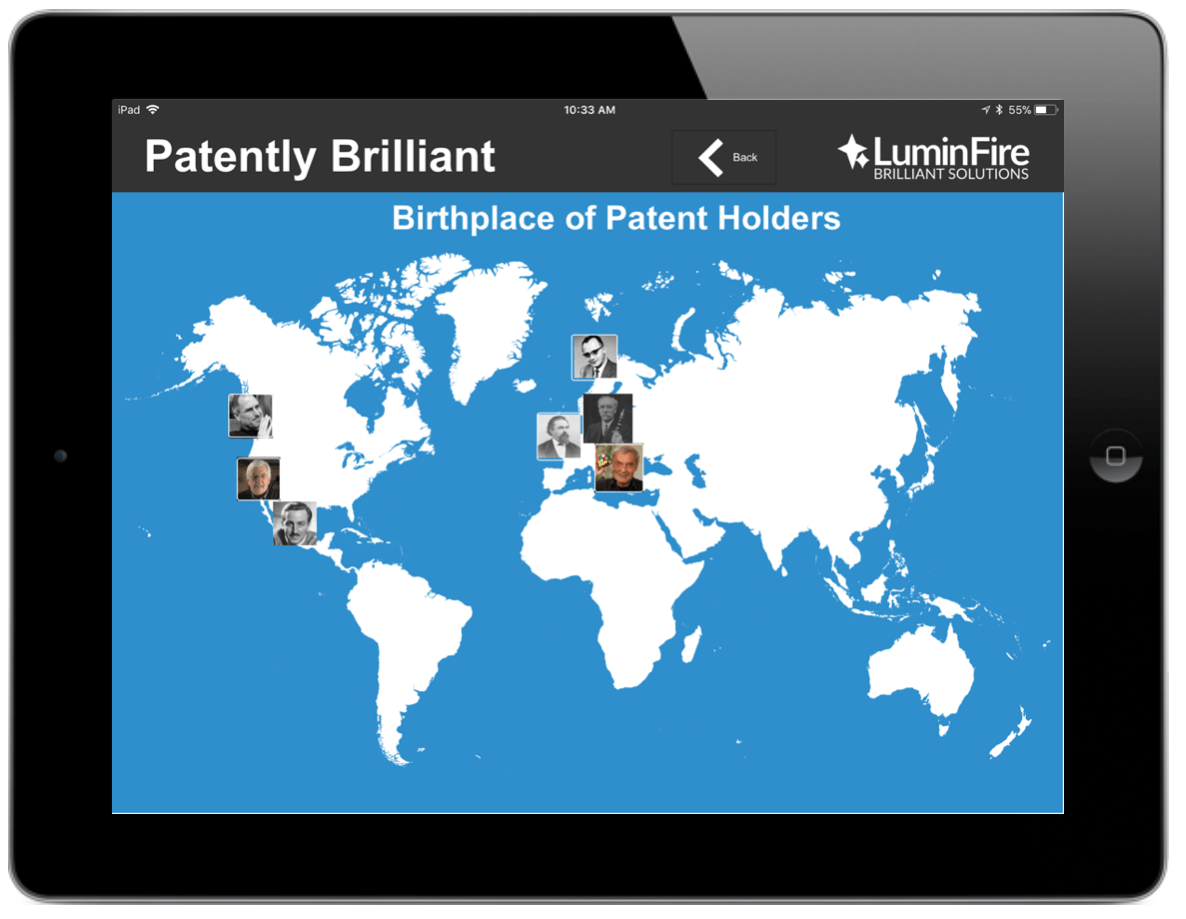 Our office surroundings help to inspire us to creates brilliant technology solutions that make work more effective, productive, and profitable. At LuminFire we believe that work doesn't need to be so difficult. We're passionate about automating redundant and frustrating processes — saving businesses money and making a better world. A lot of technology is too expensive, too complex, and a bad fit. We love finding and building elegant, perfect fit solutions that meet needs within budget. LuminFire is a continual advocate for brilliant and affordable custom technology solutions.
If you're in the Minneapolis St. Paul Twin Cities Metro area in Minnesota we'd love to have you stop by our office. We have a few more surprises in store as well as a fun team of talented engineers that would love to meet you.