On March 08, 2022, Apple held an event titled "Peek Performance." This was yet another pre-produced event that has become the norm in the Covid era. With Apple employees reportedly set to return to Apple Park and Infinite Loop on April 11, maybe live events will return soon?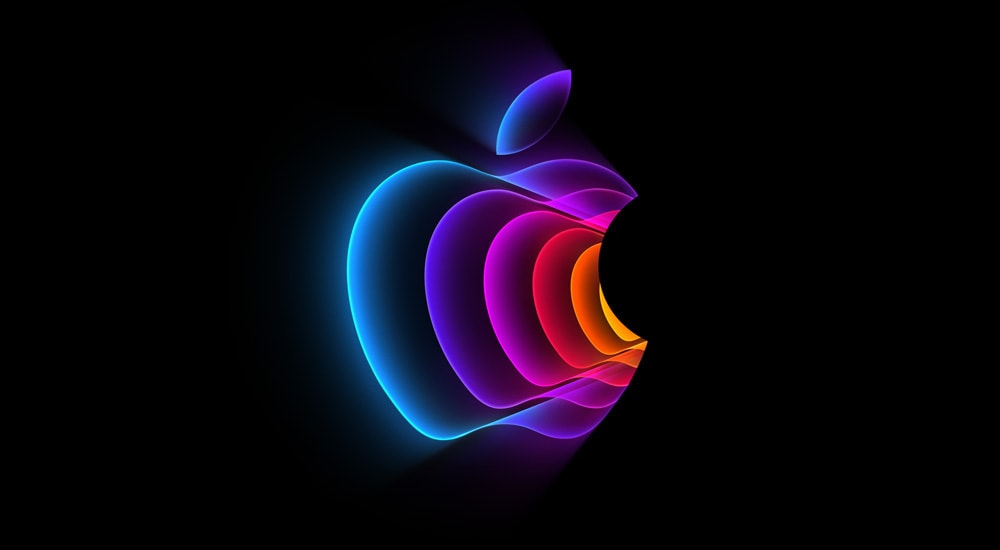 In this post we'll go over the highlights of the event, plus some additional details, and share our take, as usual.
AppleTV+
Tim Cook kicked off the event from an empty stage at the Steve Jobs Theater to give us some updates on the content available on AppleTV+. He highlighted the growing collection of Apple Originals, the awards they have won or been nominated for, and previewed some new movies and shows to come. Then he announced a new exclusive deal with Major League Baseball to bring 2 exclusive Friday Night Baseball games per week. This will be included with every AppleTV+ subscription for now, but may require an additional fee at some point.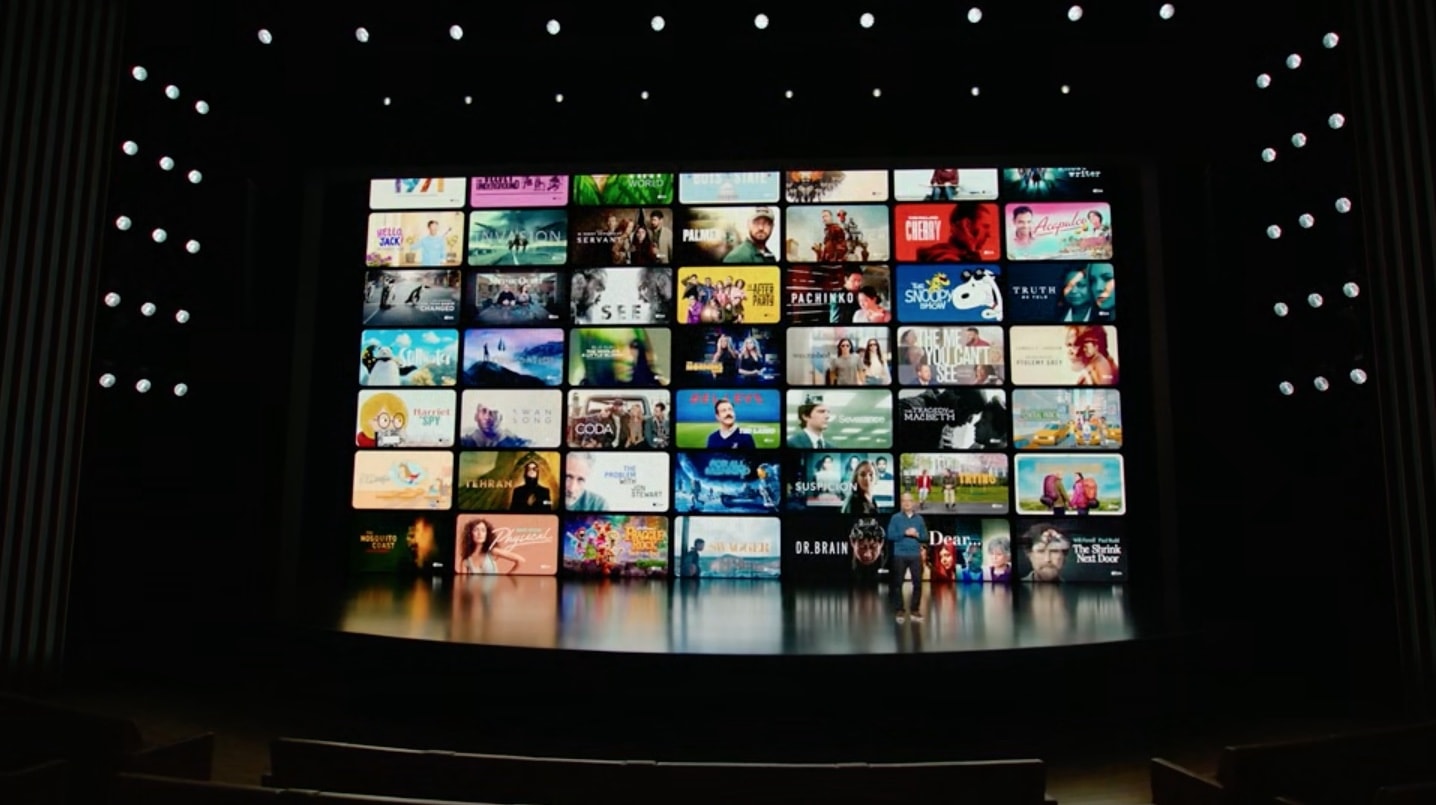 iPhone
While no new features were announced for the flagship iPhones 13 and 13 Pro, Tim did announce a new color option for each: a green for the 13 and 13 mini, and an Alpine Green for the 13 Pro and 13 Pro Max. They can be pre-ordered on Friday, March 11, 2022, and will ship the following Friday, March 18.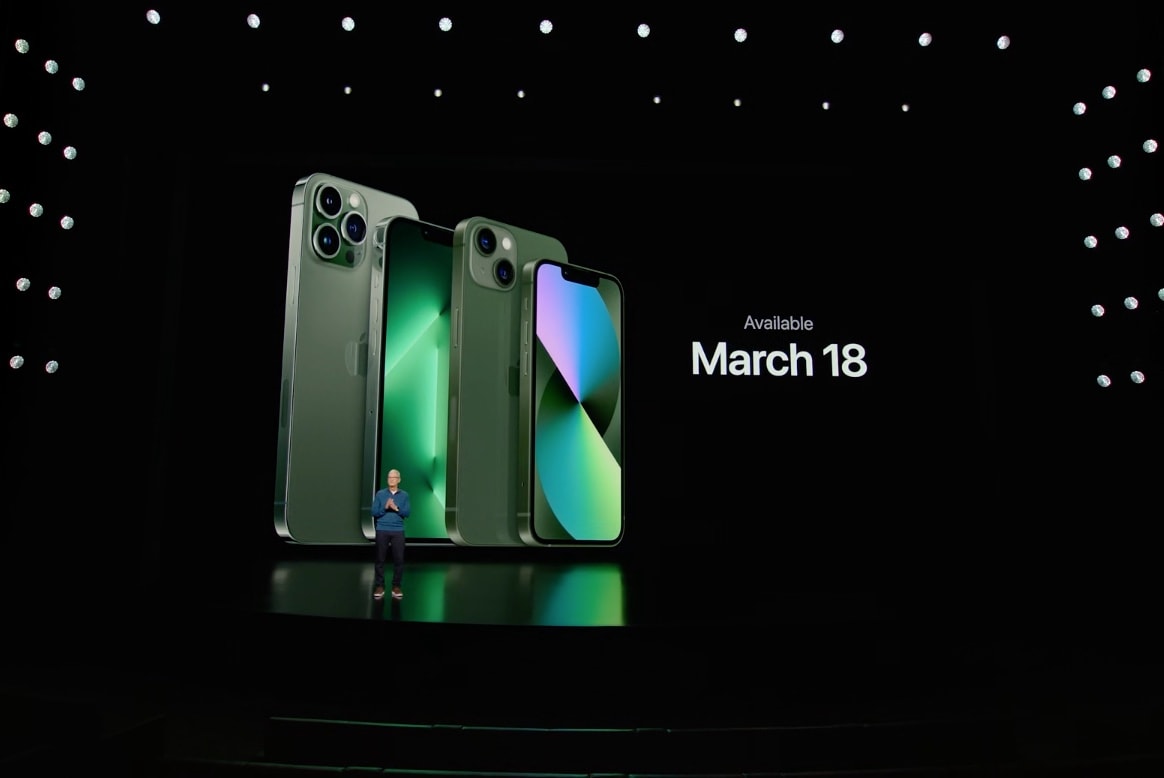 Next, Apple unveiled an updated version of the entry-level iPhone SE. The design/enclosure is the same as the previous SE (though with tougher glass), with the familiar home button and TouchID. The inside gets a speed boost with the same A15 Bionic processor as the iPhone 13 models, a better camera, and 5G connectivity… but not the fastest variation of 5G. The colors have been tweaked to match the latest design language with Midnight and Starlight, plus Product (RED).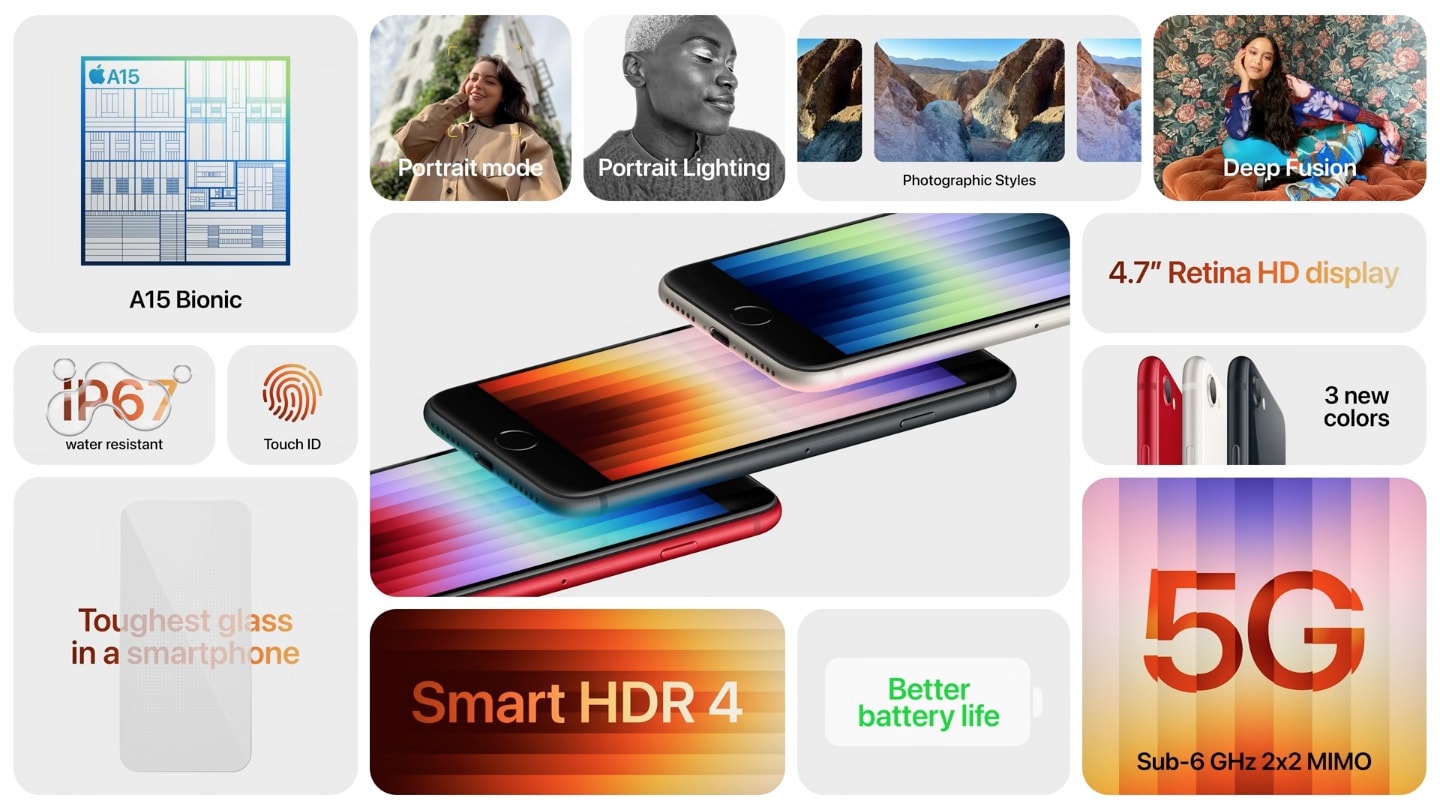 iPad Air
Next up, the iPad Air gets an update. The biggest news is that it is getting the M1, bringing it up to par with the iPad Pro in performance. It is also getting 5G for the cellular models… but again, not the fastest mmWave 5G. The Air also gains the 12MP ultra-wide front-facing camera with Center Stage, to keep you in the frame on FaceTime and other conference calls. The iPad Air is available in 5 colors: Space Gray, Starlight, Pink, Purple, and "a stunning new Blue" (which is a step down from the previous generation's gorgeous blue, in my opinion). The new iPad Air starts at $599 and is available on March 18.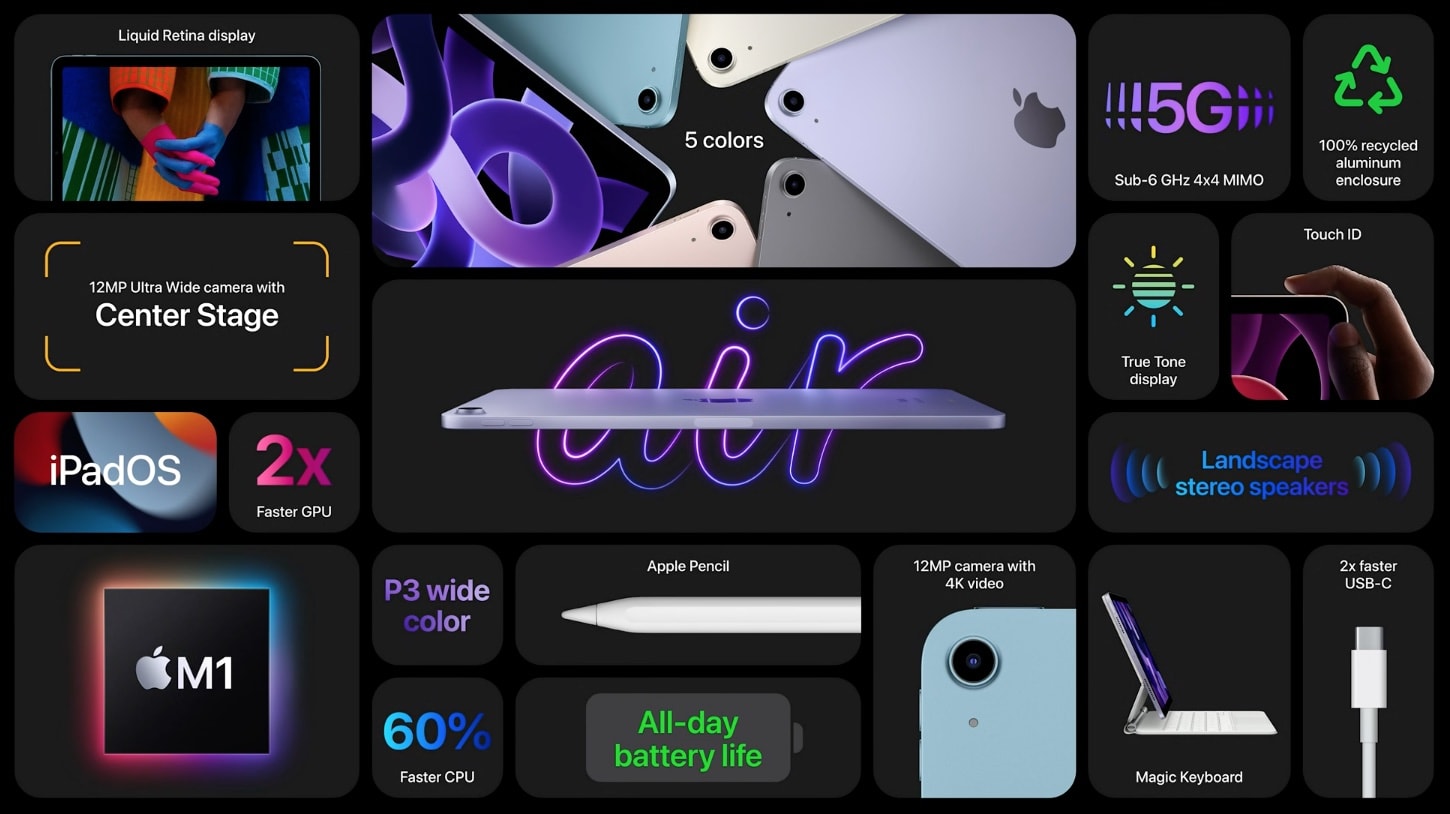 Let's Talk about the Mac…
Tim saves the best for last once again, recapping the process made on the transition from Intel to Apple silicon, with the M1, M1 Pro, and M1 Max system-on-a-chip (SoC). Today, Apple takes the line even further, adding "one last chip" to the M1 family: the M1 Ultra. Sparing all of the technical details, the M1 Ultra is basically 2 M1 Max SoCs, stitched together in a way that applications see them as 1 system. So developers don't need to do anything special to tap into the amazing performance. Pretty much everything doubles from M1 Max to M1 Ultra: 20-core CPU, 64-core GPU, 32-core Neural Engine, double the Media Engines, up to 800GB/s memory bandwidth, and up to 128GB of unified memory. 
Apple shared a video featuring developers from several third-party applications that had the chance to preview what these SoCs can do for them. Interestingly, all of the developers in the video were women, perhaps a subtle nod to the event being held on International Women's Day.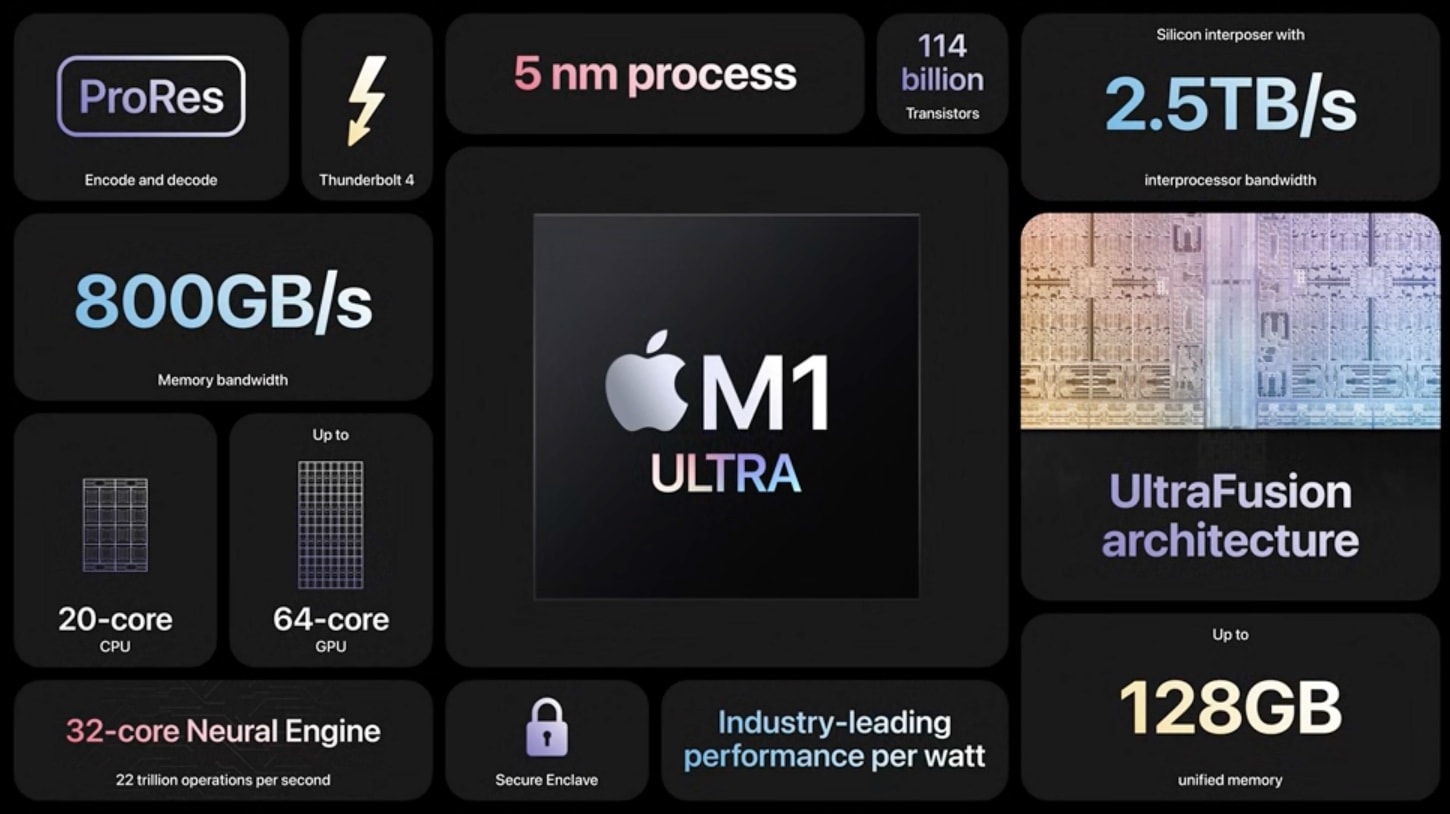 To put this power to use, Apple unveiled a brand new Macintosh: the Mac Studio.  This new enclosure is basically a taller Mac mini, with the extra headroom dedicated to the cooling system, with 2 giant fans pulling air through the perforated bottom and out the back. Mac Studio can be configured with a few levels of M1 Max or M1 Ultra, but interestingly no option for the lower end M1 Pro. The front features 2 USB-C ports (upgraded to Thunderbolt 4 with the M1 Ultra configurations) and an SDXC card slot. The back packs in 4 Thunderbolt 4 ports, 10GB Ethernet, 2 USB-A ports, an HDMI port, and a Pro audio jack for high-impedance headphones or speakers. It also features Wi-Fi 6 and Bluetooth 5 for wireless connectivity. It can be configured with up to 8TB of SSD storage and 128GB unified memory. The performance of Mac Studio with M1 Ultra is 3.8x faster than the high end 27" iMac and up to 60% faster than Mac Pro with 28-core Intel Xeon processors for CPU performance. For graphics performance, it's even better at 4.5x faster than the high end 27" iMac and 80% faster than Mac Pro with the fastest graphics card option. All of this, and of course, using far less energy than current PCs. Mac Studio with M1 Max starts at $1,999, while the M1 Ultra configurations start at $3,999, going up to $7,999. Mac Studio is available on March 18, but pre-orders are already showing later delivery dates as I write this.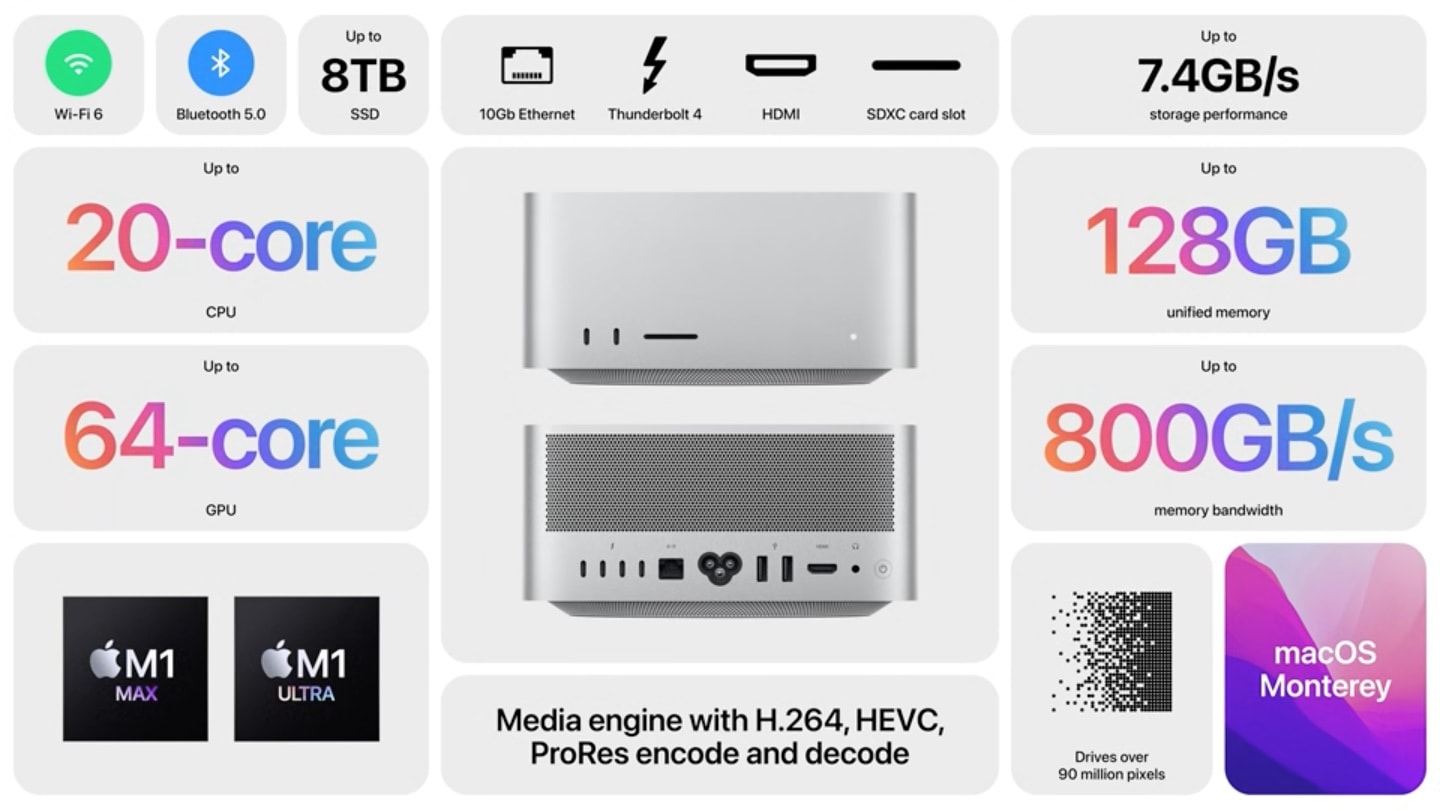 To give you the ultimate "studio" setup, Apple now offers a 27" 5K Studio Display. This is the display the Mac community has been wanting. When Apple stopped making the Thunderbolt display, they left a void in the market that they assumed other manufacturers would fill… but they have not provided the seamless experience that Mac users have come to expect. With the Mac Pro, Apple introduced the Pro Display XDR, which is an amazing display, but overkill for all but the highest end video production professionals… with a pro-level price tag to match. At $4,999, plus another $999 for the Pro Stand, it was a non-starter for most users. While certainly not "cheap", the Studio Display comes in much lower at $1,599. For that price, you get a 5K retina display with 600 nits of brightness, P3 wide color, and TrueTone, plus a 12MP ultra-wide camera with Center Stage (previously only available on the latest iPads), a six speaker sound system with Spacial Audio, a studio-quality three microphone array that can isolate your voice from background noise, 3 USB-C ports, and a stand! To run all of that tech, the Studio Display has an A13 Bionic chip. The standard stand offers 30º of tilt, and there is an optional tilt-and-height adjustable stand option for an additional $400. You can also opt for a VESA mount. The display has an anti-reflective coating, but you can also get nano-textured glass for an additional $300. The Thunderbolt port connects to your Mac and delivers up to 96 watts of charging power.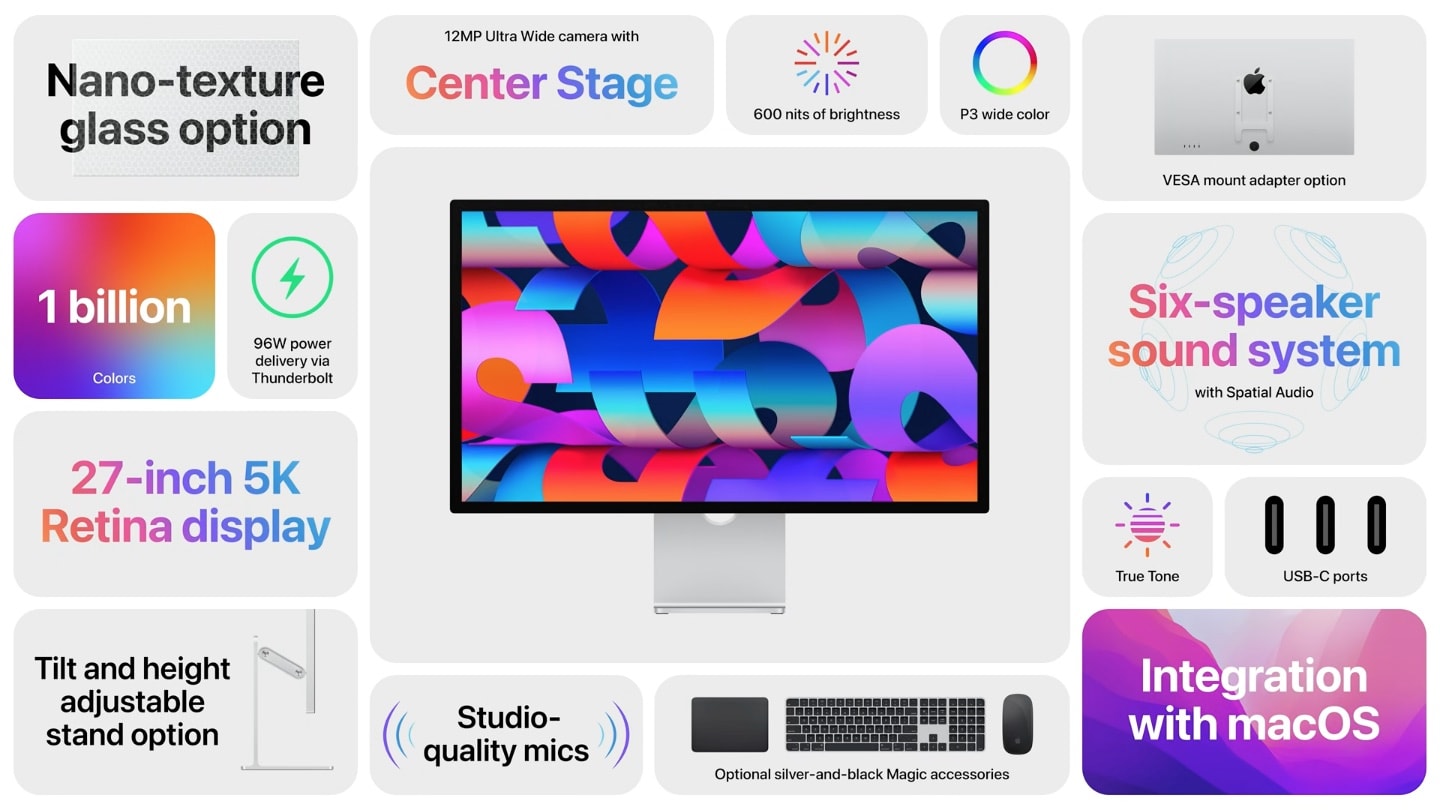 To complete your studio setup, Apple has added silver and black options to the Magic Keyboard with TouchID, Magic Trackpad, and Magic Mouse.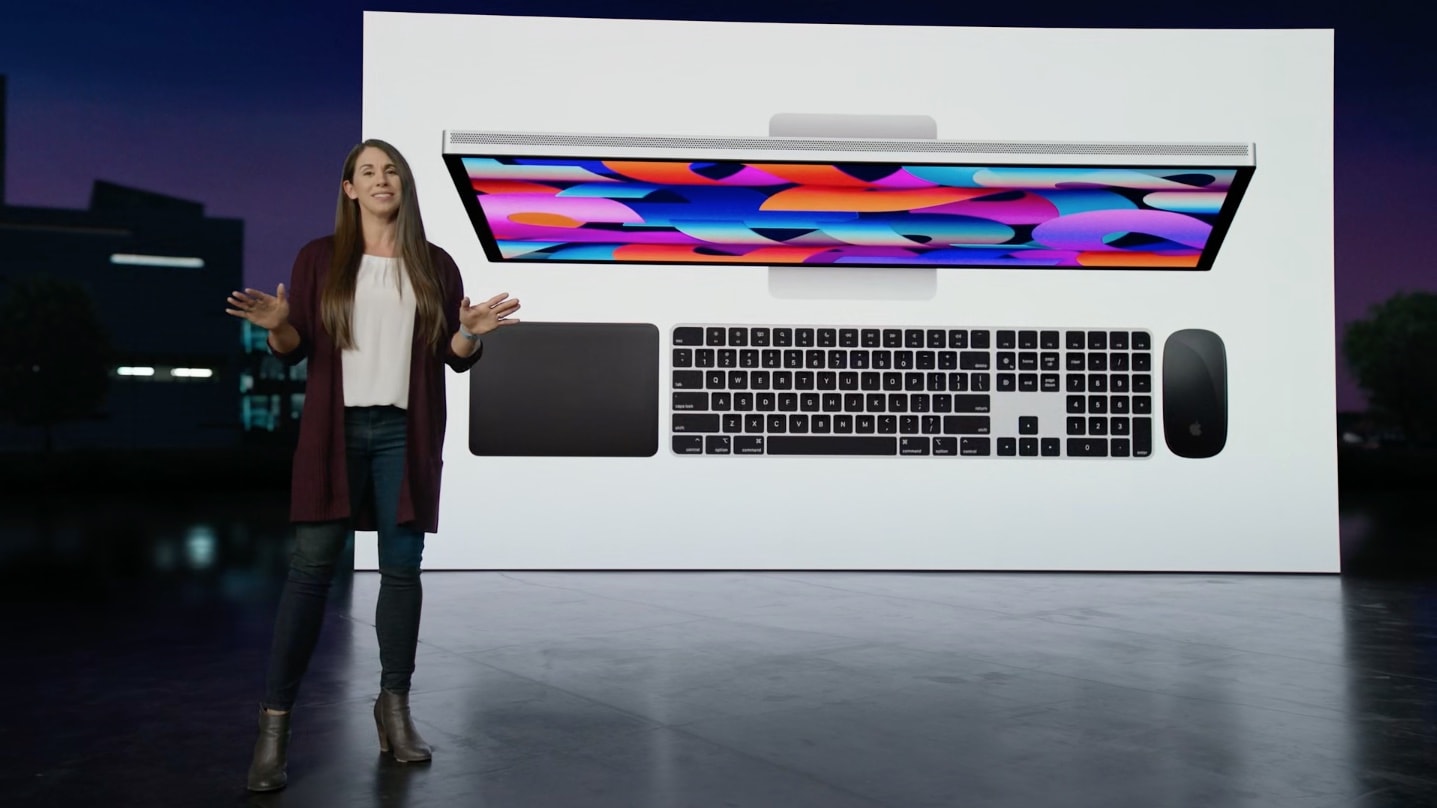 They closed out the event confirming that there is one Mac left to make the transition to Apple silicon: Mac Pro. "But that… is for another day." We'll be looking forward to hearing how crazy that gets. 
Other details…
The 27" iMac got some air time, by way of performance comparisons… but it is now absent from the current Mac lineup. I know that a lot of people were looking forward to a larger iMac with Apple silicon, but it appears that 24" is now the only option for the venerable all-in-one Mac. If you want something larger, you're looking at the Mac Studio and Studio Display. 
Curiously, there are currently not one, but two Intel Mac options left: the Mac Pro that was mentioned, but also the Space Gray Mac mini with an Intel Core i5 or i7 processor. With the Mac Studio starting with the M1 Max, it would appear that there is an M1 Pro-sized hole in Apple's desktop lineup between the M1 Mac mini and the Mac Studio. Other than needing a price point in between them, it is baffling that the Intel option in a Mac mini still exists. We don't expect it to be long for this world. 
For recommendations on all of your Apple technology needs, contact LuminFire.  As a member of the Apple Consultants Network, we can help support all your Mac systems and transitions.