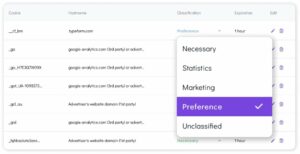 Not just for Europe (GDPR) anymore — similar data privacy laws have come to the United States and precedents have already been set in courts fining companies that are not compliant.
Generate a fully customizable cookie banner, record cookies consent, and effortlessly manage compliance needs.
This platform is designed to handle the complexities of all current and upcoming data-privacy regulations from around the world. Maintain compliance with this cookie consent banner and integrated solution.
Scans your site for cookies monthly
Auto categorizes known cookies
Tracks cookie consent
Displays different banners based on user location
Auto generates a cookie policy for your site
Multilingual