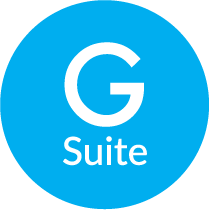 G Suite has grown to over 70 million education users and more than 3 million businesses. G Suite is a combination of feature rich cloud-based business applications accessible via a browser. It includes:
Gmail – Email
Calendar – Powerful time scheduling
Hangouts Chat & Meet – Online Meetings
Docs / Sheets / Forms / Drawings / Slides – Cloud Office Suite similar to Word, Excel, and PowerPoint
Drive – Online Cloud Storage and Sharing
Groups – Internal and public forums
Sites – Simple website builder
App Maker – Development platform
Keep – Notebook
Jamboard – Collaborative whiteboard
Google Cloud Search
Admin – Administrate
Vault – Archiving and discovery
Mobile Device Management – Manage ChromeOS devices in the cloud
G Suite also gives you single sign-on access to:
YouTube
Maps
News
Photos
Translate – Languages
Earth
Collections
Contacts
Chat
We were originally hesitant to switch to G Suite. Microsoft Office had served us well for years and we did utilize many of the advanced features of Word and Excel. After thorough testing, we found that in every applicable use case, Google Docs and Sheets were more than capable of taking over the job. Additionally, the inherent benefits of working in the cloud like collaboration, automatic backups, and version tracking sealed the deal.
Another concern was losing the ability to work offline. We later found that this was not the case – files can be synced for offline use and there are versions of G Suite apps that work offline.
Overall, we have found G Suite to be very reliable. Every day, we are finding new features in G Suite to take advantage of that make us more effective.
We have assisted other companies with the transition to Google G Suite from Microsoft Office, onsite server hardware, and other productivity software. In all cases, the result has been positive.
Many of our clients trust us with their entire IT setup including implementing their productivity applications like G Suite, building their custom CRM/ERP with FileMaker, integrating with their WordPress or E-commerce website, and taking care of all their macOS workstations.
If you are contemplating G Suite for your organization, contact us and our team can assist with a smooth transition.