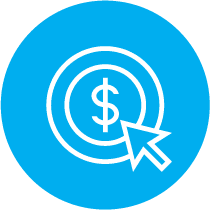 Trying to turn web traffic into paying customers? PPC (pay per click) marketing is a way to boost your direct traffic and turn website viewers into clients and customers. campaigns ensure that your company is one of the top results whenever someone searches a keyword. This technique is valuable for businesses of all sizes – whether you're trying to attract new clients or just want more traffic to your company blog.
A PPC marketing strategy is when a company pays for Google Adwords or Facebook ads to display their pages as advertisements at the top of search results. They pay the engine every time a visitor clicks one of their ads.
With this model, you're buying more traffic to your website. While SEO is essential for the long-term growth of a website, PPC is a way to stand out from the pack and optimize certain keywords that are especially relevant to your business.
Once you've found the keywords that will gain your company the most traffic, you have to set your budget and priorities and monitor your campaigns. Some keywords require a larger PPC budget. Unfortunately, the most popular keywords don't always result in the most business. We take the guesswork out of PPC marketing by giving you a breakdown of which keywords result in the most website viewers turning into customers.
Our PPC services allow you to target specific demographics based on your location. Targeted ads are incredibly effective, and a fantastic way for local customers to find out about your company. We will compile all of our PPC data and provide our you with a detailed breakdown of each PPC campaign. We put the power in your hands, and allow you to make decisions about your budget based on the data we provide.
There's a ton of data to sort through when you consider all of the search engine statistics. We'll keep track of all of this, and make adjustments when we need to. We're not afraid to switch up the strategy if we find that something isn't working. Converting website traffic is the number-one goal of our PPC service, and we'll work to make sure your company sees an increase.