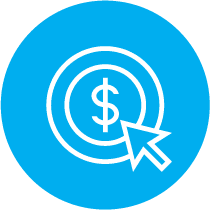 Trying to turn web traffic into paying customers? The best way to do this is through PPC marketing.
While search engine optimization has its place in the world of content marketing, PPC (pay per click) marketing is a way to boost your direct traffic and turn website viewers into clients and customers. PPC advertising often uses Google Adwords or Facebook.
PPC campaigns ensure that your company is one of the top results whenever someone searches a keyword. This technique is valuable for businesses of all sizes – whether you're trying to attract new clients or just want more traffic to your company blog.
Our Minneapolis PPC service can help you achieve your content marketing goals.
What is PPC Marketing?
A PPC marketing strategy is when a company pays search engines to display their pages as advertisements at the top of search results. They pay the engine every time a visitor clicks one of their ads.
With this model, you're buying more traffic to your website instead of spending time worrying about SEO. WordPress SEO is essential for the long-term growth of a website, but PPC is a way to stand out from the pack and optimize certain keywords that are especially relevant to your business.
Why Use a PPC Management Service?
Setting up a PPC advertising strategy isn't the hard part. It becomes more difficult when it comes to prioritizing keywords and monitoring the campaign. Once you've found the keywords that will gain your company the most traffic, you have to set your budget and priorities.
Some keywords require a larger PPC budget. Unfortunately, the most popular keywords don't always result in the most business. At LuminFire, we take the guesswork out of PPC marketing by giving you a breakdown of which keywords result in the most website viewers turning into customers.
Attracting New Business
Search engine marketing is one of the fastest ways to get your company more online attention. SEO plays a large part in this, but PPC campaigns give potential customers a way to reach your business without any digging.
Our Minneapolis PPC service allows you to target specific demographics based on your location. Targeted ads are incredibly effective, and a fantastic way for local customers to find out about your company.
Enhanced Keyword Research
Just like our Minneapolis search engine optimization service, out Minneapolis PPC experts vigorously research keywords, so they know which ones will gain the most traffic. We know what people are searching for, and what they aim to find in their search engine.
Additionally, we make sure that you get the most out of your advertising dollar by tracking which keywords attract customers – not just clicks.
Transparent Analytics
The essential element of any PPC campaign is that the viewers turn into paying customers. Just because a particular word or phrase gets a lot of clicks, doesn't mean it's worth the high price of placement.
At LuminFire, we compile all of our PPC data and provide our clients with a detailed breakdown of each PPC campaign. We put the power in your hands, and allow you to make decisions about your budget based on the data we provide.
There's a ton of data to sort through when you consider all of the search engine statistics. We'll keep track of all of this, and make adjustments when we need to. We're not afraid to switch up the strategy if we find that something isn't working.
A Minneapolis PPC Service
At LuminFire, we know that online marketing is the fastest way to reach customers. We offer a variety of search engine services for clients across the country.
Converting website traffic is the number-one goal of our PPC service, and we'll work tirelessly to make sure your company sees an increase through our campaigns.