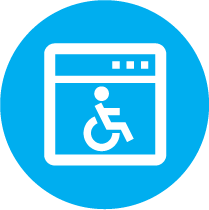 Once your website is near launch or already completed, we can provide two types of reports to help you understand what needs to be done to improve your accessibility.
General Accessibility Testing – The most critical facet of web accessibility is in the practical needs of users with disabilities. We perform keyboard testing, visual inspection, and screen reader testing with a primary focus on user experience.
Accessibility Compliance Analysis – If you are required to comply with specific accessibility guidelines (many government funded groups are), we can provide a detailed analysis of your compliance level.
Get a full picture of how your website compares to other sites. Identify options for necessary optimization, and enhancements. We can assist with building a site that maximizes usability by visitors with disabilities.