You can build some awesome progress indicators utilizing the FileMaker web viewer. Because they do not require a plug-in they display well on FileMaker Go as well. They also do not require access to the internet because the html for the web viewer is embedded directly in FileMaker.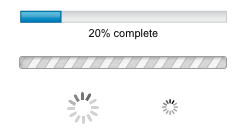 These examples are very simple to display from script control by changing the value of the global variables $$progress or $$progressText. If they are blank, nothing will be displayed.
Download the Awesome Progress Bar sample file (FileMaker 12) here. The older version for FileMaker 11 is here.
Update 9-16-13 There seems to be some issues with FileMaker Go correctly displaying the animated GIF file in a web viewer via a Data URL in the latest version of FileMaker Go. We're looking into this. In the mean time, we've uploaded a new FileMaker 12 version of the file that includes some updates to the code to make it simpler and easier to use as well as more flexible. It includes a new HTML 5 version of the progress bar that will work on newer systems.