The newest version of FileMaker was released today after nearly 2 years in the making. With it has come a slew of new features and many things that the FileMaker world has waited for with anticipation. We will be providing a more in depth review in the next few weeks. Meanwhile, here are 12 ways FileMaker 12 will affect you and your business:
1. FileMaker 12 is a major release. Along with it comes a new database file format change…the first since FileMaker 7. Although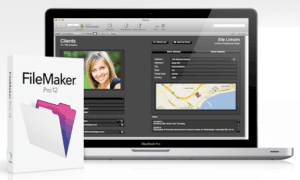 conversion of your existing files will be fairly painless, there must be testing and planning in the upgrade of this software. If you haven't yet converted old databases from FileMaker 5 format, you've got two file format conversions to do to get up-to-date. If you remember the migration from .fp5 to .fp7 as being painful and expensive, the migration from .pf7 to .fp12 will be nothing like that. FileMaker 12 is a release that builds the infrastructure possible for even more future innovation.
2. You must upgrade your FileMaker server, clients, and databases all at the same time. Everyone will need to be running FileMaker 12 to access your updated databases. No more mixing and matching of server and client 9, 10, and 11. There may also be increased system requirements. For example, FileMaker 12 will not run on any older PowerPC based Macintoshes anymore. You may need to upgrade your operating system to a more recent version before you can install FileMaker 12.
System Requirements for FileMaker client:
Mac OS 10.6 Snow Leopard, and 10.7 Lion (Leopard and PPC no longer supported on the Mac OS.)
Windows XP SP3, Vista SP2, and Windows 7
3. If you run any plug-ins or other software that integrates with FileMaker, you'll want to wait until new versions are released that are fully compatible and tested with FileMaker 12.
4. The pre-built themes are one flashy new FileMaker 12 feature. You'll need to find a balance for using them. They are easiest to use with new solutions that are built from the ground up. Old solutions may need a lot of work to take advantage of the theme features. If you're testing the themes always work on a backup copy of your solution.
5. The new starter solutions will provide you with better starting points for new databases that you want to develop on your own. Taking advantage of the iPad and iPhone with FileMaker Go is much easier with built-in layouts and support for mobile devices.
6. FileMaker Go 12 on the iPad, iPod Touch, and iPhone is now FREE…making it easier to deploy your custom database application on the latest mobile technology. (Formerly, FileMaker Go was about $19.99 for the iPhone/iPod Touch and $39.99 for the iPad.)
7. FileMaker 12 performance enhancements make remote hosting of FileMaker in the cloud an even more attractive option.
8. New development tools make it easier for developers like Cimbura.com to create custom business application solutions faster. The result is that you'll save money with our increased productivity.
9. Features like gradient fills, corner radius, etc. will allow FileMaker solutions to look more modern.
10. Some FileMaker 12 features you'll notice immediately after your upgrade, but others will require database enhancements to take advantage of them. So you'll see more improvements over time as we rework fmIgnite features and our other solutions for FileMaker 12 . We'll suggest the improvements to you that will make the most sense for your organization. For example, maybe you've wanted to manage files within FileMaker. The new container field options make this easier and more practical.
11. FileMaker Server enhancements will make hosting more reliable, capable, and speedy. We'll be able to take better advantage of the hardware available on a server. Backups will be easier to maintain. If you're not currently taking advantage of FileMaker server, now may be the time to do so. Configuration of the server will be critical. The following articles contains some helpful server 12 technical information from Wim Decorte and Steven Blackwell.
12. Anyone that has purchased FileMaker volume licenses through Cimbura.com and has a current maintenance plan will automatically receive FileMaker 12 at no additional cost. When you get your announcement email from FileMaker just hold onto the new license codes. We will be scheduling migrations of your databases as we upgrade our hosting servers and your databases.
Many other features included with FileMaker 12 make it a more powerful, reliable, and useful application solution tool kit so that it can solve even more problems and make your business more efficient, productive, and profitable. Download a free copy of FileMaker 12 for evaluation, then contact us when you're ready to purchase for the best discount available.
Check out the following Scoop.it link for more FileMaker 12 News.