After 23 years of running a leading creative production studio, Rick Cornish found it was time to re-invent, re-brand and re-boot his creative offering. He came to LuminFire for help with a website and social media strategies… and got much more. In Rick's words "At the outset, you challenged me with some fundamental questions about my business concept and positioning that helped me focus my thinking, frame my approach and start blogging."
LuminFire produced a clean web site design for Rick that provides him complete control through a custom WordPress content management system (CMS). Rick can add static pages, images/videos/PDFs, regular blogs posts, and portfolio entries…all without requiring additional development. In addition, the site has many more features that set it apart:
Responsive so that it scales automatically in size between a desktop monitor and smaller mobile screens like the iPad and iPhone
Search Engine Optimization (SEO) so people can more easily find the site and get a higher Google ranking
Tracking of vital site statistics with Google analytics reports
The latest Security features to prevent spam and protect your site
Reliable coding that can handle future WordPress changes and updates with minimal disruption
Form options to capture leads and information from site users
Ongoing monitoring, maintenance, and backups to ensure site functionality
Speed optimizations to ensure fast and accurate display in multiple browsers like Safari, FireFox, Internet Explorer, and Chrome
Many options for easy future expansion including shopping cart ecommerce, etc.
"LuminFire is adept at building WordPress sites, but—more importantly—they understand the role of a website in today's business media environment. At the same time—as I moved from having a robust internal IT capability to doing everything myself—LuminFire helped me create a responsive online infrastructure that enables me to promote my business." – Rick Cornish
As a full service technology partner, LuminFire handles aspects of the site including reliable web hosting, keeping the technology up-to-date, regular backups, and keeping the site secure.
One of the things that impressed Rick was how LuminFire gave him a very value-priced solution, yet found a way to also provide the design and aesthetic control he needed to project his brand into a new market space. Bringing Rick's design taste into font selection, text styles, and more was essential to developing a site he was proud to put his name on. The web site created a valuable channel for Rick to stay in touch with all business colleagues and contacts as well as a platform to promote thought leadership in his specialty. It is a key to moving his new business forward and making it fully profitable.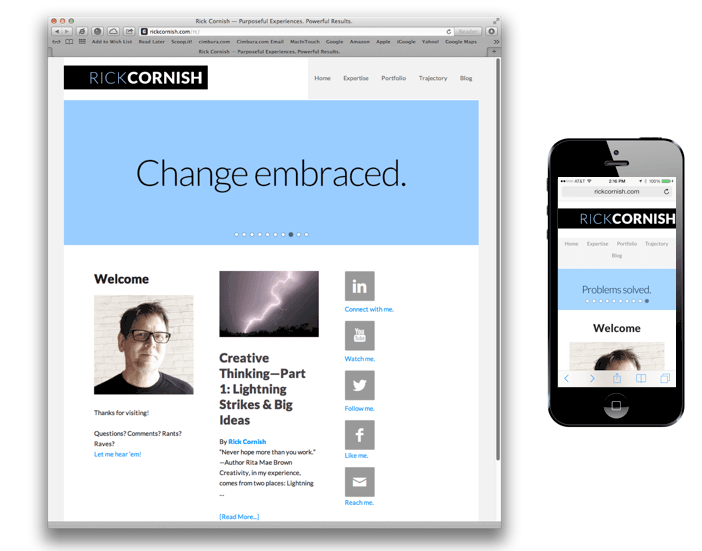 If you're looking for a partner to build your new website, LuminFire is here to help.