Dogfooding is a term that means "eating your own dog food". It originated from the Alpo TV commercials in the 1970s where the actor endorsing the product claimed that he fed Alpo to his own dogs. In the software industry it means that the company that develops the software actually uses it themselves.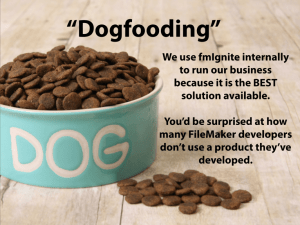 You'd be surprised at how many software development companies that write business productivity solutions, don't use their own software to run their business. They use Excel spreadsheets, text files, other online solutions, etc. Especially, for a FileMaker software development company, this seems inconsistent at best.
At LuminFire, we use our flagship product fmIgnite to run our internal operations. This includes its powerful CRM (Contact Relationship Management), time tracking, invoicing, project/product management, ERP (Enterprise Resource Management) features, etc. We supplement the powerful financial features of fmIgnite with QuickBooks Online for additional rigor and to avoid reinventing the wheel. (Some of our clients use AccountEdge as an alternate option. fmIgnite can work with either.)
Dogfooding benefits LuminFire because fmIgnite is simply the best way to make our operations the most effective, productive, and profitable they can be. As custom software, we can build exactly the features we require to make our business run smoothly. We can take advantage of more than 100 existing application modules and 8,000+ hours of existing development. (If you do the math, that's over 2.4 years of straight programming at 8 hrs/day with no weekends off!)
Dogfooding benefits our clients because, we see firsthand every day what the user experience is like with our application. fmIgnite gets a ton of real world testing. As a result, we make it better and better every day.
So, that's one more question to ask a potential FileMaker developer and fit into the mix of determining if they are able to provide you consulting of incredible value: "Do you use your own software to run your business? Do you believe in your own product that much?" If their answer is "no", take a step back and ask yourself why should you consider using their product for your business if it's not even good enough for them?