Early in 2017, LuminFire made the switch to the Google Cloud collaboration and productivity apps for business called GSuite. We haven't regretted the decision one bit. In fact, we've often expressed that we regretted waiting so long to make the switch!
At LuminFire, we strongly believe in dogfooding…in other words…we recommend software solutions that we know work because we use them ourselves to effectively run our business. G Suite is just another example of this.
GSuite has grown to over 70 million education users and more than 3 million businesses. GSuite is a combination of feature rich cloud-based business applications accessible via a browser. It includes:
Gmail – Email
Calendar – Powerful time scheduling
Hangouts Chat & Meet – Online Meetings
Docs / Sheets / Forms / Drawings / Slides – Cloud Office Suite similar to Word, Excel, and PowerPoint
Drive – Online Cloud Storage and Sharing
Groups – Internal and public forums
Sites – Simple website builder
App Maker – Development platform
Keep – Notebook
Jamboard – Collaborative whiteboard
Google Cloud Search
Admin – Administrate
Vault – Archiving and discovery
Mobile Device Management – Manage ChromeOS devices in the cloud
GSuite also gives you single sign-on access to:
YouTube
Maps
News
Photos
Translate – Languages
Earth
Collections
Contacts
Chat
We were originally hesitant to switch to GSuite. Microsoft Office had served us well for years and we did utilize many of the advanced features of Word and Excel. After thorough testing, we found that in every applicable use case Google Docs and Sheets were more than capable of taking over the job. Additionally, the inherent benefits of working in the cloud like collaboration, automatic backups, and version tracking sealed the deal.
Another concern was losing the ability to work offline. We later found that this was not the case – files can be synced for offline use and there are versions of G Suite apps that work offline.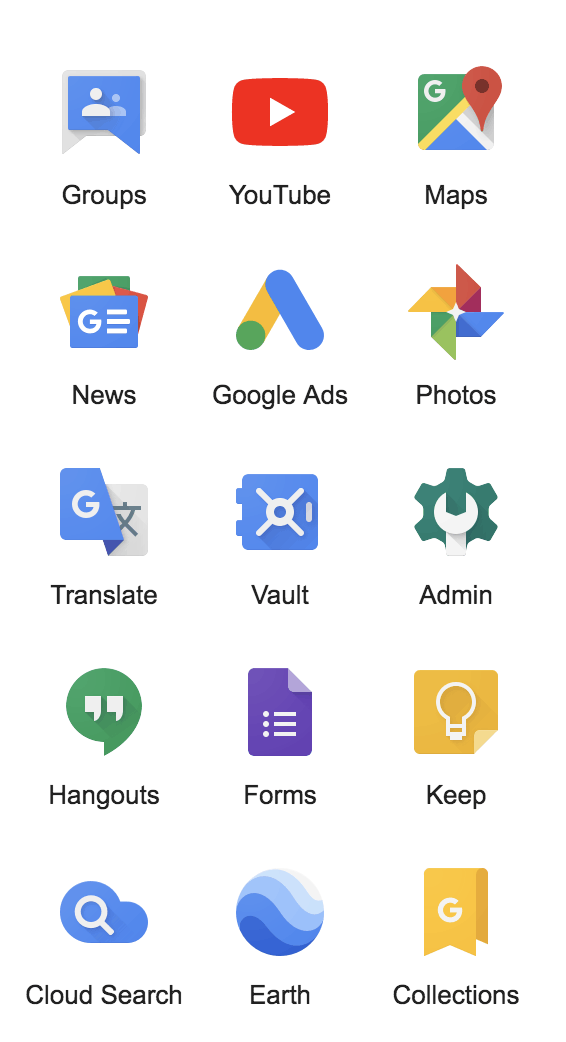 LuminFire Productivity Software Before
Prior to using GSuite, our team used a combination of many tools including:
Dropbox
iCloud – Numbers, Pages, and Keynote
ISP hosted email
Gmail accounts
Microsoft Office – Word, Excel, and PowerPoint
LuminFire Productivity Software After – How Things Changed
Now a lot more collaboration happens on documents without the hassle of swapping files, merging changes, and wondering which version is the latest. (For example, this blog post is being written collaboratively in G Suite Docs).
Everything has a URL so we can store links in FileMaker, send links via email, embed in our Intranet, etc. This is huge. Everything having a URL avoids the requirement of logging into a specific server, needing a VPN, or having to be in a specific location to access the file server. In addition, using Google Drive FileStream, each computer has a drive allowing access to all of our team drives similar to shared folders on a file server.
Unlimited drive space in the cloud. All of our devices gained a lot of free space by moving archived documents, videos, and data to shared drives.
Single sign-on via Google for many resources we use everyday like FileMaker and WordPress — just about any service that supports "log in with" supports G Suite. This reduces the number of logins we need to store and manage. Built-in 2 Factor Authentication (SMS, One Time Password, and Security Key support) keeps accounts secure.
Ability to easily configure employee access to resources — centralized management of files, groups, and apps makes administration much less time-consuming. Removing a user from G Suite removes their access to dozens of services in one click.
We were able to create groups and email aliases easily to have information routed to the right people. This has been a lifesaver vs constantly managing distribution lists. Groups can even act like forums, shared inboxes, and ticketing systems… and offer daily digests to cut down on email inbox clutter.
Easy sharing of documents and files with clients with secure access controls.
Powerful calendar features — juggling multiple Apple calendars is a thing of the past. We have calendars for conference rooms, devices, and other shared resources.
Google hangouts and online meetings — Every meeting can become an online meeting with access controls, and call in numbers.
Backups just happen! They are trustworthy and easy to access.
Reliable business email — Our previous email server would lock everyone out if someone entered their password incorrectly too many times in a row and had serious spam filtering issues. With Gmail, spam is a rarity and each user's access is secured independently.
We are able to more easily search and find documents via the Google search engine for all our company documents.
The cost for all these advantages starts at $5-10/user/month.
We estimate that our company is at least 20% more productive with G Suite than we were before the change. For our team, this translates to about 10,000 hours of productivity savings a year! We can do a lot with that time to better serve our clients and make our company better.
One critical component of our business is FileMaker. G Suite has a powerful API available so that we can directly integrate our FileMaker and web resources directly. This includes things like pushing calendar entries, syncing contacts, storing documents, etc.
Overall, we have found GSuite to be very reliable. Every day we are finding new features in GSuite to take advantage of that make us more effective.
We have assisted other companies with the transition to Google G Suite from Microsoft Office, onsite server hardware, and other productivity software. In all cases, the result has been positive.
Many of our clients trust us with their entire IT setup including implementing their productivity applications like GSuite, building their custom CRM/ERP with FileMaker, integrating with their WordPress or E-commerce website, and taking care of all their macOS workstations.
If you are contemplating GSuite for your organization, contact us and our team can assist with a smooth transition.