So much has changed in the last year around FileMaker…faster releases, new features, and a complete rebrand under Claris International, Inc. The following infographic summarizes Claris FileMaker statistics and facts as updated for 2020 with the release of FileMaker 19.
Some FileMaker History
FileMaker has been helping companies transform their workflows for more than 30 years, and has a large user base around the world. Represented in 11 languages, over 24 million copies of FileMaker have been delivered to organizations of all sizes across the globe.
As a wholly owned subsidiary of Apple (the largest and most valuable company in the world), FileMaker has been independently profitable for 80+ quarters consistently. G2 Crowd ranked FileMaker as a top Workplace Innovation Platform and Low Code Development Platform leader with high satisfaction ratings and recommend status.
DB Engines reports FileMaker in the top relational databases…and it automatically connects directly to other top database management systems (Oracle, mySQL, Microsoft SQL Server, IBM DB2, and Postgre SQL) via the built-in ESS (External SQL Sources) feature.
FileMaker 19
The FileMaker 19 platform consists of 5 powerful products that work together to create custom application solutions:
FileMaker client
FileMaker Server
FileMaker Go (mobile iPhone/iPad)
FileMaker Webdirect (web)
FileMaker Cloud
One consistent interface is used so you only need to build once to be able to deploy on several operating systems: macOS, Windows, iOS, and the web. At the 2020 Claris Engage conference it was announced that FileMaker will also support deployment to Android in the future. A Linux server is also available in preview.
The FileMaker mobile client FileMaker Go for the iPad and iPhone has over 4 million downloads on iOS devices, making it the most popular mobile database app in the app store. FileMaker Go can be deployed on over 1.4 billion active iOS devices in the world.
Claris Community
There are over 1,500 Claris Partners worldwide that develop apps using FileMaker. In the U.S. there are 40 Claris Partners with Platinum status.
The Claris Community has over 50,000 members of which there are at least 500 certified developers. The annual Claris Engage Conference draws annual attendance of approximately 1,500 people gathered from over 18 countries around the world.
Check out these FileMaker Stats at a Glance: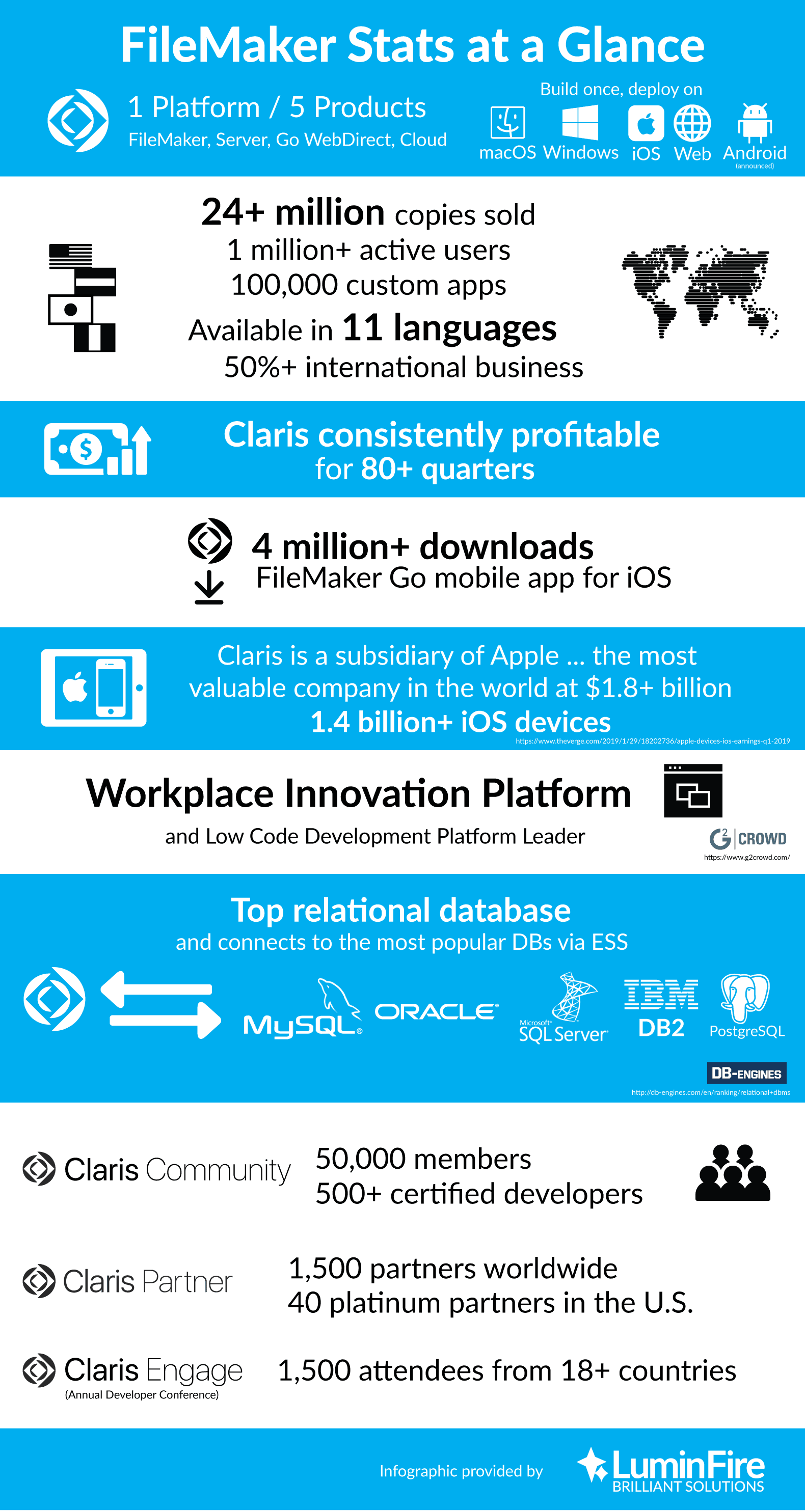 (statistics gathered from various sources as indicated on the infographic)
Download a PDF version of the graphic here 2020-Claris-FileMaker-19-Stats-InfoGraphic.
If you're interested in learning more about how FileMaker can help grow your business, connect with us for a free consultation with one of our C-Suite Executives.