On September 14, 2021, Apple held an event they called "California Streaming." As the name would suggest, this was a pre-produced event – a substitution for the traditional live presentation that included an audience of press, fans, and Apple employees due to the ongoing Covid-19 pandemic. While Apple does a really good job of producing high-quality presentations, we do miss the energy of a live presentation in front of an audience.
In this article we'll go over the highlights of the event, and share our take.
AppleTV+
Tim Cook kicked off the event with some updates about their AppleTV+ premium streaming service. They earned 35 Prime-Time Emmy nominations, with Ted Lasso leading the way. Upcoming fall premieres include a new season of The Morning Show, and some brand new series including Foundation, The Problem with John Stewart, Invasion, Swagger, The Shrink Nextdoor, and an original movie called Finch starring Tom Hanks.
iPad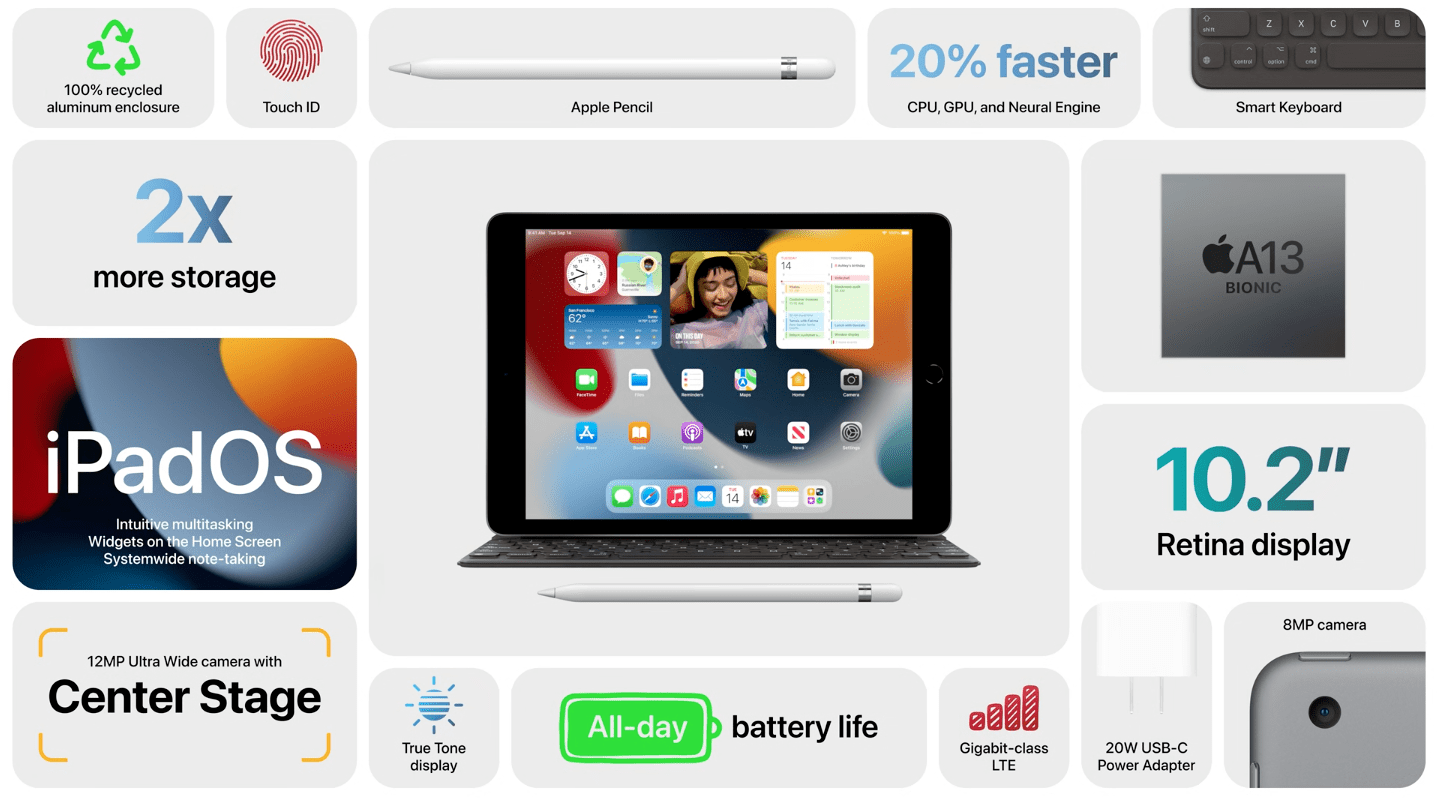 The base iPad has been updated with a faster A13 Bionic chip, a sharper 12 megapixel ultra-wide front-facing camera with Center Stage that can pan and zoom as you move or as additional people come in or out of the frame in FaceTime calls and other virtual meetings. The display has been updated with a True Tone display that adjusts the color temperature of the display to match the ambient light in the room. Storage has been upgraded to 64GB, and the pricing stays at $329 in Space Gray or Silver.
The iPad mini also got a huge upgrade and redesign. The iPad mini now sports the design language of the iPad Air, with flat edges and a larger 8.3" Liquid Retina display in the same footprint. TouchID is now in the top button, and the port has been upgraded to USB-C to match the iPad Air. The mini is powered by an A15 Bionic chip and offers an optional 5G antenna, making it faster than the Air. It also features a 12 megapixel ultra-wide front-facing camera with Center Stage. The back camera has been upgraded to a 12 megapixel camera with focus pixels, a True Tone flash, and can record video in 4K. Speakers are stereo in landscape orientation. The iPad mini supports the 2nd generation Apple Pencil and is available in Space Gray, Pink, Purple, and Starlight. Pricing starts at $499 with either 64 or 256GB or storage.
Both new iPads are available for pre-order immediately and will ship on September 24, 2021.
Apple Watch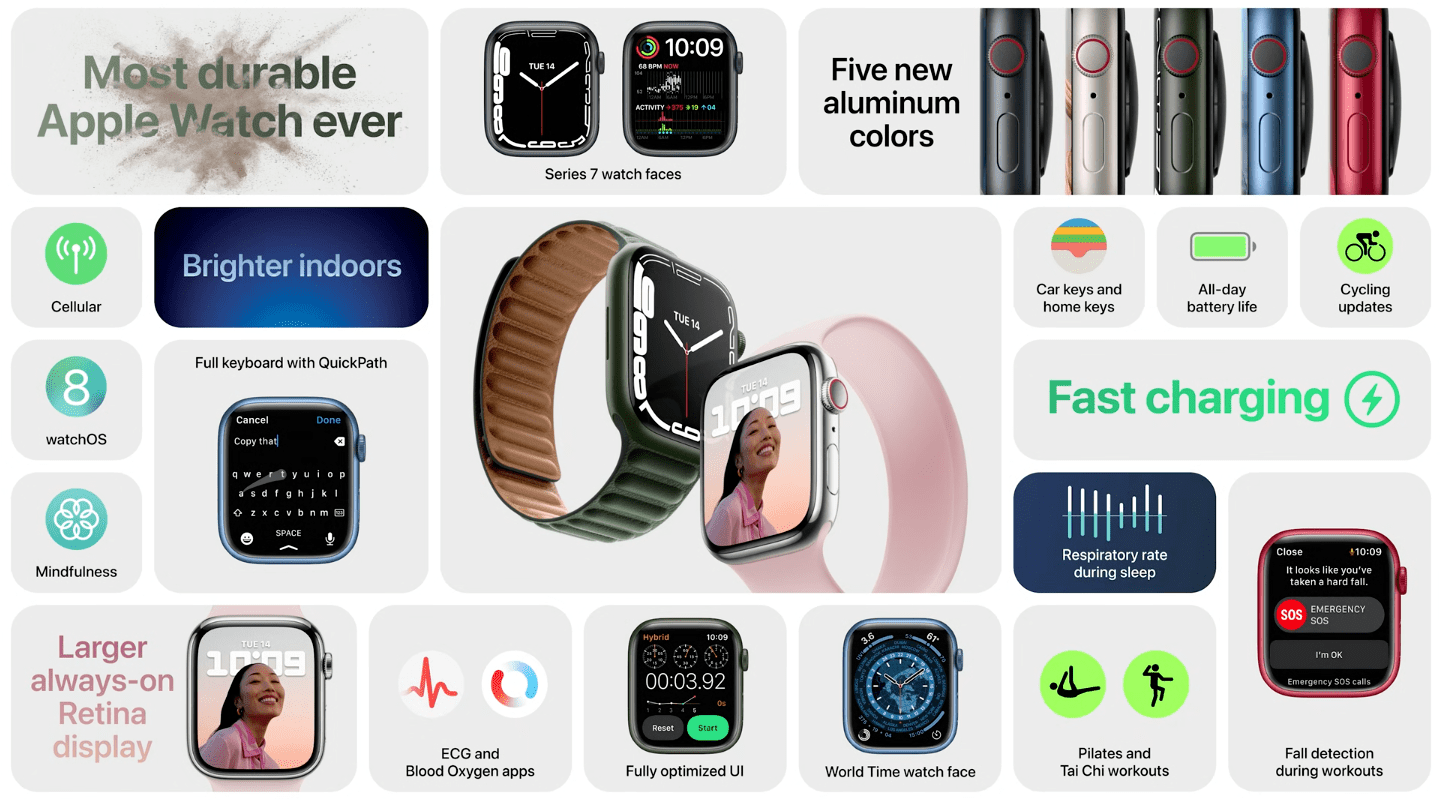 Next up for an update is the Apple Watch Series 7.
The promo video shows the new, larger display… and then it gets pummelled with rocks. This shows that the watch is more durable than previous models. The front crystal is crack-resistant, has better dust resistance and the same "swim proof" water resistance. The new retina display is larger at 41 and 45mm and has smaller borders, keeping the overall size of the watch nearly the same as before. The display has a rounded edge that refracts light so you can see the edge of the display from the side. The buttons are larger and easier to tap, and you can fit 50% more text on screen (less scrolling!). There is also a full keyboard that you can tap or swipe. The new display gets some new watch faces. The always-on display mode is now 70% brighter. The battery life is the same, but charging is 33% faster with a USB-C charging cable.
So to recap, it's a better Apple Watch all-around, but despite some rumors, there are no new health sensors on this device.
There are 5 new colors: Green, Blue, (Product) Red, Starlight, and Midnight. The Series 7 starts at $399, and will be available later this fall. Despite the size change, Series 7 is compatible with all previous Apple Watch bands. As usual, there are several new bands and colors to choose from.
The Apple Watch Series 3 and Apple Watch SE remain in the lineup at $199, and $299 respectively. We're a little surprised that the Series 3 is being kept around. It's getting a little long in the tooth, and struggles with the latest watchOS updates.
Apple Fitness+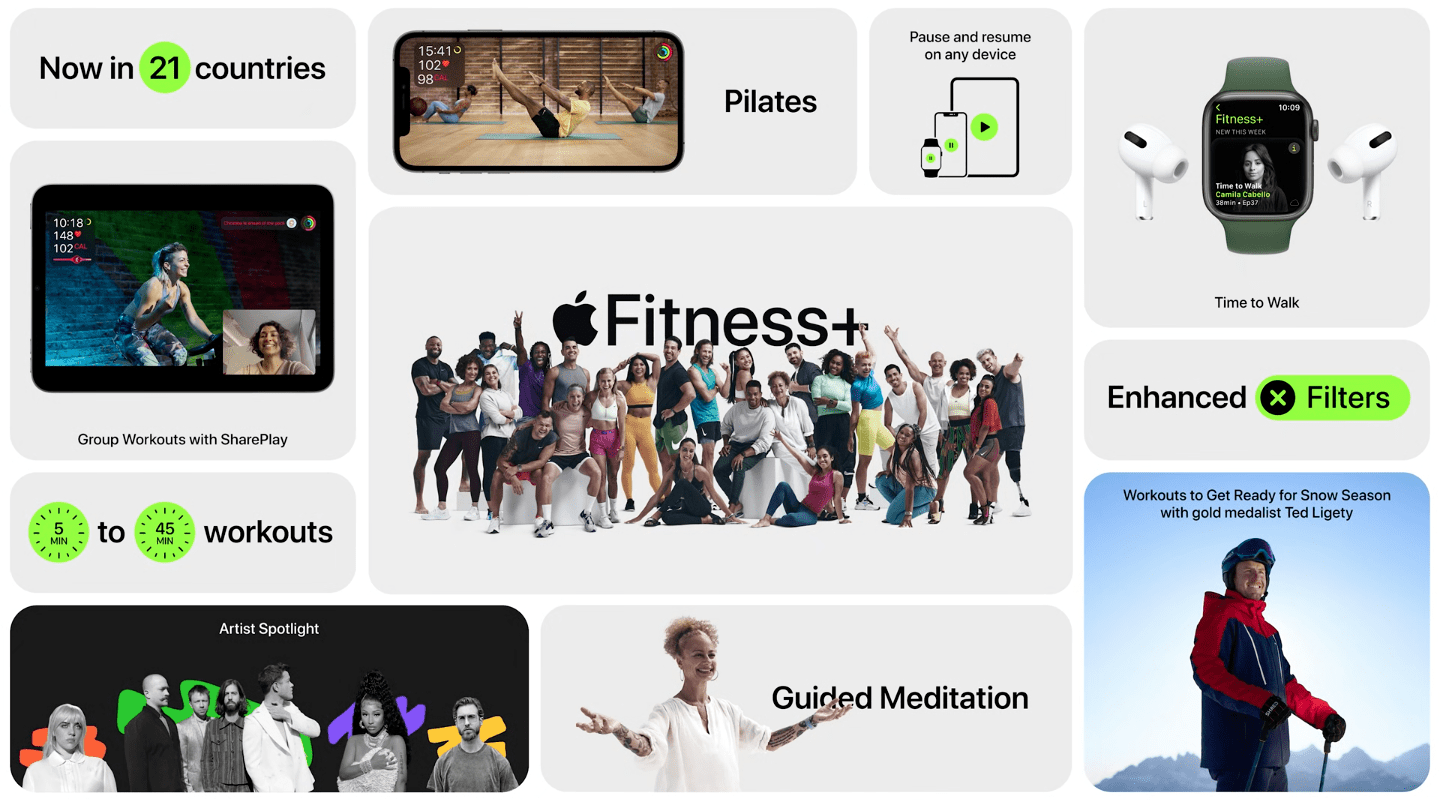 Apple's premium fitness subscription service, Apple Fitness+ gets some upgrades with new workouts, including Pilates, guided meditations, and workouts to get ready for snow season.
The service is also gaining the ability to work out with a friend… or 32. From an iMessage or FaceTime call, you can start Fitness+ Group Workouts with friends around the world. Later this fall, availability is expanding from 6 countries to 21.
iPhone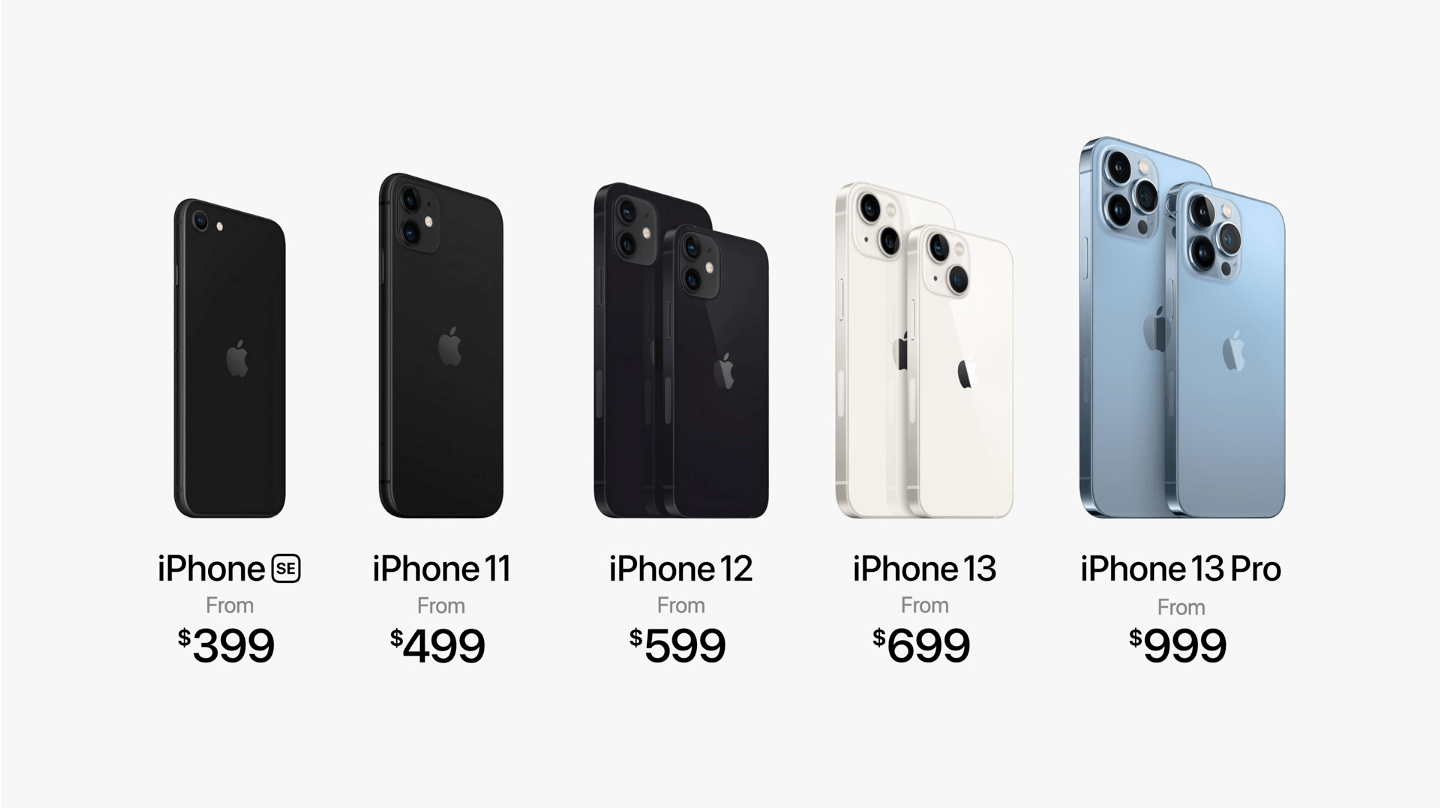 Apple saved the star of the show for the end.
The iPhone 13 lineup keeps a similar design to the iPhone 12 phones, and we're OK with that.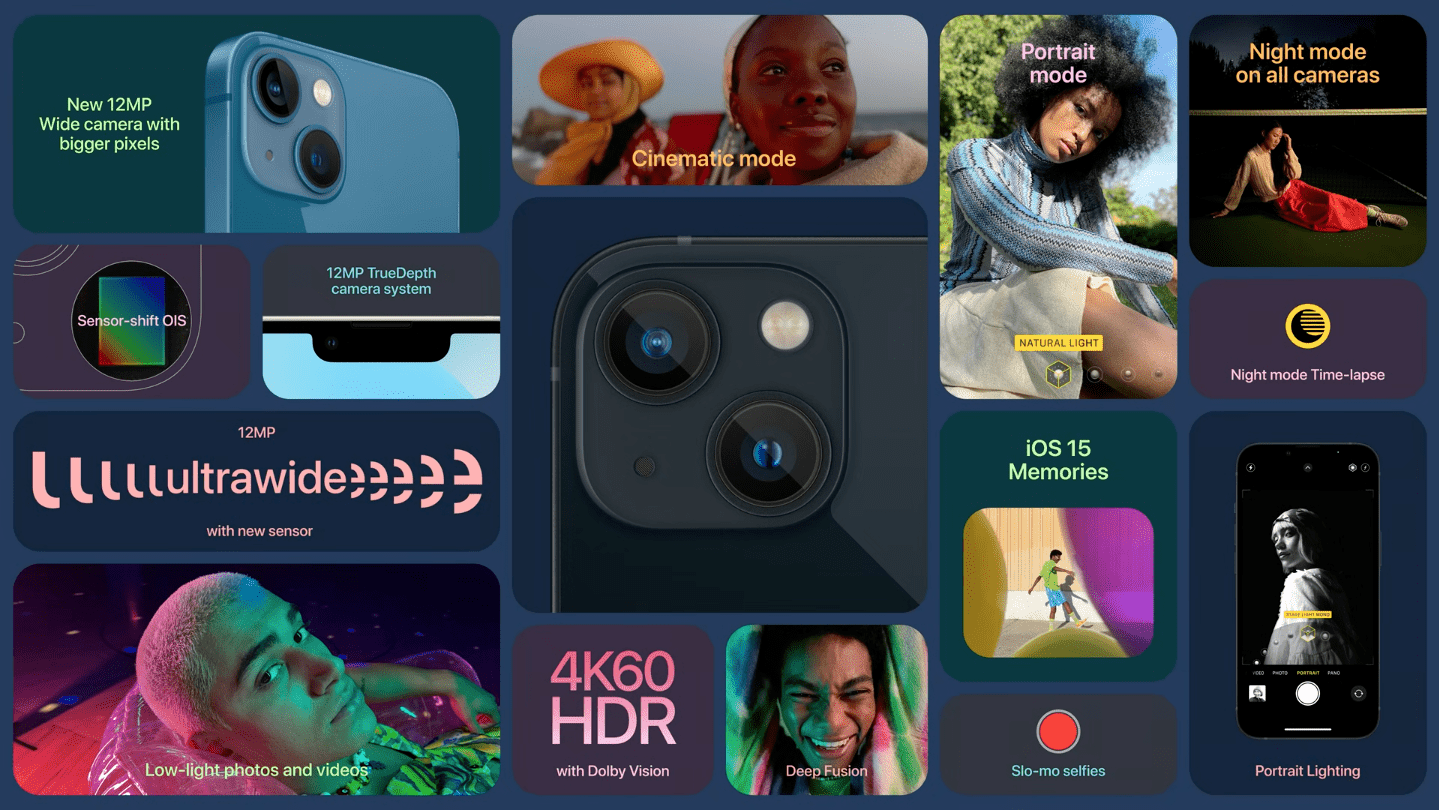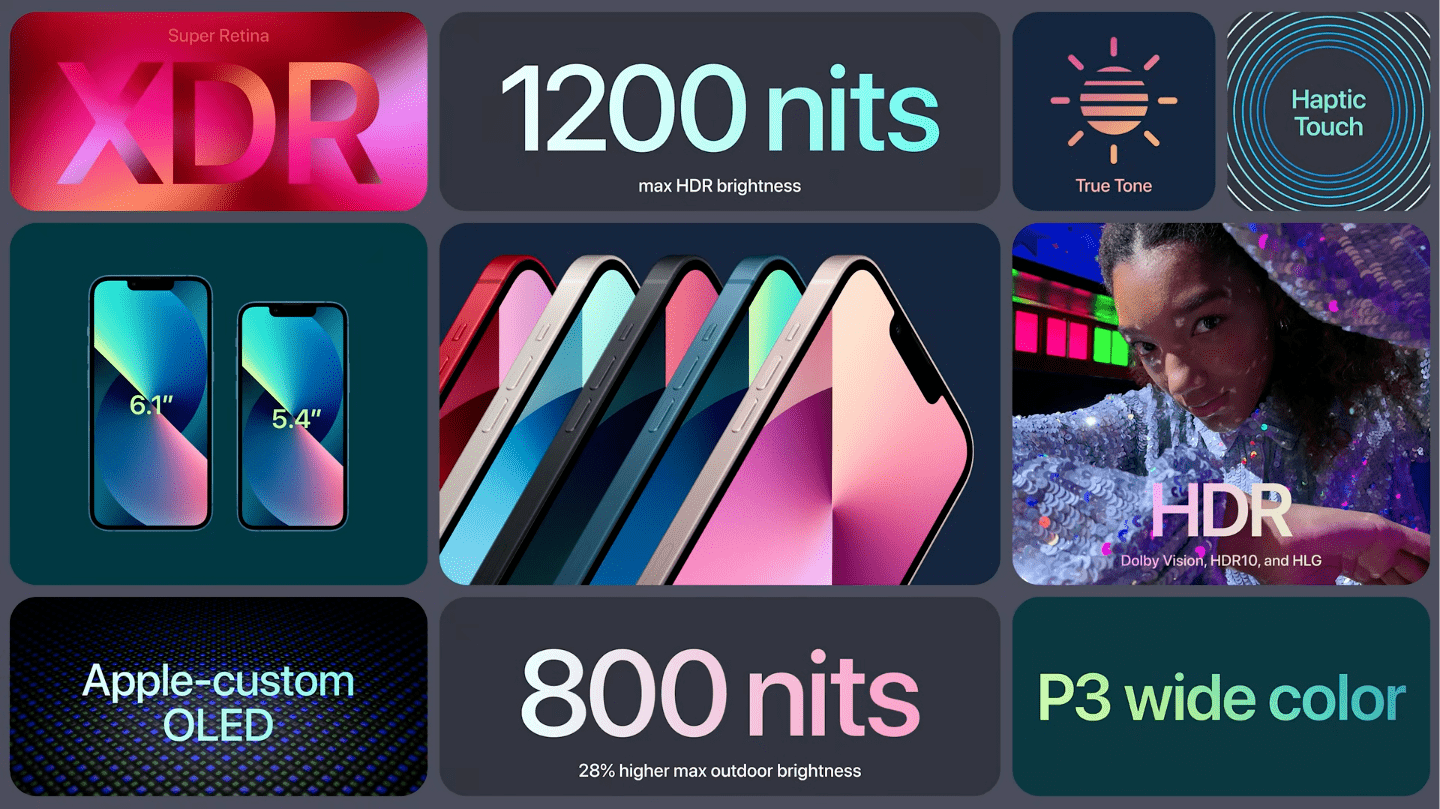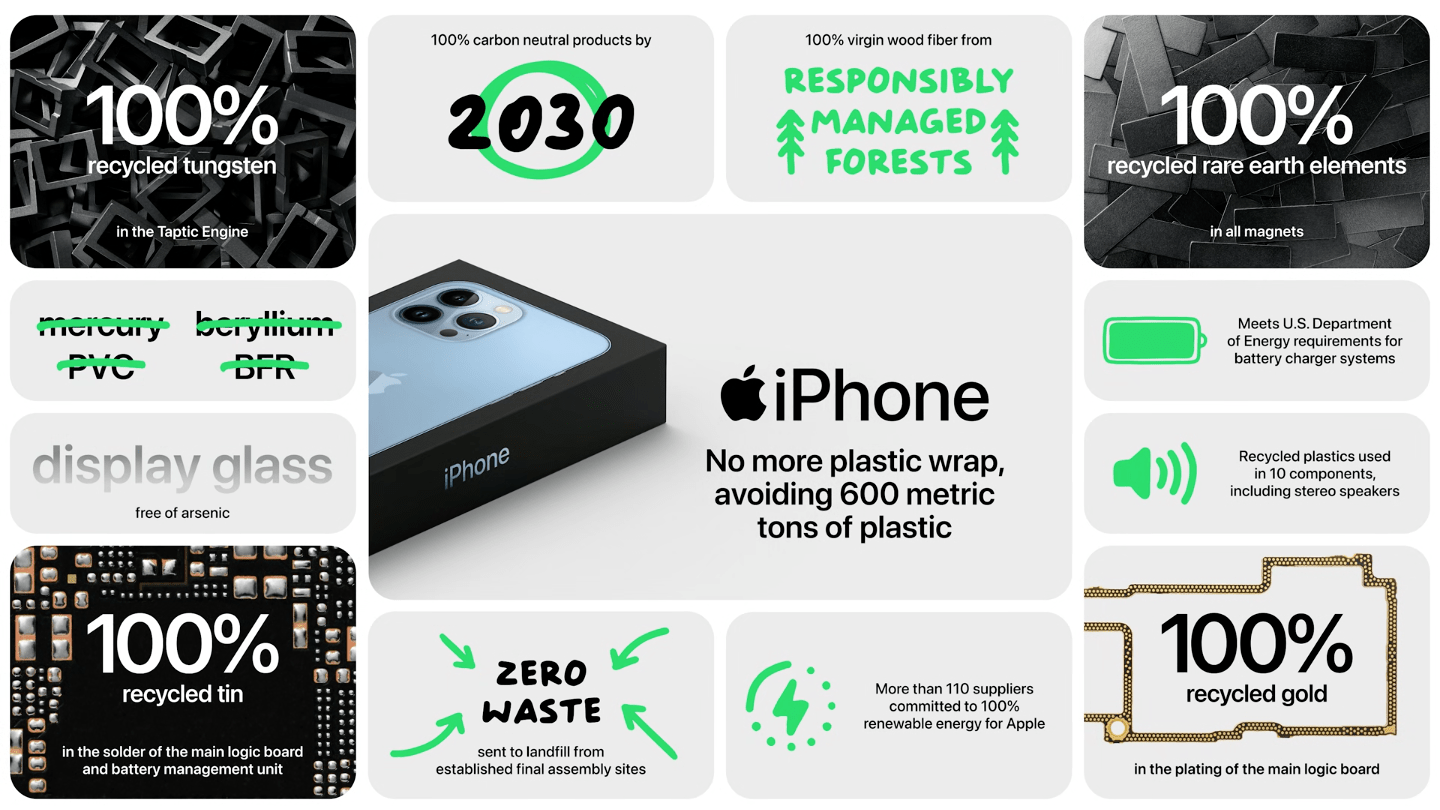 The flat sides make it easier to grip and show off the beautiful design without a case. The iPhone 13 and 13 mini feature cameras in a diagonal orientation instead of vertical. The new cameras feature larger aperture and sensor pixels to gather more light. Sensor shift technology reduces camera shake and noise. This was previously only available on the iPhone 12 Pro Max. All of this makes for more stunning Night Mode photos with shorter capture times. Video recording gains Cinematic Mode, which simulates rack focus, or pull focus automatically, using AI technology to choose the best place to focus, based on where people are looking. All of this is possible, thanks to the A15 Bionic chip, with faster processing, graphics, and neural engine performance. While the "Whodunnit" video was cheesy, it showed how effective the technique can be at guiding the viewer's eye. Like the iPad mini and Apple Watch Series 7, the iPhone 13 and 13 mini also board the Starlight Express, along with [light] Pink, Blue, Midnight, and (Product) Red. The TrueDepth camera system and FaceID sensors fit in a 20% smaller "notch" at the top. Both have a brighter XDR display that is also more power efficient. Users will also welcome 1.5 or 2.5 more hours of battery life compared to the 12 mini or 12, respectively. The iPhone 13 and 13 mini now start with 128GB of storage, up from 64, and go up to 512GB.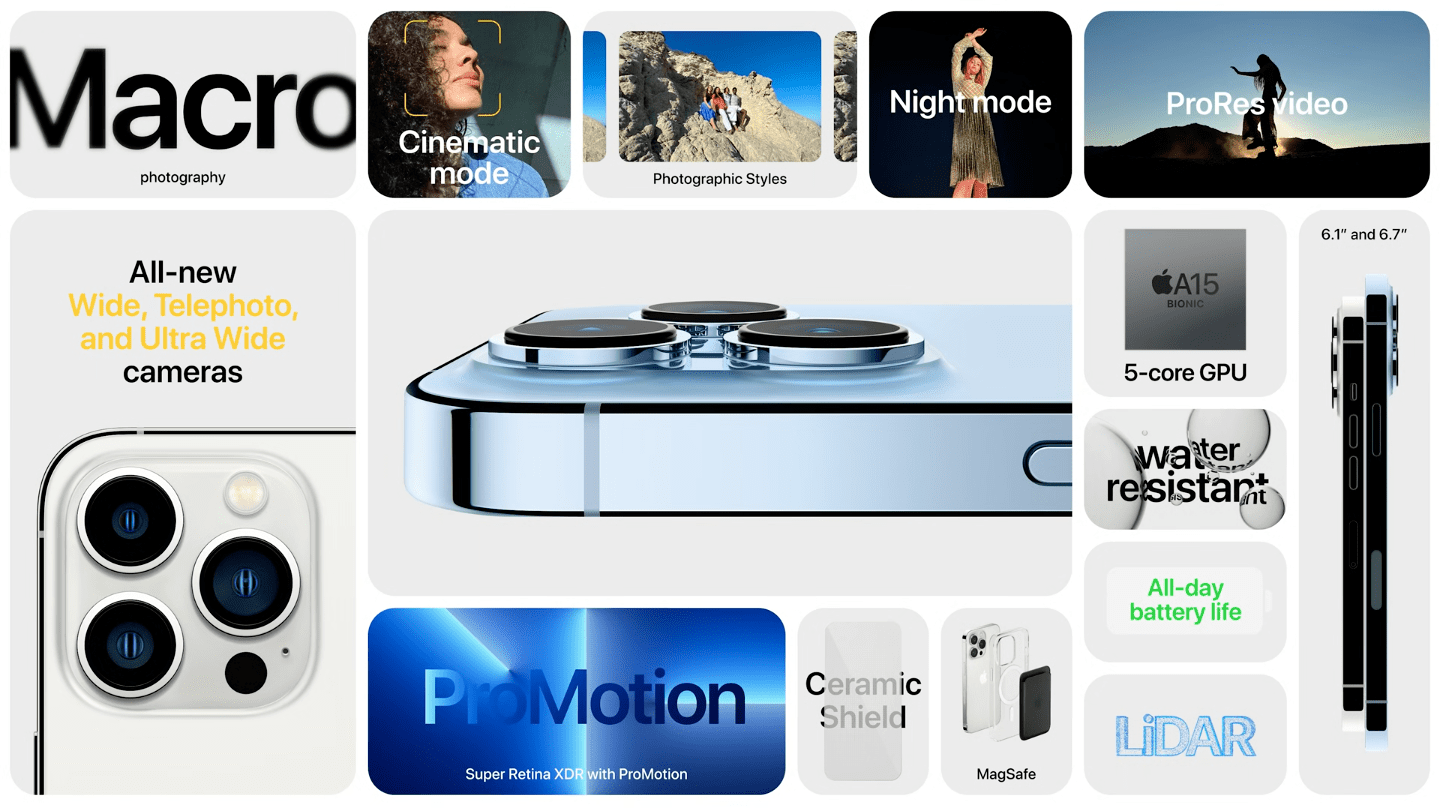 Finally, the iPhone 13 Pro and Pro Max also received camera upgrades, now with a 77mm telephoto lens that is a 3x optical zoom from the standard camera. Combine that with the ultra-wide lens, and you have a 6x optical zoom across the range of lenses. The ultra-wide lens features macro focusing at distances as close as 2mm, and now all 3 cameras support Night Mode. Both phones include sensor shift technology, so there is no longer a difference in the camera systems. Great news for those who want the best camera, without a huge phone. Photographic Styles let you customize how your images are processed in real time to create your signature look. Video capture supports Cinematic Mode, and even more amazingly, you can even edit the focus points and bokeh after the fact. ProRes 4K 30fps video capture is coming later this year, and will be limited to iPhone 13 Pro and Pro Max models with at least 256GB storage.
The surgical grade stainless steel casing is available in Graphite, Gold, Silver, and new Sierra Blue. The iPhone Pro features ProMotion displays that can adapt the frame-rate from 10Hz to 120Hz for buttery smooth animation, game play, and response time. Like the non-Pro 13 phones, battery life is 1.5-2.5 hours longer than the previous generation.
The new phones will be available for pre-order on Friday, September 17, and will arrive on September 24. The iPhone 13 lineup features larger batteries, making the phones 4-8% heavier than the previous generation, and just a tad (0.25mm) thicker. I'll happily take the improved battery life. All iPhone 13 models feature dual eSIMs, which should be more convenient when people start traveling internationally again. iPhone 13 has 5G support on 200 carriers in 60 countries, but the faster mmWave technology is still limited to models sold in the United States.
The current iPhone lineup and starting prices include the iPhone SE $399, iPhone 11 $499, iPhone 12 mini $599, iPhone 12 $699, iPhone 13 mini $699, iPhone 13 $799, iPhone 13 Pro $999, and iPhone 12 Pro Max $1,099. A maxed out iPhone 13 Pro Max with 1TB of storage now reaches $1,599, a new high for iPhone price points.
iOS
Giving all of your Apple devices new features, iOS 15, iPadOS 15, watchOS 8, and tvOS 15 will launch on September 20. A launch date for macOS Monterey has not been announced.
Rumors Crushed
Within the announced products, there were also plenty of rumors that turned out to be incorrect, including the Apple Watch Series 7 getting flat sides, an always-on display mode for the iPhones and an "emergency" satellite connectivity option.
What was not announced…
Despite our lobbying, there was no news on new Apple Silicon Macs. Look for an event in early-mid October for the announcement of the long-rumored redesigned 14" and 16" MacBook Pro with the next generation of Apple Silicon chips. We're hoping that when they do arrive, they bring Center Stage to the Mac.
We also didn't hear anything about redesigned AirPods or AirPods Pro.
For recommendations on all of your Apple technology needs, contact LuminFire.  As a member of the Apple Consultants Network, we can help support all your Mac systems and transitions.