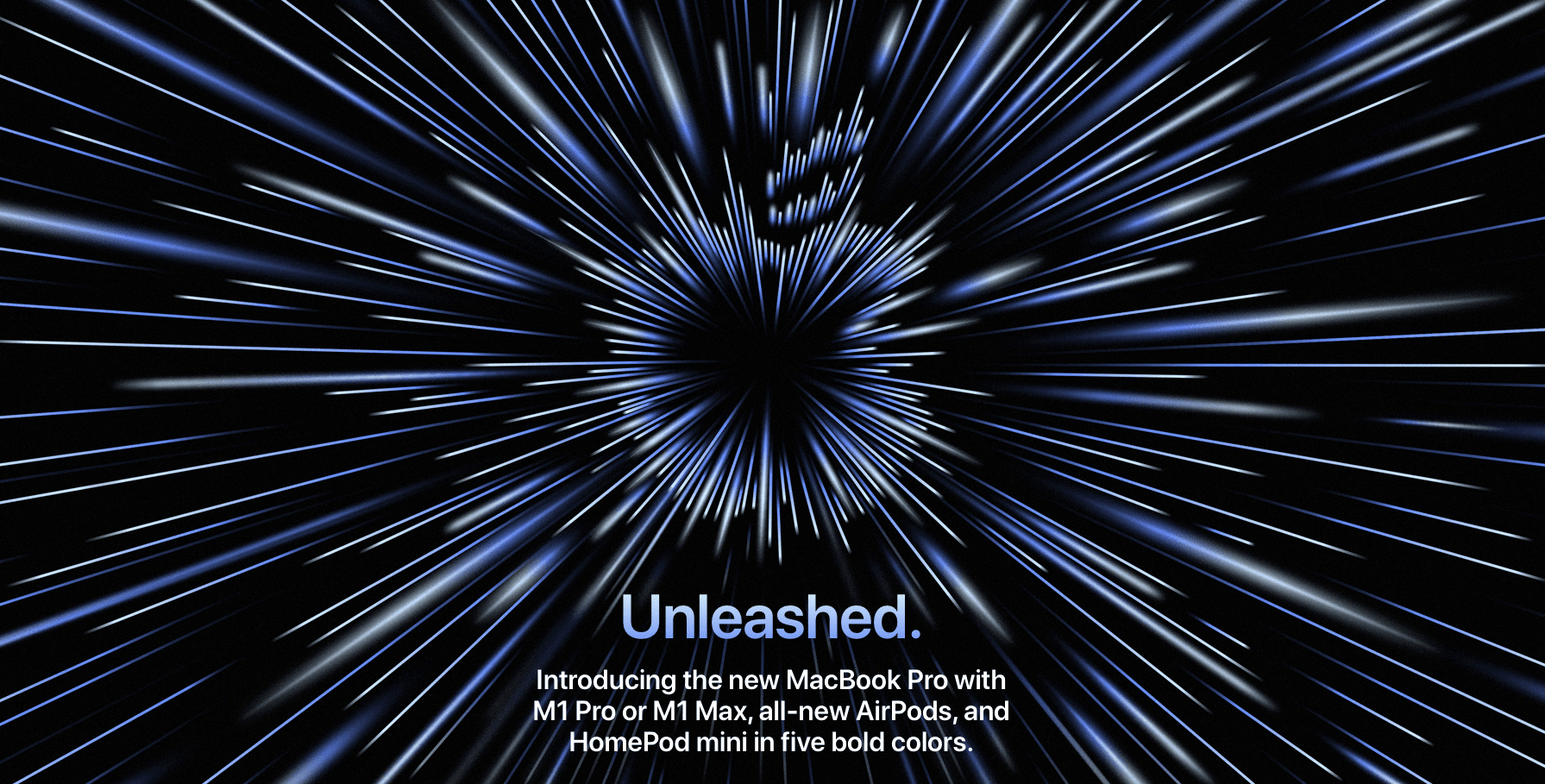 On October 18, 2021, Apple held an event titled "Unleashed." This was another pre-produced event that has become the norm in the Covid era. Daring Fireball's John Gruber made the observation on his podcast that these presentations are more like TV shows vs the live events that are more like stage plays… and it turns out that more people like TV shows than stage plays. We miss the energy of a live audience, but then again, a lot of us here at LuminFire are theatre fans, so the analogy holds true. The artwork on the press invites featured an Apple logo in a field of light streaks, reminiscent of the view from a certain hunk of junk starship in the universe of a certain sci-fi franchise, as it jumps to light speed. Perhaps we'll get some products that are… fast!
In this article we'll go over the highlights of the event, plus some details that have come to light in the days since, and share our take, as usual.
Intro
The video started off with a music video called "Start Up" featuring a musician in a garage composing a song from samples of various vintage and current Apple products, including the startup "bong" of a G3 iMac, the click of a MagSafe power connecter, the snap of an AirPods case closing, and the ticking of an iPod click-wheel scrolling through music. It was a fun piece, but how many of those were hints of what we were about to see? Read on to find out…
Music and More…
Zane Lowe talked to us about some updates to Apple Music, centering around Siri. There are now hundreds of playlists for any mood that you can start by asking Siri to play music for your dinner party, tailgating, working out, studying, and more.
There is now a new "Voice Plan" for Apple Music. It's a discounted version of the Apple Music service for $4.99/month that you control entirely with your voice. This new plan lacks some of the more advanced features like spatial and lossless audio, but it is priced to compete with other streaming music services like Spotify.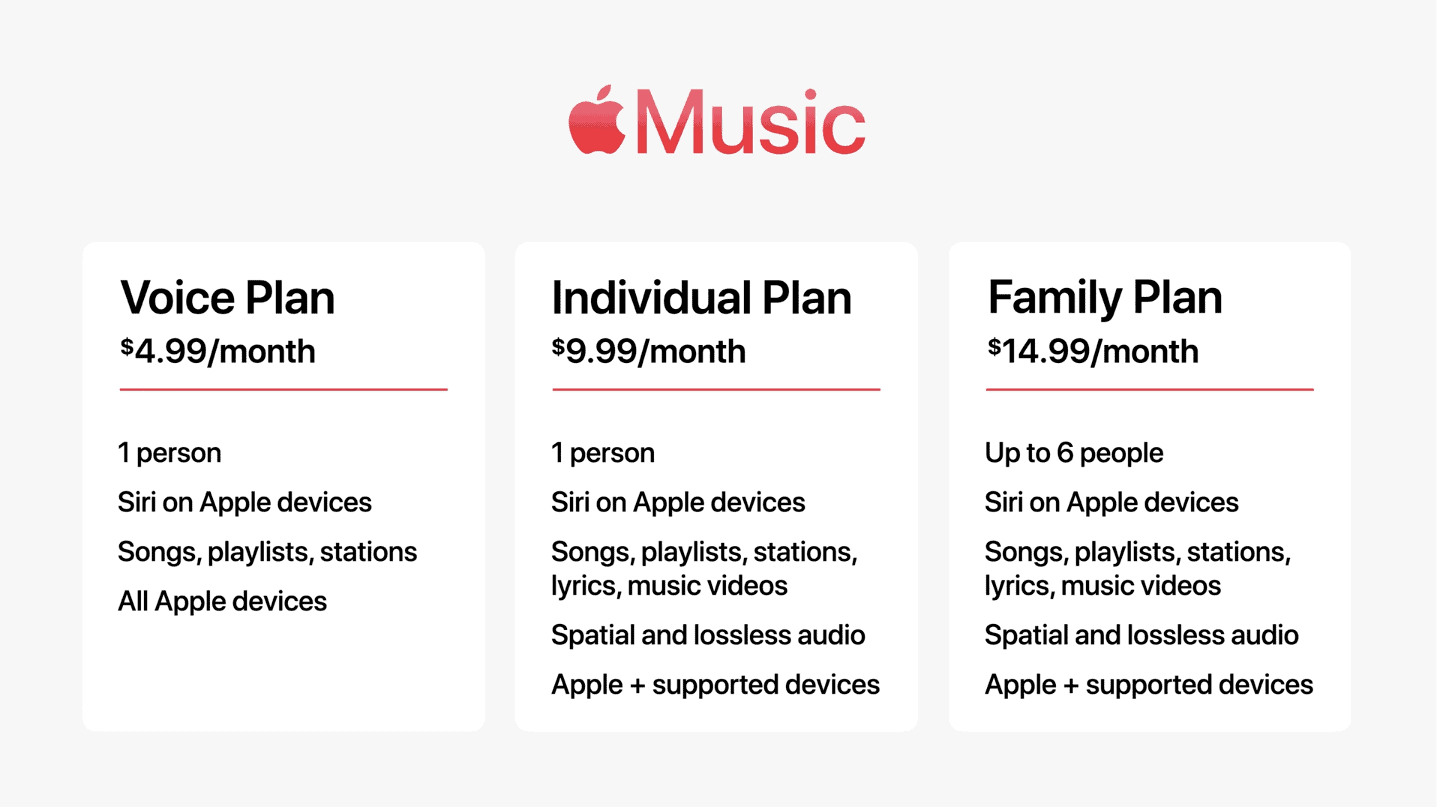 The HomePod mini, Apple's smart speaker, is now available in 3 new colors: yellow, orange, and blue. There were no new features announced, but the additional colors position the HomePods as a designer product that will both accessorize your home and fill it with sound, for $99 a pop.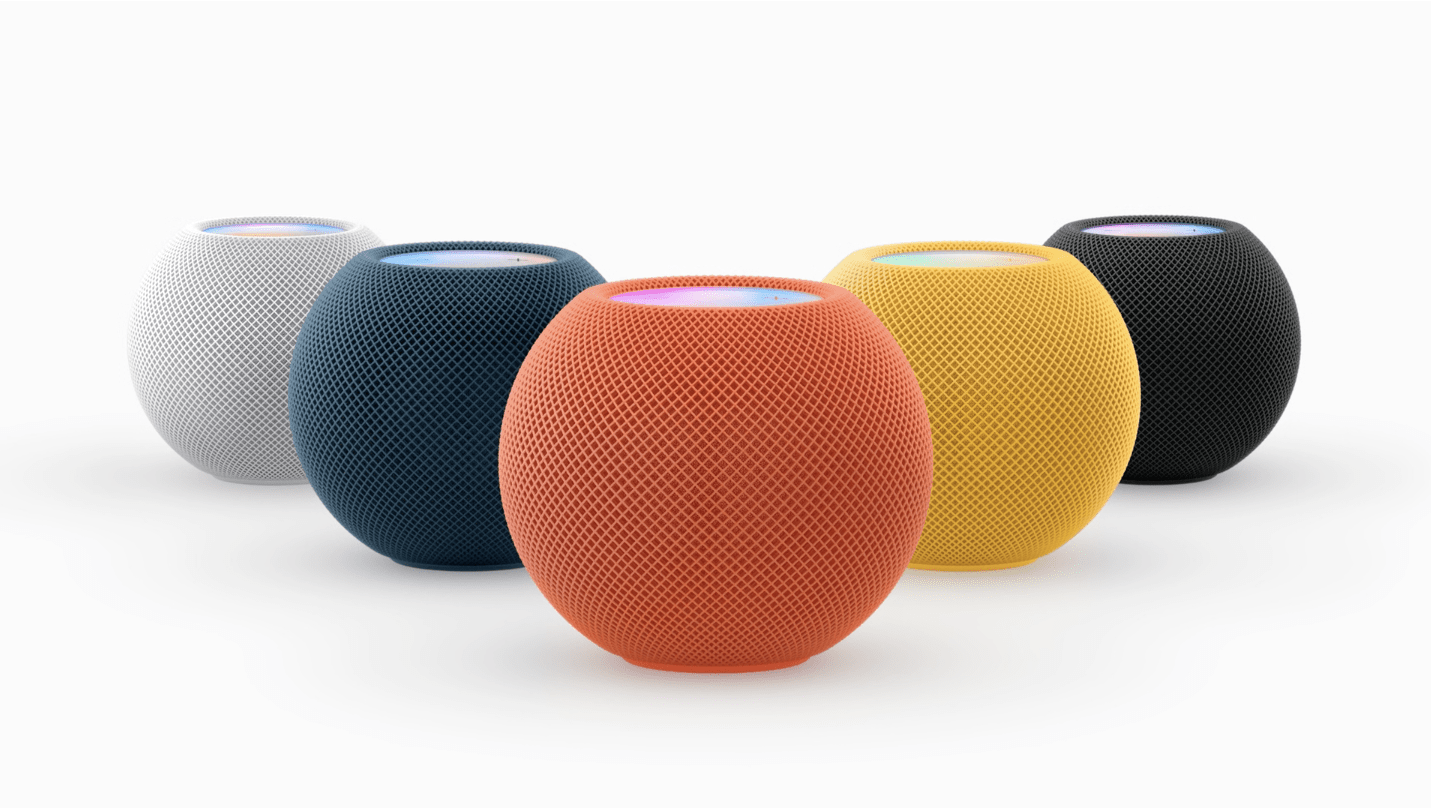 The last audio-related announcement was the new 3rd generation of the AirPods.  The new design is similar to the AirPods Pro, but without the silicone ear tips. The new shape should fit even more ears. Sound quality has been improved, and the AirPods gain some features from their Pro siblings like spatial audio, Dolby Atmos, adaptive EQ, and Force sensor controls, but no noise cancellation. Battery life has been improved, and the case can now charge with the wireless MagSafe charging puck. The new AirPods are $179. The older, second generation AirPods are still available, now at the lower price of $129, and the AirPods Pro have an updated case that supports MagSafe charging for the same $249.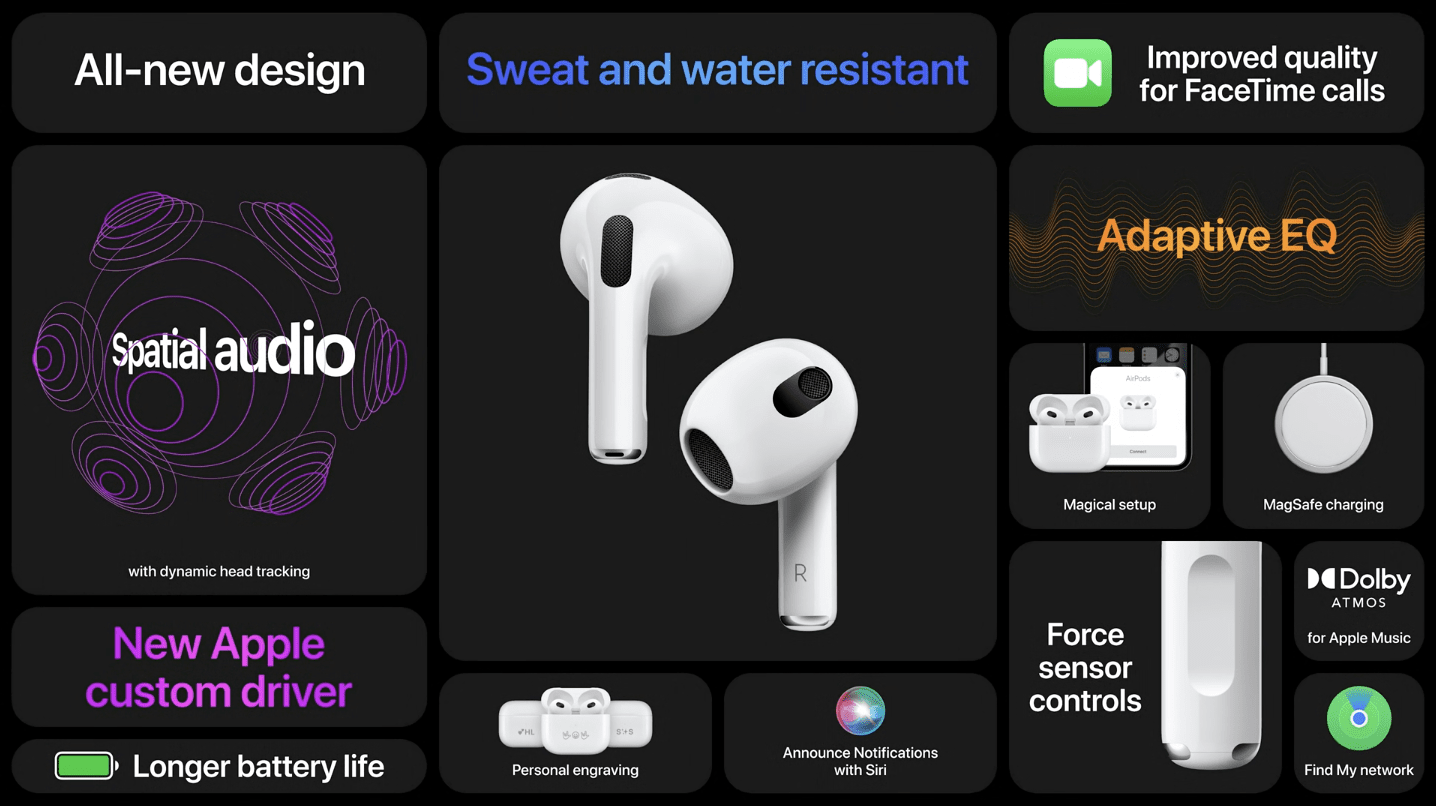 Let's Talk about the Mac…
This is that part that we were all waiting for. Tim Cook, speaking from the tall grass at Apple Park, reminded us that we are 1 year into a 2 year transition from Intel Macs to Apple Silicon Macs. As much as we would love to see the entire Mac lineup on some amazing Apple Silicon chips, we will have to wait a little longer for some of them.
But now we have the 2nd generation of Apple Silicon system-on-a-chip: The M1 Pro. While the M1 had 8 CPU cores with 4 performance and 4 efficiency cores, the M1 Pro has up to 10 CPU cores, with 8 of them being performance cores and 2 efficiency cores. The GPU has been bumped up to 16 cores. The Media Engine now supports ProRes video encoding acceleration. The M1 Pro now supports up to 32GB of unified memory, that is shared across the system with memory bandwidth of 200GB/s, nearly 3 times as fast as the memory on the M1 system on a chip.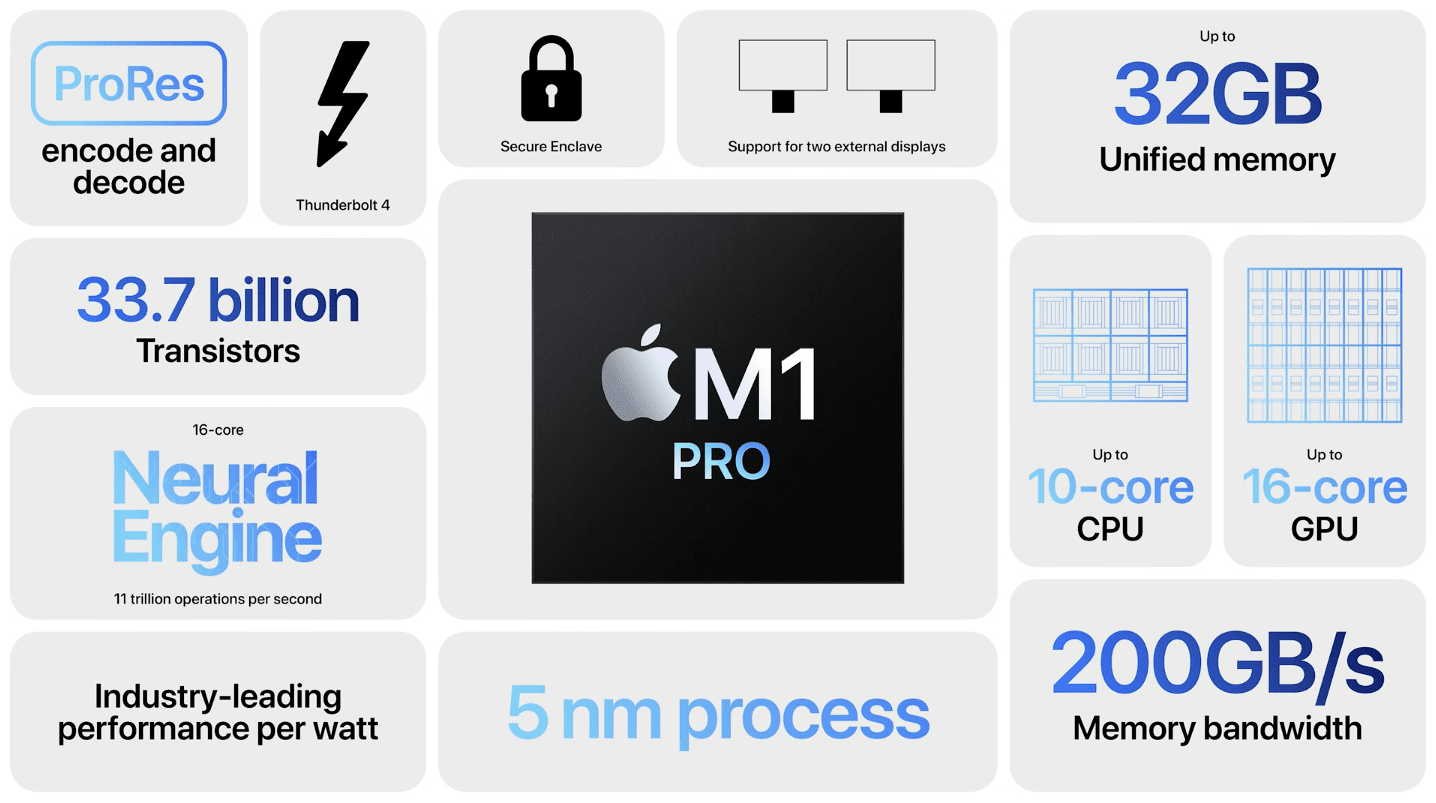 Because pro users demand even more power, Apple also announced the M1 Max chip. This one has the same 10 CPU cores, but increases the GPU cores to 32, the maximum memory to 64GB, shared on a 400GB/s bus. Most of the attention here is on the GPU improvements, and for good reason. For some time, Apple has been leveraging the GPUs not only for graphics work, but also for advanced computing processes like AI and machine learning, and other tasks that can free up the main CPU. The end result is that you don't need to be doing intensive graphics or video work to feel the difference that a powerful GPU makes.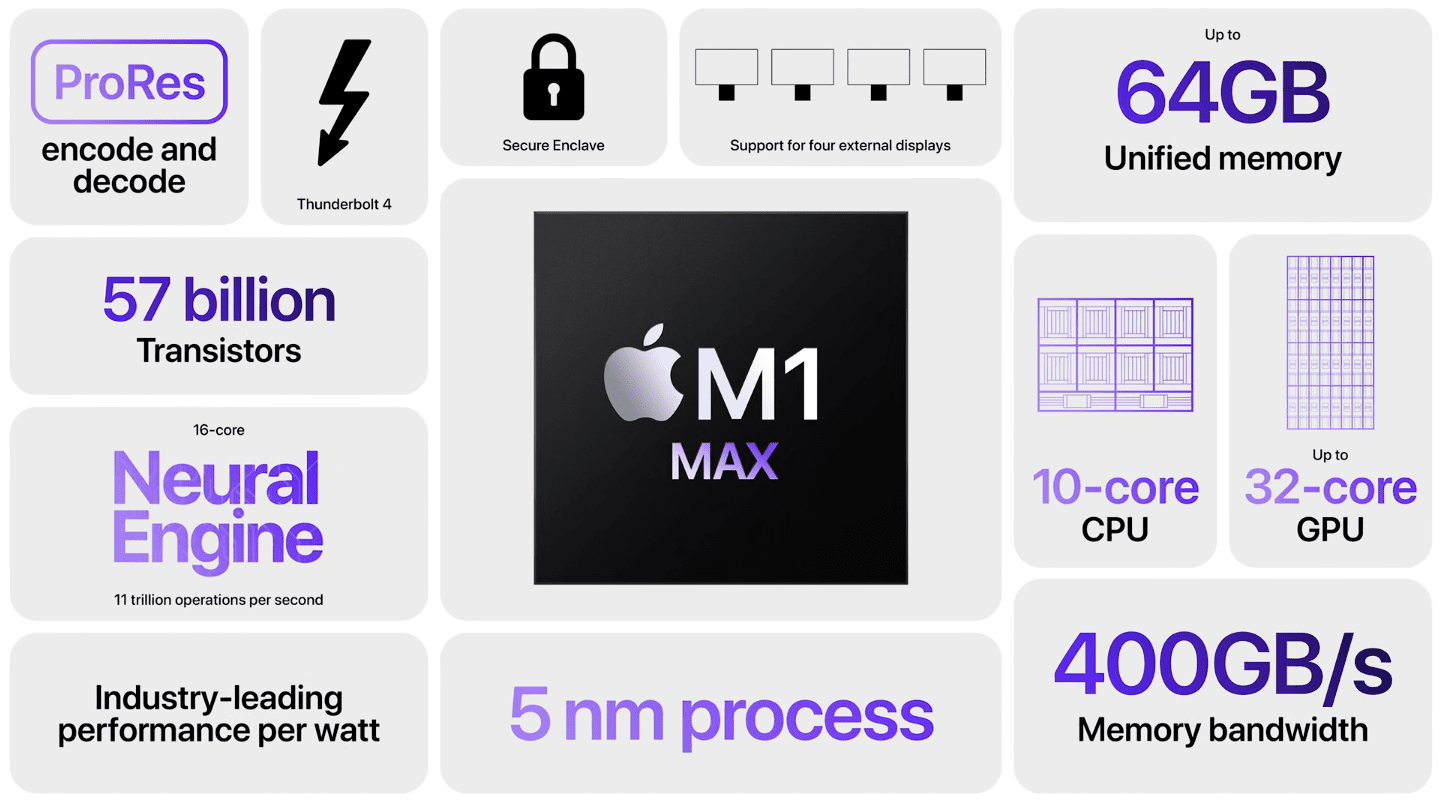 Apple shared a lot of charts about how these compare to the M1 Macs, Intel Macs, and various PC laptops. The bottom line is: they are fast. Very fast. And they accomplish this using very little power. So while some high-end PC laptops only deliver fast speeds when they are plugged in, laptops with the M1 Pro and M1 Max can deliver their top performance even when running on battery power.
And what computers will use these new chips? Apple took the wraps off the newly redesigned 14" and 16" MacBook Pro laptops.
There is a lot to love in these laptops. For starters, now the two laptop sizes are on equal footing. So, for the first time, you can have all of the power in either screen size. One of the big stories is that Apple walked back some changes that they made in the 2016 models. The TouchBar is gone, and physical F-keys are back, now full-height. And now there are more ports than USB-C/Thunderbolt: There is a dedicated HDMI port, an SD card slot, and one USB-C/Thunderbolt 4 port on the right, and a thinner MagSafe 3 charging port, plus 2 USB-C/Thunderbolt 4 ports and a high impedance headphone jack on the left.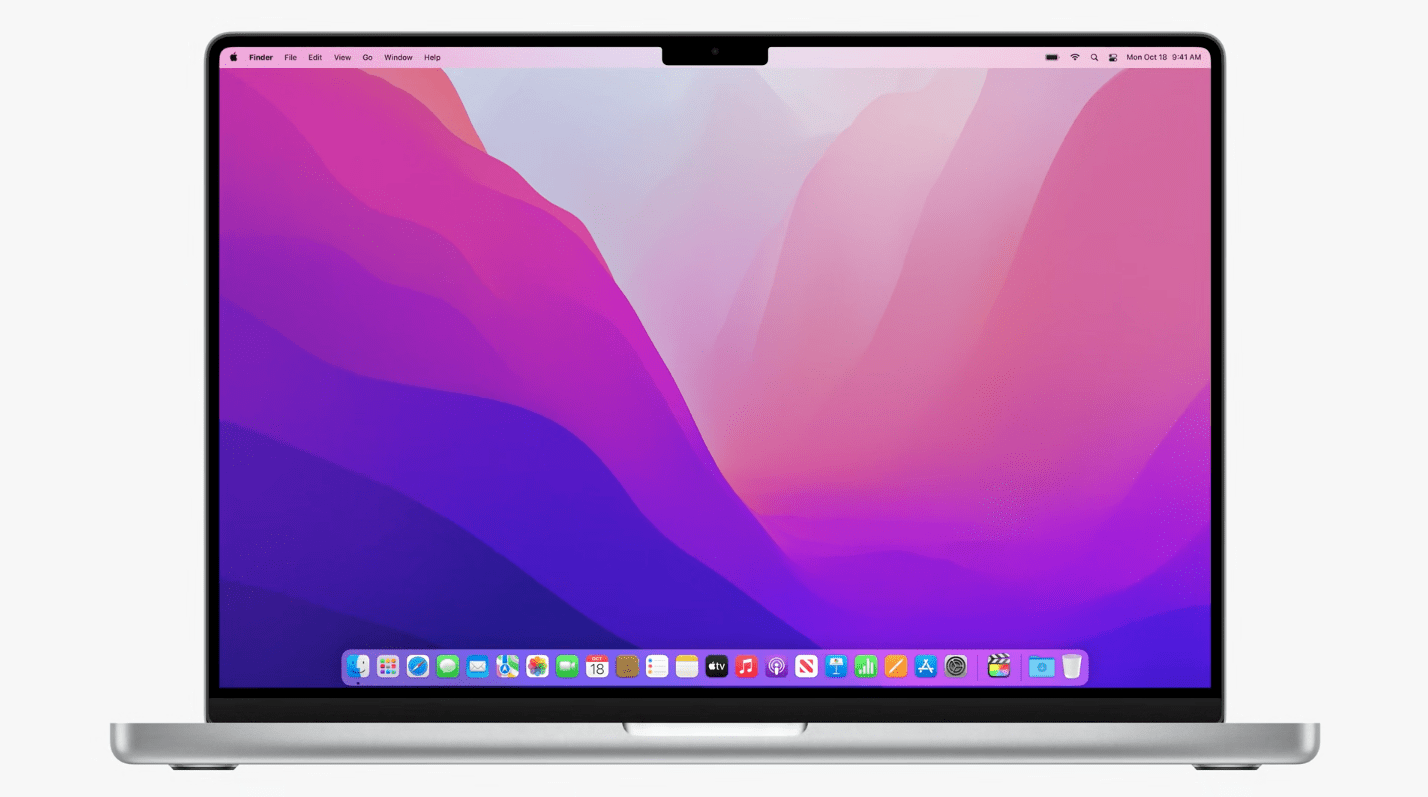 The bezels are smaller, with the top moving up around the camera, leaving a "notch" similar to the iPhone screens. The screens are now higher density, providing a true 2x retina mode for comfortable text viewing. The 16.2" screen has a resolution of 3456 x 2234 pixels, and the 14.2" screen has a resolution of 3024 x 1964… even more pixels than the previous 16" MacBook Pro. The screens use ProMotion for smooth scrolling at 120Hz, while also being able to scale down to 24Hz for better battery life. You can also lock the refresh rate, if needed.
The camera is now 1080p, with a larger aperture and pixels for better low light performance. Both models feature a 6-speaker sound system with spatial audio for Dolby Atmos content, and half an octave deeper bass. The microphones are also improved for clearer video conferencing and podcast recording.
But, of course, the big story is performance. Depending on the process, computing tasks are 3.7-13x faster than the previous Intel models. With the M1 Pro chip, the MacBook Pro can be configured with up to 32GB of unified memory, and the M1 Max chip allows up to 64GB. Storage ranges from 512GB to 8TB of SSD storage, with read speeds up to 7.4GB/s… twice as fast as previous generations. Battery life is improved as well, with up to 17 hours of video playback on the 14" and 21 hours on the 16." They also support fast charging to get up to 50% charge in just half an hour.
The MacBook Pros are available in silver and space gray, starting at $1,999 for the 14" model and $2,499 for the 16" model. Orders have begun shipping, and demand is high, with ship times on some models slipping into December 2021.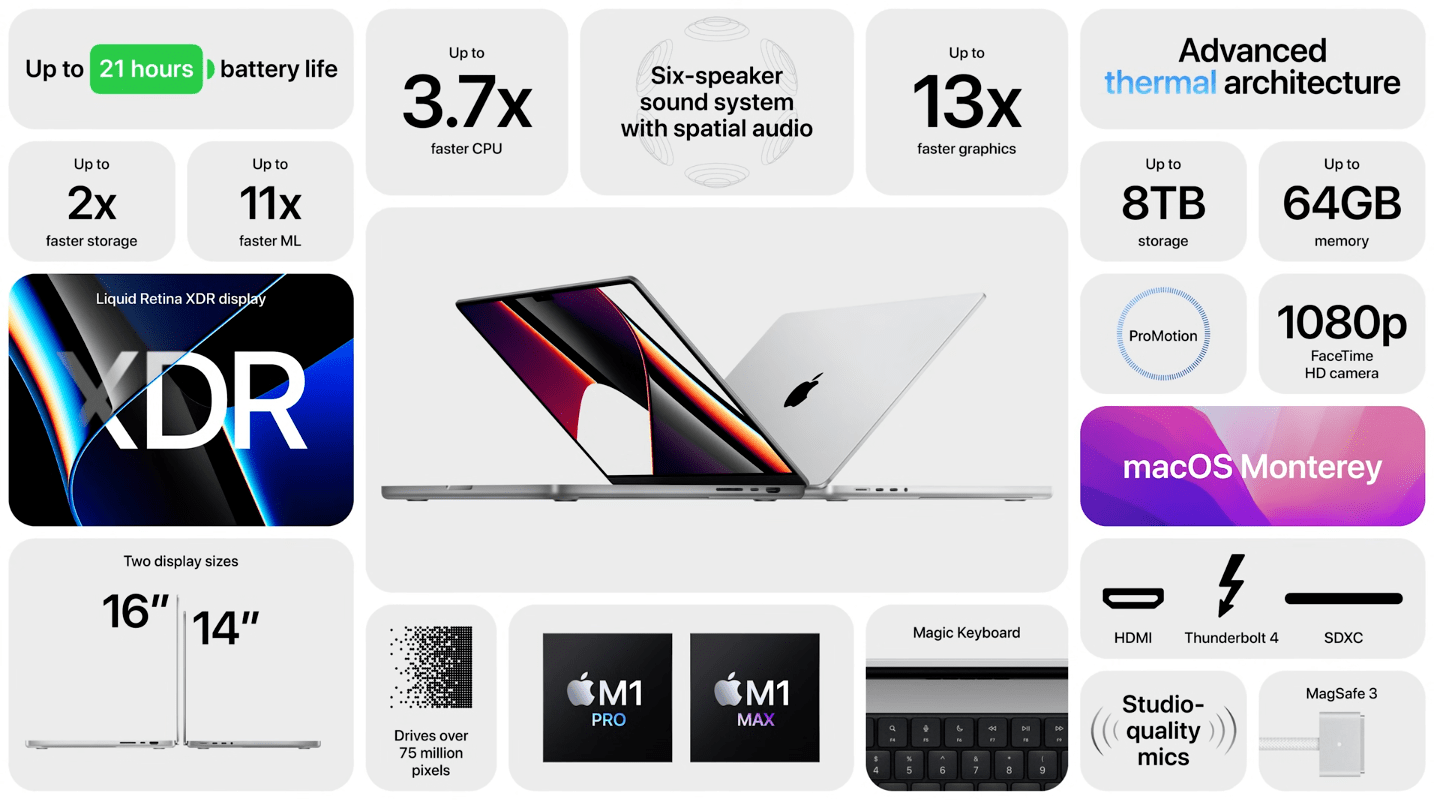 If you don't need that much power, the 13" MacBook Pro with the M1 chip for $1,299 and the MacBook Air with M1 for $999 are still available. Now Apple's entire laptop line is powered by Apple Silicon.
macOS Monterey
To power these new laptops and other Macs, the latest version of macOS Monterey is available starting on October 25, 2021. As usual, we recommend checking all of your required apps for full compatibility before upgrading. Let us know if you have questions.
What's Next?
Now that we are halfway through the transition to Apple Silicon, what's next? There are still three lines of Macs that are available with Intel chips: the high end Mac mini, the 27" iMac, and the Mac Pro. There are also some other configurations that are available exclusively to education customers, but we are focusing on the models available to the general public.
Last year, the base Mac mini got an M1 chip, but the higher end models still run Intel. We think the M1 Pro and M1 Max chips would be perfect for a Mac mini. When the 21.5" iMac was updated with M1, it became the 24" iMac, and got a rainbow of color options. Rumors say that the 27" iMac could grow to around 30" when it gets Apple Silicon, but we don't know if that will be M1 Pro/Max, or a future chip that has yet to be announced.
Then there is the Mac Pro: Apple's tower system aimed at the high-end professional market, with expandable storage, memory, and graphics card options. So far, Apple Silicon system on a chip (SoC) configurations offer higher performance, but less modularity than previous ways of building a computer. It will be interesting to see how Apple develops their silicon for the Mac Pro. For some tasks, the M1 Max systems are actually faster than the current Mac Pro. Will they double or quadruple the cores for a 128 core GPU? Will you still be able to add your own cards later? According to Tim Cook, we should know a year from now, if not sooner.
For recommendations on all of your Apple technology needs, contact LuminFire.  As a member of the Apple Consultants Network, we can help support all your Mac systems and transitions.