"You can use an eraser on the drafting table or a sledge hammer on the construction site." — Frank Lloyd Wright
The first discovery phase of working together to find the right fit technology solution for you we define as the Tech Blueprint. It will ensure that we have the best plan to make your organization more effective, productive, and profitable.
During the development of the blueprint, LuminFire will perform analysis and design services. The goal is to review a high-level picture of a total solution and its associated components as well as various options that may work for your budget. This process allows us to make realistic estimates of overall costs and development schedules and you will be able to evaluate the initial picture of your project with minimal financial commitments.
Depending on the defined scope, the product generated from this process is the Tech Blueprint document that may contain:
Clear, well-defined, high-level definition of the overall purpose of the total solution.
Listing of your primary goals and objectives for this project.
Breakdown of the associated components of the solution with a description of its purpose and part in the overall solution.
Analysis workgroup size, hardware, software, networking considerations.
Evaluation and analysis of current systems and business procedures including statistics and system diagrams.
Listing of layouts, sample screen shots, procedures, features, and reports required.
Results of tests of connection/integration with identified external systems via APIs, etc.
Initial ERD (Entity Relationship Diagram) showing the primary functional relationships for a potential custom built application.
Overview of recommendations for meeting requirements with a custom solution or possible off-the-shelf software that will fulfill Client requirements and make your organization more effective, productive, and profitable.
An estimate of the costs, return on investment, and suggested timeline for the project.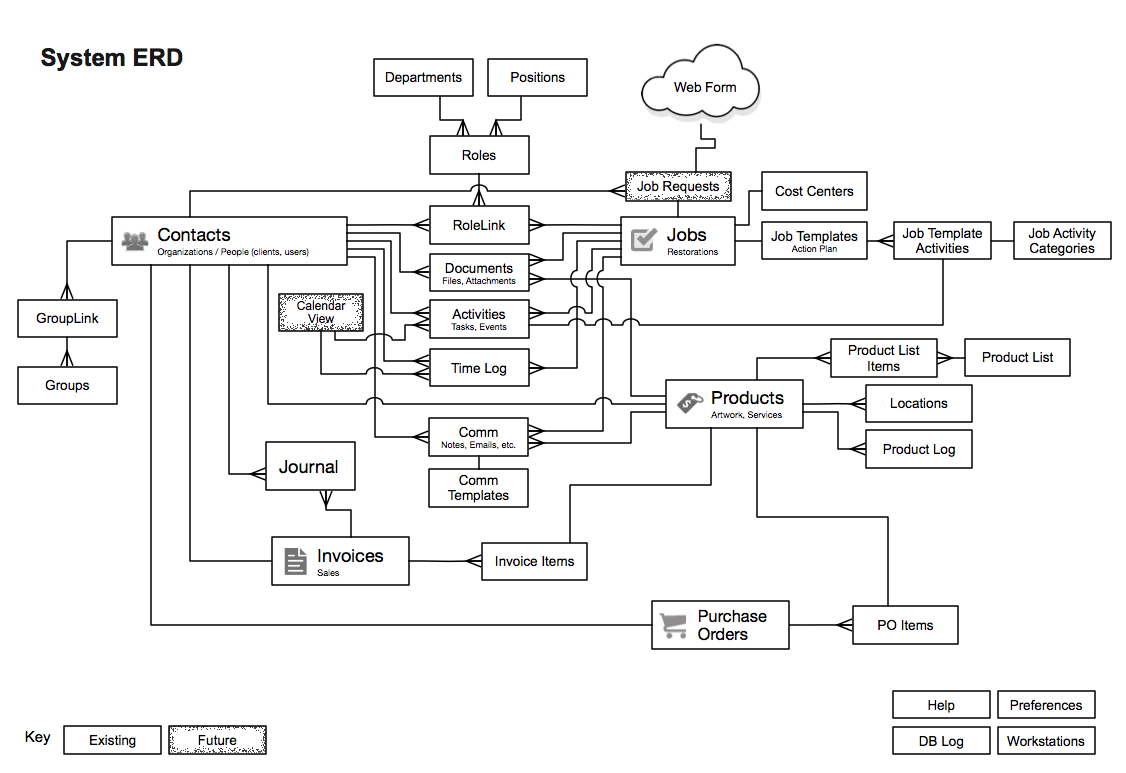 In order to prepare an accurate and complete Blueprint, we will interview key personnel who can provide insight into the overall and detailed purposes of the system. The more difficult it is to meet with these personnel, the more difficult and longer process it will be for us to complete the document. We reserve the right to request more interview time with these personnel as needed so that a complete and accurate document can be created. Once we have completed information gathering and initial prototyping of various connections, we will return a completed Blueprint document within two weeks of the last interview with key personnel.
The fee for the analysis service and the creation of the Blueprint document is based upon the hours needed to complete interviews, prototype connections, create documentation, and present findings to the client. The size of the project or budget determines how long the blueprint phase should be. Typical blueprint development projects range from 30-80 hours. We can limit the scope of the blueprint to shorter times for smaller projects. These services are invoiced according to terms in our signed master service agreement.
In the interest of making the most of our time, we request any previous work that would be helpful information during our analysis so that we do not need to reinvent the wheel. This will assist in scoping the work and save you time and money in the blueprint development process. We provide a detailed list of questions and key items you can provide to us that will move the development forward quickly.
We may have had initial budget discussions. If there is an absolute firm budget that we must meet for this year or future years where you are preparing to invest in technology, we need to know that up front so that we can guide the solution toward something that fits your needs. The overall solution will be a combination of hardware, software, and our time to develop and implement the solution. It's to your advantage to share your budget information with us.
During future work, the Tech Blueprint document will act as a base and plan. The information contained in it will be refined and solidified during design and building phases.
Our standard billable rate is $190/hour. Most clients pre-pay in 40 hour increments to take advantage of our $30/hour VIP discounted savings that prioritizes your project in our work queue. To get started, we can send you an agreement and invoice for the first 40-80 hours depending on the anticipated size of your project.
When constructing a building you don't start until you have the plan in hand. With custom development, the tech blueprint is a critical step to creating a successful technology solution. It will provide you with the information required to have a successful decision point for your project.