The iPad 1 is stuck in the past. It only runs iOS 5…and now iOS 7 is available…two full versions later. Most iPad 1s are worth about $75 on the open exchange market as of 11/8/13.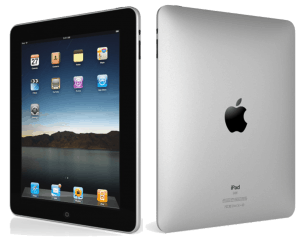 But…For the next day, you can get $200 minimum on ANY iPad trade in at Target stores… until Nov 9. It's a great way to upgrade an old iPad 1.
Ignore the online estimator of value. This is a special in-store promotion only. Take your iPad into Target before Saturday. No need for cables, cases, or anything else…just the iPad. Call the store to make sure there is a person available to accept it. In our area the "mobility" tech specialist was available from 12-8 pm.
Make sure your iPad is fully backed up to iCloud or your computer with iTunes.
At the store…get the money…then run! Actually, you'll want to wipe the iPad, removing any contents. They should walk you through that.
You can use the gift card for anything at Target…even groceries. But that certainly isn't as fun as a shiny new iPad Air. Check out some really good iPad deals here.