Update 9/20/19
Undercover is no longer being supported after 1/1/20. If you want to continue protecting your Mac, we recommend switching to HiddenApp. Established in 2010, HiddenApp has been recovering thousands of Macs, iPads and iPhones. Hidden not only offers a solution for protecting macOS devices but also has an offering for iOS, which means you can protect your entire suite of Apple devices with one solution. HiddenApp is fully road-tested and ready for the imminent release of macOS Catalina and also has a brand new iOS app that will be released in the coming weeks.
—–
At our office we're prepared for the worst to happen to our computers…and you should be as well. You never know when something bad is going to happen. If you depend on your software, hardware, and data for doing anything important you need to take note now.
First, we use strong passwords to protect computers, databases, and websites. See this article for our recommendations on how to manage that.
Second, we have multiple backups in place for our computers in case something should fail. See this article for making certain that your data is safe and backed up.
But what happens if someone steals your computer?
Undercover from Orbicule lets you remotely track and monitor a missing Mac, and can even help you recover your stolen computer. We have it installed on every Mac in our office.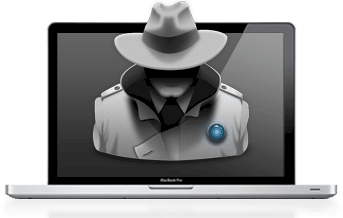 Undercover is much more powerful than Apple's iCloud Find My device feature (which is good but not enough). Undercover is constantly running on your computer monitoring its location. If you Mac gets lost, you can go to http://undercoverhq.com and start tracking you Mac remotely.
You can track the location of you Mac over time as well as take a photo of the thief or record screenshots if necessary to find out what they are doing with you computer. In addition, you can activate keylogger so that everything they type os logged and send back to your Undercover HQ dashboard. Then all this information can be sent to the police so they can assist in recovery.
If you still can't find it you can initiate "Plan B". It simulates a hardware failure forcing the Mac to be taken to an Apple Store for repair. Once you see it has arrived you can display a message on the scren to tell them that Mac has been stolen and that they should hold on to it and call the police.
The only way to remove Undercover is to have the administrator password. In most cases a thief would have no idea that software is even there since there is no tell tale application icon, System Preference, etc. The only thing they could do would be to fully restore you Mac to a new OS. If you set a firmware password, you could even prevent that.
Getting Undercover is cheap insurance that you'll recover your Mac if it is every stolen. It may be the best $49 you spend. If you do end up getting you Mac stolen, we're so sorry. Check out our recommendations for getting a new Mac at a good price.