It was an evening to remember, October 18, 2016. LuminFire (formerly Cimbura.com), Minnesota's only FileMaker Platinum Partner, celebrated its Grand Opening in style, with a beautiful array of hors oeuvres and drinks, in a new space that allowed for comfortable mingling among guests, impromptu seating, and a cozy enough place to relax and enjoy presentations, live and on a 150 inch screen with full audio and video capabilities. The event space is centered around a large fireplace that comfortably accommodates groups from 10 to 100 people for fireside chats, presentations, and seminars.
FileMaker, one of the main tools we use build our custom solutions, celebrated its 30 year anniversary last year, and LuminFire is also celebrating 30 years of technology solutions. We were very honored to have two very special guests at the grand opening event directly from FileMaker, Inc. Julie Sigfrinius and Mick Kleinick.
Julie Sigfrinius is the Global Partner Manager for FileMaker, Inc. based in Santa Clara, California. Although originally from Minnesota, Julie now lives in North Carolina. LuminFire works with Julie often in our partnership with FileMaker and we truly appreciate the business relationship we have. Julie shared the following words at the event:
"FileMaker is delighted to be invited participate and to be here to share in this great celebration for LuminFire. I have the greatest and utmost respect for the type of business that LuminFire represents, and the happy clients that they've had over the years. I celebrate the great success that they have.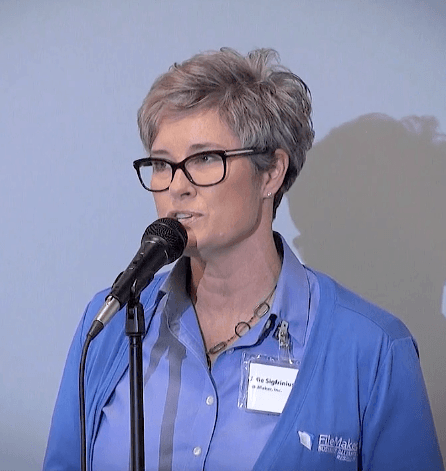 From a FileMaker perspective, our partnership is very important to us. LuminFire is what's called a FileMaker Business Alliance Partner. It's the closest association you could have or direct association you could have with FileMaker. LuminFire happens to hold a designation of being a Platinum Partner, and the ONLY Platinum Partner in Minnesota. There are 50 Platinum Partners in the entire Americas. (That's from Canada all the way down to Patagonia!) Worldwide, there are only 112 of such partners.
Being a Platinum Partner for FileMaker is not a trivial thing, and it is a symbol of alignment with many pillars of success, for which LuminFire facilitates and performs wonderfully for us. We very much value their partnership. We are delighted to support their success, and this will not be the only time that I'm going to be here at this really great place, so congratulations to you and your team."
Mick Kleinick is the FileMaker Business Area Manager for the Midwest. He shared a few words as well: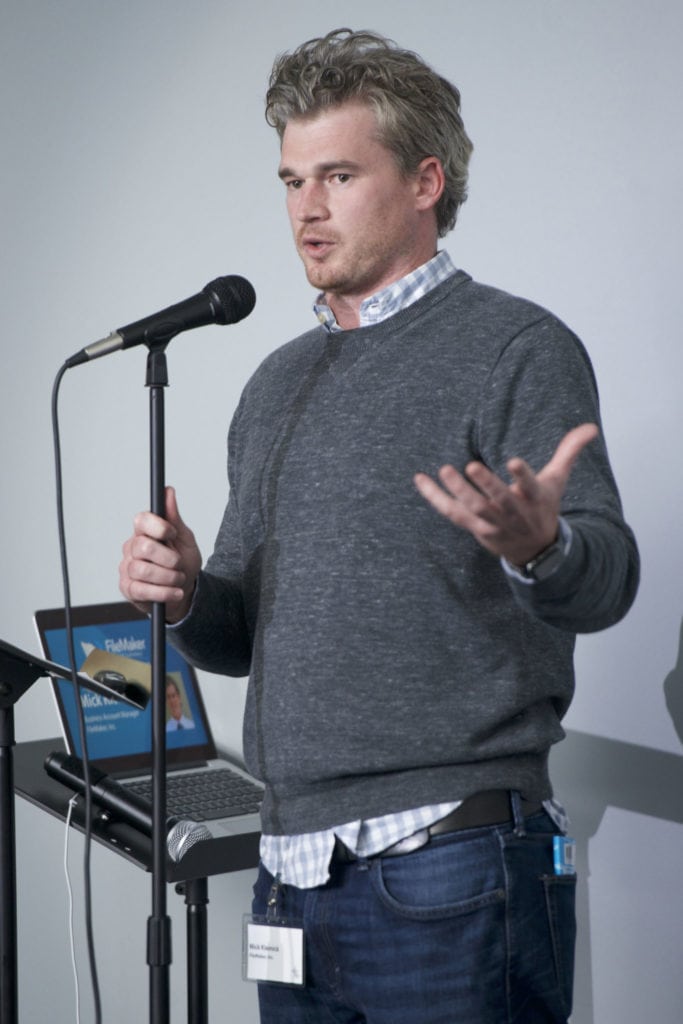 "At FileMaker, we're unique in that we rely on companies like LuminFire to make sure that the implementation goes well, the development goes well, and the customer has a great experience. It's been an absolute pleasure to work with LuminFire. Congratulations on this awesome new space. It's really impressive. LuminFire is absolutely critical to our business and our success when it comes to clients that need help with development and the other services you offer."

LuminFire specializes in FileMaker and WordPress development. We partner directly with Apple through the Apple Consultants Network. We have expertise in GIS mapping systems and spatial visualization as well as security compliance where we're assisting a number of healthcare organizations with HIPAA compliance. Our developers have skills in Macintosh and Windows systems. We're got a very talented and powerful expert team.
We welcomed our guests on Tuesday, October 18, 2016 to the new LuminFire location at 5155 East River Road, Suite 405, in Minneapolis, MN. After a ribbon-cutting ceremony presented by the Mayor of Fridley Scott Lund, we were reminded of how important community is by the support we received from our guests.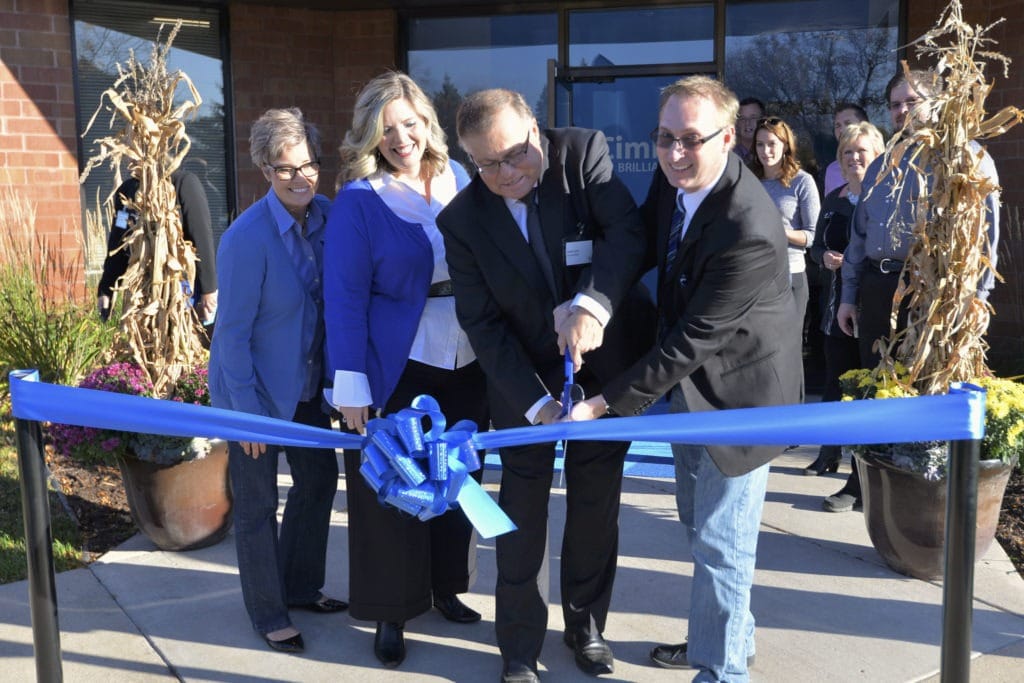 CEO Tim Cimbura shared a few words about the features of the new office space, introduced the LuminFire team, and then "5 Keys to Technology and Life".
Grand Opening Presentation – Tim Cimbura from LuminFire.
Business Performance and Growth Expert, Ryan Estis made a special guest appearance via video to congratulate our team. Ryan was one of the first national speakers to make use of the powerful CRM and booking tracking capabilities fmIgnite.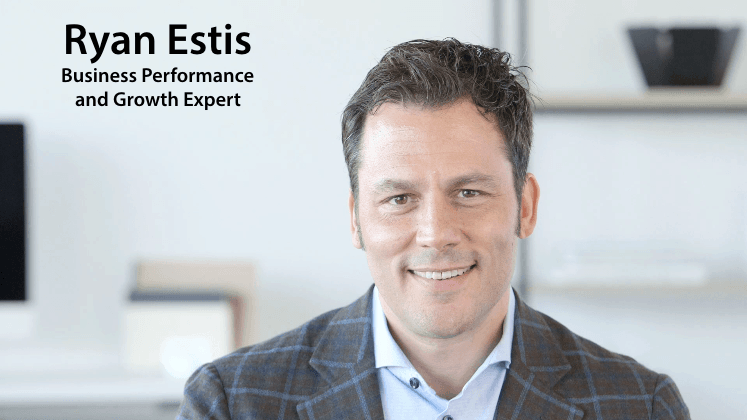 We were thrilled to have two high impact speakers for the evening: Mark LeBlanc spoke on how to grow our businesses, and David Horsager spoke on the importance of trust.
LuminFire's new office in a converted warehouse near the banks of the mighty Mississippi river looks, in a word, tech-chic. While many companies have embraced the historical industrial motif, this new space blends modern edge with hints of classic and glam style. The space embodies a warm comfort that is stylishly organized and creative. From high ceilings to a large fireplace and a custom foosball table, guests are surprised to walk into a space that balances modern clean lines with approachability that invites exploration.