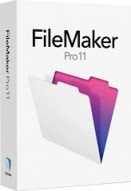 FileMaker 11 is a solid release that builds on the foundation laid by FileMaker 10. Many of the features specifically allow developers to create better databases more easily. Some of the biggest new features include:
* Built-in charting tools.
* Quick reports using table view.
* Miscellaneous development interface enhancements
Here's a run down of each feature in some detail…
* New Quick Start Screen – Along the right side are tutorials and resources for beginners. Favorites and recently opened databases are easier to get to.
* Inspector "Gadget" – One major change to the interface for developers is the use of "the inspector" palette. Similar to many other "modern" applications such as Adobe CS and Microsoft Office, FileMaker now has opened up many of the features previously hidden in dialog boxes into a palette they call the inspector. This takes a little getting used to, but once you've become accustom to the change, it's difficult to go back. The palette does take more screen space so having a large (or wide) screen for development is very helpful. It is possible to open more than one inspector window and display nearly all properties of objects all at once be it Position, Appearance, or Data information.
* Manage Layouts – Manage layouts can now organize layouts in folders and submenus similar to how we work with scripts! This is really helpful for databases with hundreds of layouts. You can also create new, duplicate, edit, and delete layouts there as well.
* Charting Tool – In the past, FileMaker required a plug-in or connection to a web site to get charts or graphs into a FileMaker database. Now it's built-in and well integrated into the tool including bar, area, line, and pie charts. You can create charts from the current record, over the found set, or via related records.
* Table View – The FileMaker table layout view now acts more like a spreadsheet and allows the user to add columns and summaries of information with flexibility and without modifying the underlying database structure. This is very easy to use and very powerful. With the right security options, users can  add, modify, or delete fields from the underlying table or add, copy, duplicate, and delete records. You can also show or hide columns easily. In essence this allows the user to create ad-hoc reports very easily.
* Quick Find – The new Quick Find feature is a Google type search located in the toolbar that looks across all records and fields to gather a found set. It can be useful but it can also cause issues on more complex databases. It automatically indexes every field on the layout which can add a lot of overhead. I suggest you go into each layout and turn OFF all the fields for quick find. They all default to being included…which can make for some very slow "quick" finds. Then turn on only the most relevant fields to most searches. The fields that will search well are shown with a green search badge in layout mode.
* Report Assistant – Generally enhanced for appearance as well as making it easier to add a summary field to the database on the fly. FileMaker will also allow you to add a script on layout entry via a trigger.
* Recurring Imports – This feature really isn't anything that you couldn't do in the past…it's just automated a little more by creating a script for you.
* Text Highlighting – A simple and nice new text formatting option that makes it look as if you used a yellow marker to make the text stand out.
* Snapshot Links – You can now send a link to your database that includes the layout, foundset, and view via email. It sends this information as a .fpsl file that FileMaker can open and then take the user right to the same place you were as a point-in-time view of the database records.
* Portal Filtering – Without creating additional relationships, you can now show filtered related records directly through defining a calculation. This can go toward simplifying the relationship graph.
* External Table Security – Additional security prevents accessing tables stored in an external file.
* Layout Object Badges – Layouts show a more visual information on fields now that can be helpful when developing a solution.
* Invoice Starter Solution – The invoice starter solution included with FileMaker is now quite useful. It tracks contacts, products, and invoices and relates them all in one database file. This will be a good place for some businesses to start using FileMaker.
* New Script Triggers – There are now a couple of new script triggers: OnObjectValidate, OnLayoutExit and OnViewChange.
* New Variable Uses – You can now use variables in find script steps and on layout merge fields. This can be very helpful in creating a localized solution where the field labels must appear in more than one language.
* New IWP Toolbar (Instant Web Publishing) – Even though IWP has limited usefulness, the toolbar has been updated to be more similar to the toolbar within FileMaker itself.
* Misc Interface Improvements –  You can do more functions within dialogs where before you needed to back out of the dialog in order to complete the task. This goes a long way toward speeding up development. FileMaker icons are now purple and pink…more like Mac OS Leopard…out with the blue from FileMaker 10.
There are a couple of features that are specific to enhanced developer version of FileMaker called FileMaker Advanced:
* Custom Menus – The custom menu building interface is easier to use.
* Import Custom Functions – Now you can now import custom functions! You can't copy and paste them yet but now you can easily build a library of custom functions in a file and pull them into your solution without recreating each function from scratch.
FileMaker Server has some improvements also. They include:
* Easier installation and administration.
* Better statistics and easier access to them through the admin console.
* Backup file clone allows you to save the database structure automatically through a schedules script.
* Save and load schedules when migrating to new hardware. This will also save time when upgrading to the next version of FileMaker server.
* Specify user account when running a script on the server.
* Set time limits for script schedules.
* No limit on the number of users…bumped from 999 to whatever.
* Administrative user groups. In a large corporate environment with a shared server, you can now assign administrative access to specific databases only and not the entire server.
There you have it…an overview of all the new features in FileMaker 11. Overall, I highly recommend this upgrade for all FileMaker users. It's a great value and welcome upgrade.
If you're still trying to force Excel to be a database tool and need to share and make your critical business data more useful and accessible, there's never been a better time to invest in FileMaker. If you're already a FileMaker user, this is a stable and helpful upgrade.
Tim Cimbura is chief technology guru at Cimbura.com, LLC. He uses his expertise to help businesses become more effective, productive, and profitable through the use of FileMaker databases, Apple products, and web site consulting and development.