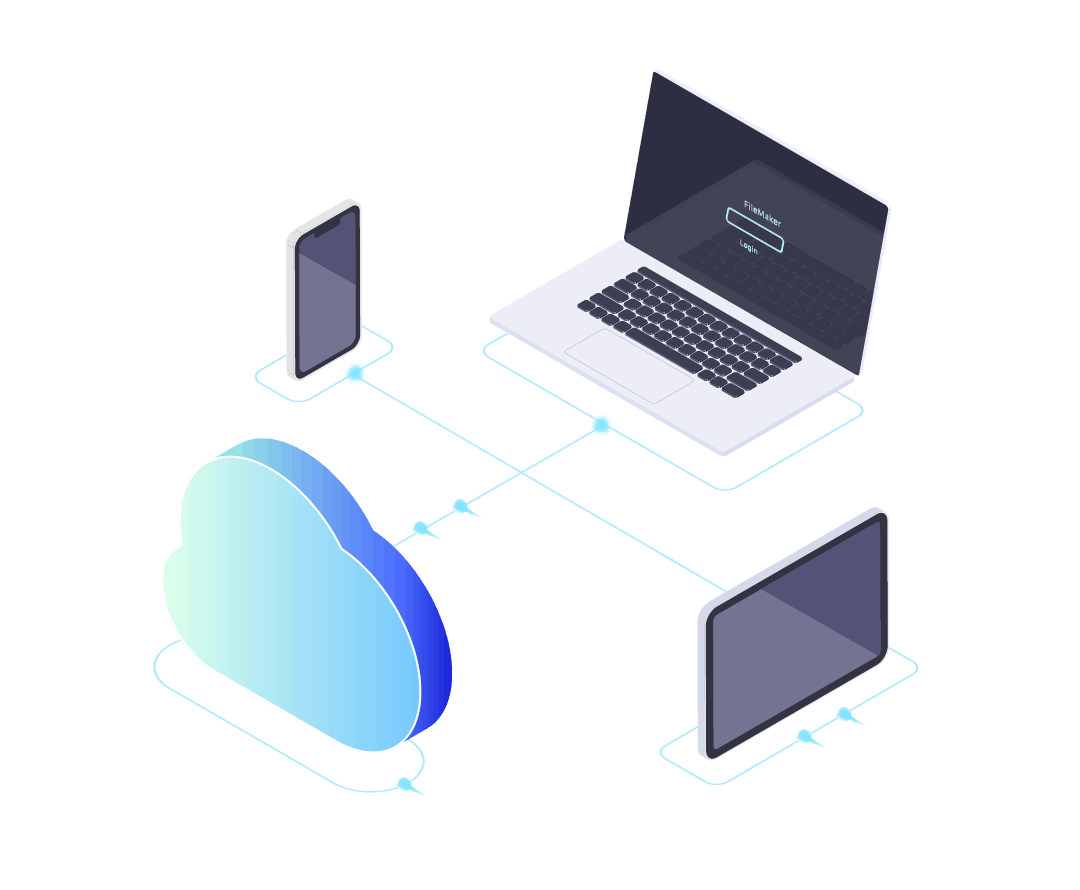 Claris released a new product offering called "FileMaker Cloud Essentials" on January 22, 2020. This innovation is the next step in moving towards its cloud-first vision. FileMaker Cloud Essentials bundles licensing and hosting together to simplify overall FileMaker server setup and maintenance.
FileMaker Cloud Essentials may be a good for your team or organization if you fit the following:
You have 5-10 FileMaker users
You have 3 or less FileMaker database files
You are new to FileMaker and the Workplace Innovation Platform
You do not have the expertise, time, or resources to manage a FileMaker server
An AWS t2.medium cloud server will fulfill your server space requirements
Filemaker Essentials is a great starting point for companies interested in using the #1 Workplace Innovation Platform in the world for the first time.
FileMaker Essentials gives you access to FileMaker Pro Advanced, FileMaker WebDirect, FileMaker Go, and FileMaker Server. Claris provides 24/7 dedicated product support for free in the first year to be sure that the server is running reliably. Performance will depend upon internet speed and latency from your location to the server. Support does not cover help using FileMaker or developing/enhancing your application.
Similar to FileMaker Cloud Standard, Essentials uses Claris ID (formerly FileMaker ID) for user authentication which offers SMS multi-factor authentication..
Pricing
FileMaker Cloud Essentials is the most competitive pricing option Claris has offered for FileMaker hosting to date. Prices are quoted from Claris monthly, but billed annually.
The $19/user/month price works out to $228/user/year with a minimum of 5 users and maximum of 10.
For the minimum of 5 users, FileMaker Cloud Essentials works out to $1,140/year and is the lowest cost option to begin with FileMaker. Purchased through LuminFire, you'll get our discount savings of up to $50/year for a 10 user option.
With FileMaker Cloud Essentials, the pricing is the same for corporate, government, and non-profit/education users. There are additional discounts available for extending the license out 2 or 3 years.
Notably, LuminFire is a Certified Reseller of the FileMaker Cloud Essentials product, and we give the lowest pricing on the entire FileMaker product line (licensing and cloud hosting).
Advantages and Other Options
If you have more than 10 users, more than 3 applications, or other needs, you will want to look at what is now known as "FileMaker Cloud Standard".
FileMaker Cloud Comparison
| | | |
| --- | --- | --- |
| Option | Essentials | Standard |
| Users | 5-10 | 5-100+ |
| AWS Compute Size | t2.medium | t2.medium – m4.xlarge |
| Max. Apps/Databases | 3 | 125 |
| Annual Storage/User | 2 GB | 6 GB |
| Annual Data API/User | 24GB | 24GB |
LuminFire offers additional competitive hosting and licensing options for FileMaker.
Our fmIgnite Starter SaaS product is available now at $15/user/month…and includes fmIgnite Starter. This option is available for users anywhere starting at 1 user (no 5 user minimum required).
Our FileMaker Cloud hosting is completely customizable and costs significantly less than FileMaker Cloud Standard for larger numbers of users.
All FileMaker cloud hosting options set you up for using the future Claris Connect product as well.
There are options for FileMaker licensing on-premise as well, meaning you can run your own server on your own hardware in your office and not in the cloud. There are significant discounts available (up to 50%) for existing FileMaker users who want to migrate to the latest version of FileMaker with annual licensing.
With so many options and types of discounts available, it's easiest to figure out your best path forward by talking with one of our FileMaker licensing and hosting experts — we can help you determine the best package for your exact situation.