You believe in your message. You've worked your entire life to build a career and share your knowledge and expertise with the world. Perhaps you've written articles, books, or given speeches to many audiences. How do you keep your legacy going when you're no longer able to maintain it?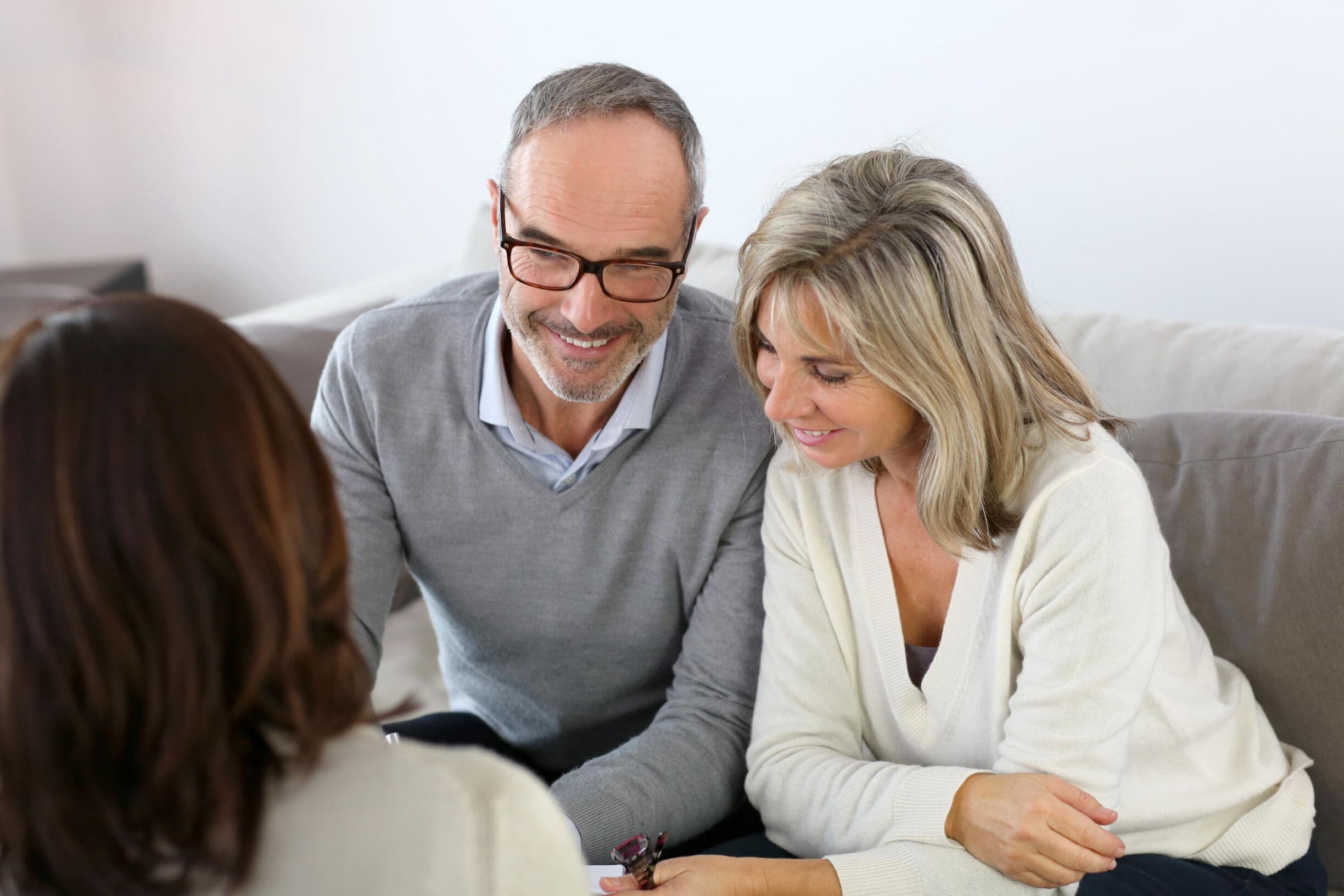 This guide will provide an overview of how to get your digital "house" in order, recommending some of the things you should be doing today in order to plan for tomorrow.
Life Documents
In general, getting your life documents in order is an important part of planning for your future. We recommend the book "In Case of Emergency Break Glass!" by Mary C. Kelly, PhD as a guide to getting these documents in order, but here is a list of what we found helpful:
Instructions for child, senior, and pet care
Will and/or Trusts
Advisors (financial, legal, accounting, spiritual)
Financial info (bank, credit cards, investments, SEP, IRA, 401K, etc.)
Real estate
Military records
Social security info
Health care info and directives
Insurance – Life, long-term, short-term, house, car, boat, umbrella
Car/boat/plane titles and loans
Utilities (gas, electric, phones, cable, internet, water, sanitation)
Memorial and funeral preferences and arrangements
In today's world, all these documents should be organized, stored digitally, and backed up safely.
In addition, your life's work likely includes other items collectively known as your digital assets. Some of these likely originated on your computer, but even items that are currently in physical form such as books, CDs and video tapes should be converted to a digital format for distribution and preservation.
The service LegacyBox can do this for you. You get a kit and fill it with with VHS tapes, film, photos, and audio recordings you have. Their team will digitize every item and provide it to you via digital download so you can transfer it to your own cloud storage.
Converting books you have written into an appropriate digital format for distribution like PDF, Epub, or Kindle is a little different. Check with your publisher about appropriate rights. If you have the original Word processing file it's easier.
Practice Safe and Secure Computer Habits
Using your computer is complex even when you have the best systems available. Technology changes rapidly, and keeping up is important but challenging. It's important that you keep your software and hardware reasonably up-to-date. Learn more about the importance of creating a technology update plan here.
Here are 5 tips for practicing safe and secure computer habits:
1 Use Great Passwords
One of the biggest issues around keeping track of your assets is managing security and passwords. We recommend using secure passwords that are difficult to guess. We recommend against writing your passwords down; instead we recommend you manage your passwords with a password vault app called 1Password. 1Password makes storing and using your many passwords secure and more convenient. It only requires you to remember one master password: the one you open the app with. It is highly secure and provides maximum convenience.
1Password stores all your login information, including website URLs, user names, and passwords. You can also store your email addresses and passwords, along with your security questions and responses. This is very helpful should you ever need to recover any of your accounts.
Additionally, we also recommend you always use unique, secure passwords or passphrases for every login you have. 1Password makes suggestions for these, so you don't need to continually make them up on your own.
A final benefit of 1Password is that you can share your master 1Password login with a select few trusted individuals such as your spouse or your children in case there's ever a need for them to access your account information.
2 Manage Your Security
You need to keep your computer and website safe from cyberattacks in the form of viruses, malware, ransomware, etc. This is a broad topic that requires ongoing education and diligence in updating security patches. If you have anything of any value on your computer (and we know you do), you need to plan for security and backups.
We also recommend that you never click on any links that you haven't first verified, or reply to any emails you weren't expecting. Reports have shown that cyber attacks have risen more than 60% in the last 2 years, and attackers have become much more clever in their approach.
You should have up-to-date software including anti-virus software and take ongoing training to learn about how to avoid being taken advantage of. BrilliantSecurity can help.
Here are some general security measures to take into account.
3 Maintain Regular Backups
We recommend you install and use BackBlaze for full backups, and that you check your backup status regularly.
Review this article on the importance of backups in preventing a computer disaster.
4 Clean Up
Delete things on your hard drive that you don't use or that have no value to you. Delete spam emails. Unsubscribe from email newsletters you're no longer interested in.
Each of these steps will help keep your technical footprint clean so you don't leave a huge, unsorted heritage for your loved ones to untangle… with the added benefit that it will simplify your life today.
5 Move to the Cloud
Many people make the mistake of thinking that the cloud is less secure than having documents on their computer and hard drives in their office or home.
Physical storage is actually more insecure and represents a big risk. Fire, water damage, and other external factors can destroy your digital assets. Theft can gain access to your assets and allow a criminal plenty of time to try to access the information you have stored. An old computer can malfunction and cause you to lose everything stored on it.
Secure storage in the cloud with great passwords and 2-factor authentication can help reduce all of these risks. We recommend storing as many of your documents, photos, music, etc. in cloud accounts. This not only provides you with backups, but it also makes it easier to access in the future without requiring physical access to your personal computer.
Digital Asset Catalog
Once you have your ongoing computer practices under control, it's time to catalog all of your digital assets. This includes:
Social media accounts (Facebook, Twitter, Instagram, etc.)
Business profiles/Professional Networks (LinkedIn, company websites)
Images and videos (Vimeo, YouTube, Flickr, TikTok, etc.)
Books, blogs, and eBooks (Amazon, Kindle, etc.)
Online audio and music (Spotify, iTunes, Amazon, etc.)
Storage (iCloud, Drop Box, Google Drive, One Drive, etc.)
Emails and online messages (Hotmail, Gmail, YahooMail, AOL, MSN, etc.)
VOIP and voice communication (Skype, Comcast, etc.)
Curated content (Reddit, ScoopIt, etc.)
Expertise (Quora, Stackoverflow, etc.)
…and also your physical assets:
Computers, tablets, smartphones (PINs, passwords, gestures, etc.)
Security systems
As you list each service, store the website, login/user name and password in 1Password. Be sure to record the current ownership and access for each of your assets. Do you have an assistant or marketing agency that has access? List them as well, including their email addresses, phone numbers, company name, etc.
Other questions you should answer for each account include what you'd like to have happen in the event of your death or incapacitation…
Do you want the account closed and when?
Who do you want to manage the account for the long term?
When do you want the service or account closed? Do you want your website to be active for many more years with a tribute?
Where do you want the proceeds from sales of your products to go?
Is this a personal account or a business account?
To make this easier, we've created a simple spreadsheet Digital Asset Catalog Template to help begin organizing your information: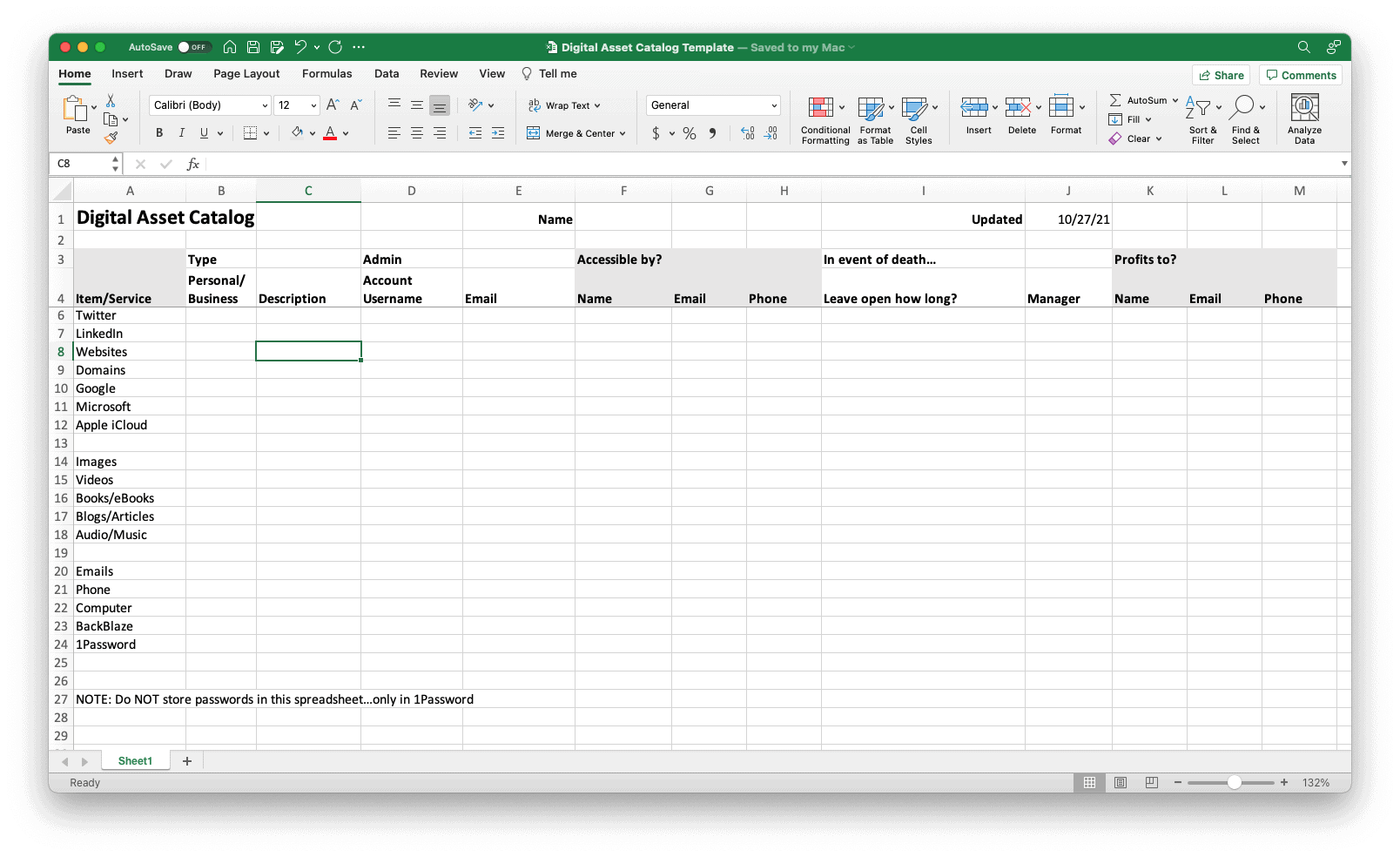 In Conclusion
It's so important to have a plan for how you want your digital assets managed should you no longer be able to manage them yourself. This plan should be shared with your legal counsel to make it part of your trust or will. You should also take the time to review and update your digital asset plan on a regular basis… even as often as annually.
Need help managing your digital assets? You can trust LuminFire to assist you in securely safeguarding all your assets digitally for years to come. We will guide you through building your digital legacy from start to finish, helping you to leave a lasting impact on the world.
Learn more about our BrilliantLegacy service. To get started, contact us…