Fire up your business with fmIgnite®–the most feature complete, cost-effective, and fully customizable FileMaker-based business solution available.
fmIgnite® is a powerful business solution that serves as a foundation that can be customized to meet your exact business needs. It is a fully integrated system based on the award-winning rapid application development software FileMaker Pro. It is the tool that can make your business more effective, productive, and profitable.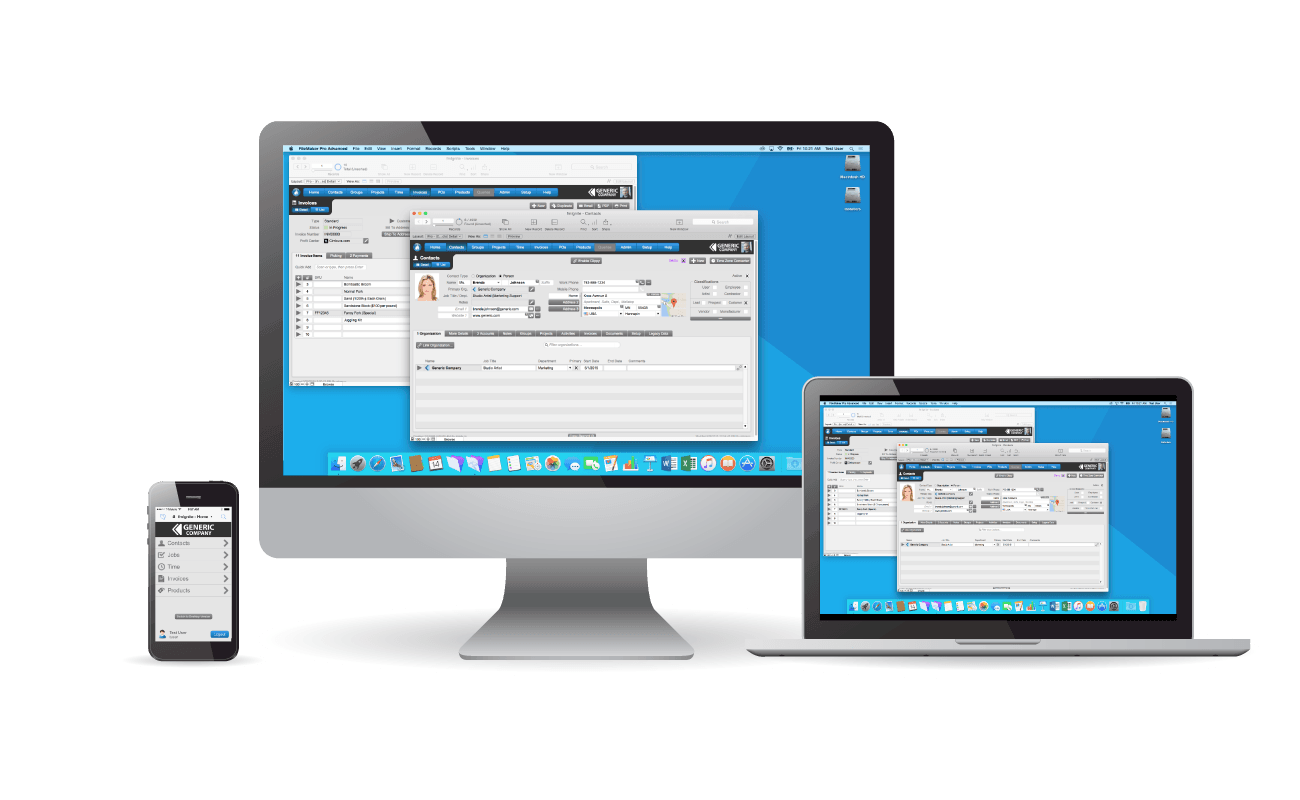 Some key benefits: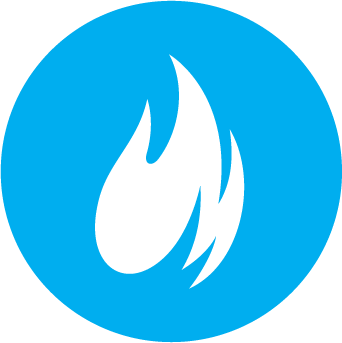 Manages over 100 critical business elements out of the box including Contacts, Groups, Projects/Jobs, Time Tracking,
Estimates, Tasks/Templates, Bookings, Calendars, Events, Notes, Mail/Templates, Invoices, Purchase Orders, Journal/Billing, Products, Payroll, Documents, Travel, Proposals, Quotes, Classes, Help, Requests, and more.
Simplifies information entry with smart fields and eliminates double-entry through easy import of information from Excel, your web site, or email messages.
Stores all your critical business information in one place. Connect to directly to any other database system including MySQL, Microsoft SQL Server, Oracle, IBM DB2, and PostgreSQL.
Connects Windows, Mac OS, and Apple Mobile devices such as  iPhone, iPad, iPod Touch to the same system.
Integrates with QuickBooks, MailChimp, Avalara sales tax system, CVENT registration, Survey Monkey, MYOB/AccountEdge, WordPress, Slack, Mac OS X iCloud, and nearly any other apps with an API (Application Programming Interface).
Share your information anywhere in the world onsite servers or internet cloud-based hosting options.
Grow your business with the ability to add features at your own pace and with immediate ROI (Return on Investment) and low TCO (Total Cost of Ownership).
Connect your contact information to web services like Google Maps, Facebook, LinkedIn, Twitter, weather, city info, phone directory, and more.
Some instances and representative industries where fmIgnite has been implemented:
Association management.
Health care requiring HIPAA compliance.
Consulting services managing jobs, invoicing, and tracking.
Creative agency managing clients, vendors, jobs, and projects.
Real restate managing buildings, spaces, and projects.
Manufacturing managing clients, parts, orders, and invoicing.
Non-profits managing donors, scholarships, etc.
Schools and study abroad programs managing students, host families, and travel.
Law offices managing cases, contacts, and referrals
Speakers and entertainers managing bookings/engagements.
fmIgnite® is licensed with consulting services that can get you started to exactly meet your particular needs. Data migration services can move your existing data from any system including Excel, Access, ACT!, Now Contact, GoldMine, Outlook, Bento, Apple Address Book, etc.
A customized solution built on fmIgnite will save you thousands of dollars over starting development from a basic template or from scratch. It allows you to focus your efforts on building only those application features that are required for your unique business needs to get a solution much faster and gain a unique competitive advantage.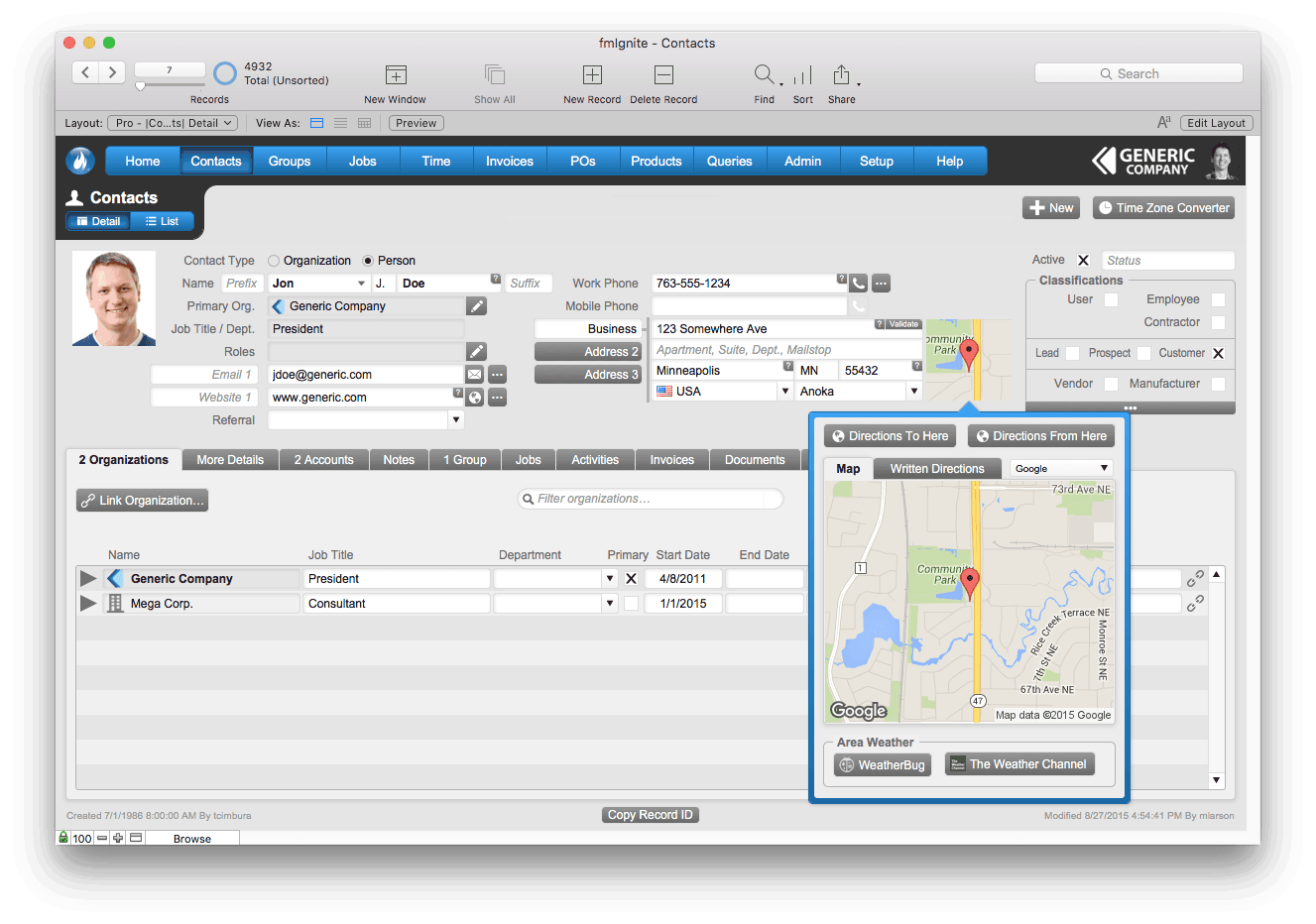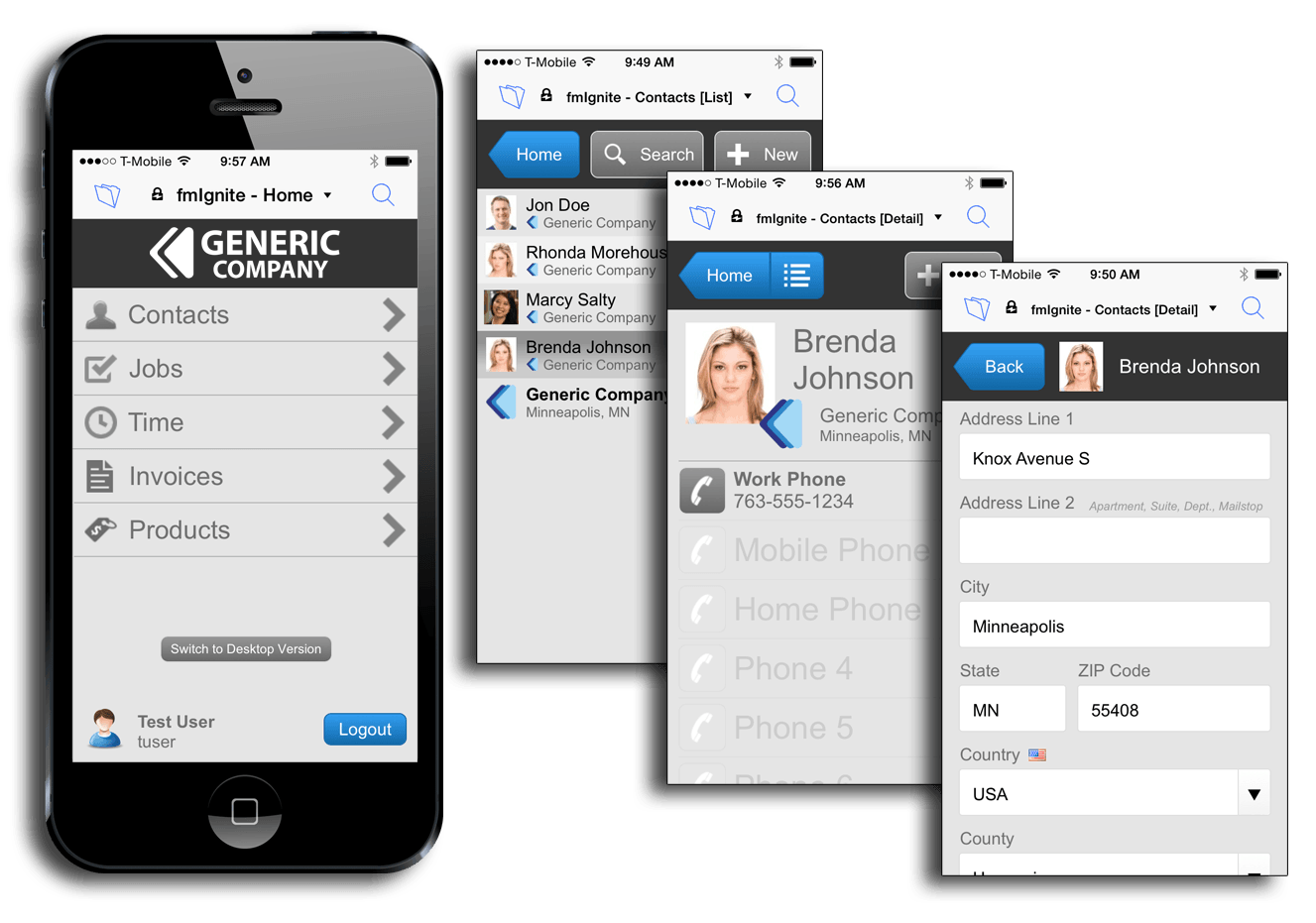 As a totally customizable solution, typical investments in fmIgnite are in the range of $3,000-$300,000 depending on many factors including the number of users, modules, security requirements, etc.
To get started with the flavor of fmIgnite, you can download our FREE fmIgnite Starter solution.